Don Lemon Lashes Out at Kayleigh McEnany Live on Air: 'Girl, Bye'
A war of words between two former CNN colleagues erupted Tuesday night when Don Lemon cuttingly told Kayleigh McEnany "girl, bye" on air.
White House press secretary McEnany worked as a CNN contributor during the 2016 presidential election when she had decidedly less favorable views of President Donald Trump whom she called a "racist."
McEnany's past stint as a left-leaning political commentator was brought up by an exasperated Lemon who called her out during the program.
At the latest White House press briefing on Tuesday, McEnany still refused to acknowledge President-elect Joe Biden's victory.
"How do I describe this, uh, carnival of lies that is the White House," Lemon asked. "The current president is hunkered down behind closed doors, nursing his wounded pride, his press secretary is acting like the election didn't even happen. Acting like she is not about to be out of a job."
Lemon went on to roll several clips of McEnany deflecting direct questions about Biden and teh election before asking viewers if they were aware of her former employer—CNN.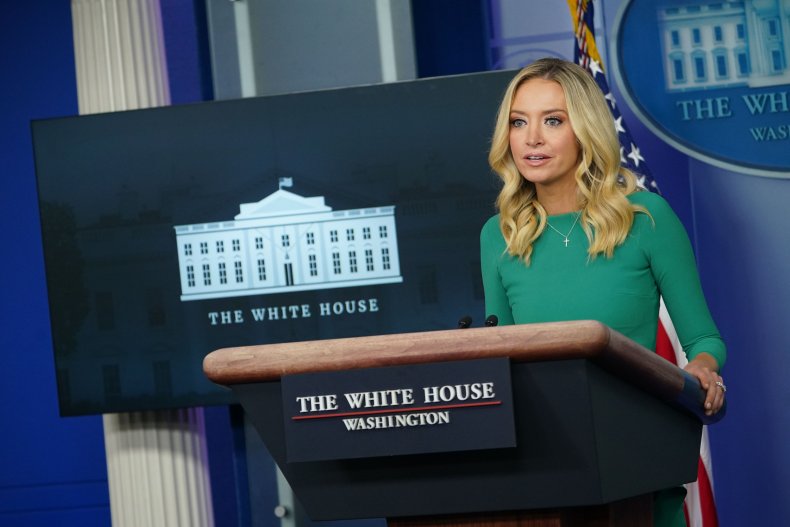 "Do you know she also worked for—girl, bye!" Lemon said dismissively. "There is no other— girl, bye! Buh bye."
"So much disinformation coming from the podium. Every day, it's like, comes out, reads propaganda," Lemon continued. "Talks about what 'the media' is doing, criticizes 'the media,' 'this what you should be covering.'"
He went on to say that McEnany used to be "happy" to be a part of the team at CNN and condemned her for her attitude towards the network now in her new role.
"I think we got this. You used to sit here on the set with us," Lemon said. "I think we got it. When you sat here with us, you thought we had it. You were happy to be here. Now, we don't know what we're doing?"
"Girl. Bye."
McEnany also works as a Trump campaign press advisor and has consistently refused to acknowledge the election results.
"The president is still involved in ongoing litigation related to the election," McEnany said during Tuesday's press briefing. "Yesterday's vote was one step in the constitutional process. I will refer you to the campaign for more on that."
She then criticized the media for not covering the "Hunter Biden scandal" amid claims about biased coverage.
As McEnany was leaving, CNN White House correspondent Jim Acosta asked: "Isn't it hypocritical of you to accuse others of disinformation when you spread it every day?"