Who Is Don McGahn? Trump White House Counsel Reportedly Cooperating With Mueller
On Sunday, President Donald Trump slammed a New York Times report which said tht his White House Counsel Donald F. McGahn II has cooperated extensively in Special Counsel Robert Mueller's probe into Russia's alleged meddling in the 2016 presidential election and Trump's potential obstruction of justice.
In three separate, voluntary interviews totaling some 30 hours since January, McGahn has shared detailed accounts of instances in which the president may have obstructed justice, the Times reported Saturday.
McGahn shared details of Trump's irritation with Mueller's investigation and included details of former FBI director James Comey's firing in May 2017 as well a Trump's alleged desire to see General Jeff Sessions or another loyalist oversee the investigation. McGahn also answered questions about Trump's attempt to coerce him into firing Mueller himself, an issue McGahn threatened to quit over earlier this year, according to the report.
McGahn's fears over Trump's willingness to allow him to speak freely to Mueller were also detailed in the exposé, which suggested the former real estate mogul may be trying to set McGahn up.
Trump condemned the report for making McGahn, the former commissioner of the Federal Election Comission, seem like a "John Dean type rat."
"I allowed White House Counsel Don McGahn, and all other requested members of the White House Staff, to fully cooperate with the Special Counsel. In addition we readily gave over one million pages of documents. Most transparent in history. No Collusion, No Obstruction. Witch Hunt!" Trump tweeted on Sunday.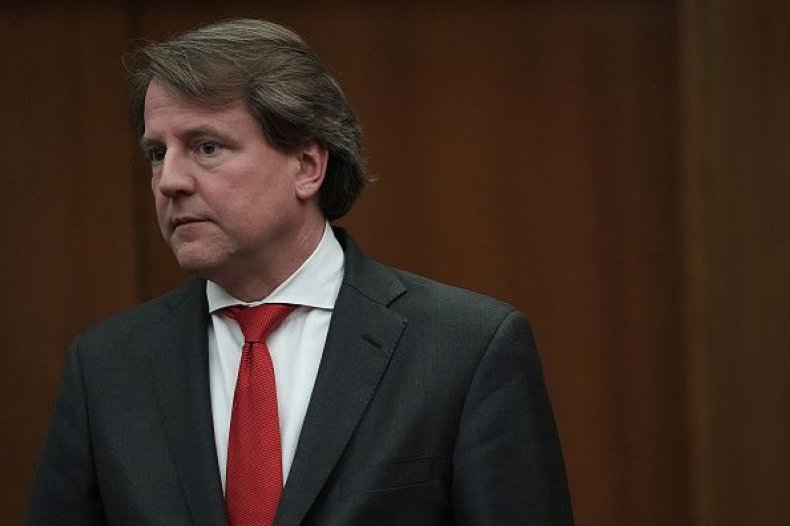 A Georgetown University grad, McGahn was brought in to work on Trump's campaign during the 2016 presidential election. After Trump won, he appointed 50-year-old McGahn as a White House counsel and presidential assistant in January 2017.
The New Jersey native had a role in Trump's nomination of Associate Justice Neil Gorsuch to the Supreme Court, and he recommended Labor Secretary Alexander Acosta for his current position.
In addition to helping Trump fill the federal courts, McGahn has also had a hand in helping Trump cut government regulations.
He is, outside of his exceedingly straight-laced job, also a guitarist who once toured with a band. He only quit when he entered the White House, according to NPR.
Previously, he had been placed on the Federal Election Commission, where he had devoted himself to trying to tear up campaign finance regulations, to ensure more private money in politics.
This article has been updated to correct the spelling of Special Counsel Robert Mueller's name.