Former President Donald Trump's ex-lawyer says he advised Trump to fire former FBI Director James Comey but told him to avoid inviting Comey to dinner to avoid creating the perception of an "improper" relationship.
Don McGahn, who served as Trump's White House counsel from January 2017 to October 2018, made the remarks during a closed-door interview with the House Judiciary Committee last week. The transcript of the interview, which occurred two years after McGahn defied a Congressional subpoena to testify on matters related to the Special Counsel Robert Mueller's investigation into Russian meddling in the 2016 election, was released on Wednesday.
McGahn told the committee that he "was in support of removing Comey" and had "told the president as much." Comey was investigating alleged Russian interference before the investigation was handed off to Mueller following his May 2017 dismissal. According to Comey, Trump attempted to stop him from investigating ties between Russia and his first National Security Adviser Michael Flynn before Flynn was fired on February 14, 2017.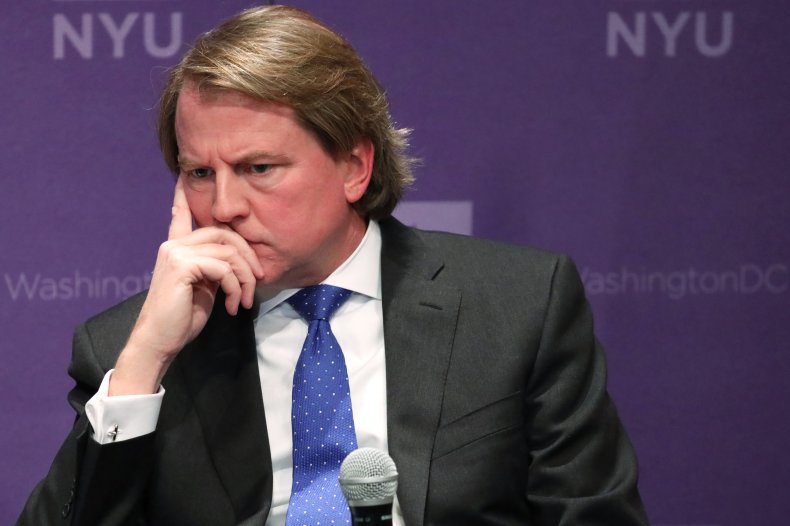 McGahn said that he told Trump that he "should not" invite Comey to dinner on January 26, 2017 over fears that it would "look like there was something improper." Trump did not follow his lawyer's advice, with Comey dining one-on-one with the then-president on the following day. Trump would later deny a claim that he asked Comey to pledge loyalty to him during the dinner.
"I was not at the dinner. I was not, as far as I know, part of the invite," McGahn said. "The idea of talking to the FBI Director in and of itself is not a problem. But given the circumstances here, of course, as a lawyer, I had concerns that this would appear to be something that could be problematic given the rest of the atmospherics."
McGahn also recalled a conversation he had with Trump over whether the former president could experience "exposure" to the "nebulous charge" that he was "meddling or otherwise getting in the way" of Comey's investigation into Flynn. When asked how he ended the conversation, McGahn said he did not remember while describing the difficulties of discussions with the ex-president.
"You rarely leave conversations with President Trump," McGahn said. "There's never really a good beginning, middle, and end. It's just — especially when you're the counsel. You're always kind of around."
McGahn did not see Trump's firing of Comey as obstruction, reasoning that such an action was "within the President's power." However, when Trump requested that Mueller be fired in the midst of his investigation, McGahn viewed the request as a "point of no return" that could set off "a chain reaction that I think would not be in the best interest of the President" and be "another fact that used to claim" that Trump was guilty of obstruction of justice.
Newsweek reached out to the office of Trump for comment.