Donald Trump Jr. Slams Washington Post Super Bowl Ads: 'How About Report the News and Not Their Leftist BS for a Change'
Donald Trump Jr. was unimpressed by The Washington Post advertisement that aired at the end of the Super Bowl praising the value of journalism, describing it as "leftist BS."
During the game in which the New England Patriots beat the Los Angeles Rams 13-3, the president's son tweeted: "By far the worst Super Bowl commercials ever."
An hour later, he responded to the Washington Post ad, which was narrated by actor Tom Hanks who starred in the movie The Post in which he played the publication's former executive editor Ben Bradlee.
The ad described the importance of a free press in society and was followed by a roll call of journalists who had been killed, including Marie Colvin of The Sunday Times and Saudi journalist Jamal Khashoggi, who wrote for The Post.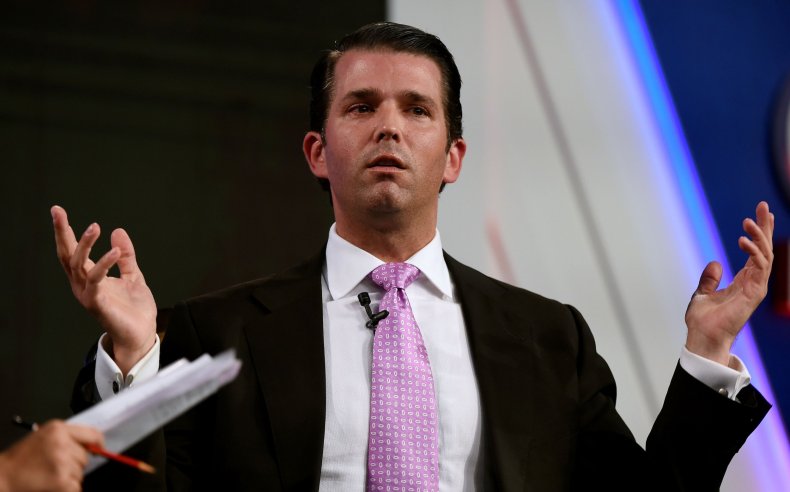 But Trump Jr. gave the ad short shrift, tweeting: "You know how MSM journalists could avoid having to spend millions on a #superbowl comercial to gain some undeserved credibility? How about report the news and not their leftist BS for a change."
His tweet sparked much reaction. The BBC's North American editor Jon Sopel tweeted: "A lot of brave, honest journalists have given their lives to make sure we live in a better informed world."
The editor-in-chief of Rantt, Ahmed Baba, tweeted to his 82,000 followers: "Trying to discredit the media won't change the fact you lied to Congress junior."
This referred to claims by Representative Jackie Speier of the House Intelligence Committee, who questioned Trump Jr. on his Russian contacts in December 2017 and suggested in December that he lied on "at least two occasions."
The cost of broadcasting a 60-second commercial to an estimated 100 million people on the most sought-after ad slot in broadcasting came at a price. The newspaper reportedly paid around $5.25 million, according to CNBC, and some in the media industry felt uneasy about such an outlay at a time of significant budget cuts in journalism.
Before the ad aired, journalist union chief Fredrick Kunkle, who is co-chair of the Washington-Baltimore News Guild's bargaining unit at The Post, tweeted that the money could have gone to actual journalism and referred to the number of recent layoffs at the news outlet.
He told USA Today that the ad was "extravagant and in poor taste." Before the game, he also tweeted: "While I too am extremely proud of The Post and its legacy, this seems like an especially infuriating expense for a company that has a) tried to take away health care insurance from part-time employees b) moved everyone toward riskier forms of health insurance."