Don Young, the U.S.' Oldest and GOP's Longest Serving Congressman, Tests Positive for COVID-19
Representative Don Young announced on Thursday that he has tested positive for COVID-19.
At 87 years old, Young is the oldest serving congressman in the House and the Republican Party's longest-serving member, having represented the state of Alaska for 24 terms. He has held office since the Nixon Administration.
Young won his 25th term last week after he successfully defended his seat in Alaska's at-large congressional district from independent challenger Alyse Galvin.
In his statement announcing his positive diagnosis, the congressman tweeted, "I am feeling strong, following proper protocols, working from home in Alaska, and ask for privacy at this time. May God Bless Alaska."
Young did not specify how severe his symptoms or condition is, but given his age, he qualifies for the high-risk category of becoming critically ill.
Once infected by COVID-19, people over the age of 85 are 630 times more likely to die from the disease, according to data from the Centers for Disease Control and Prevention.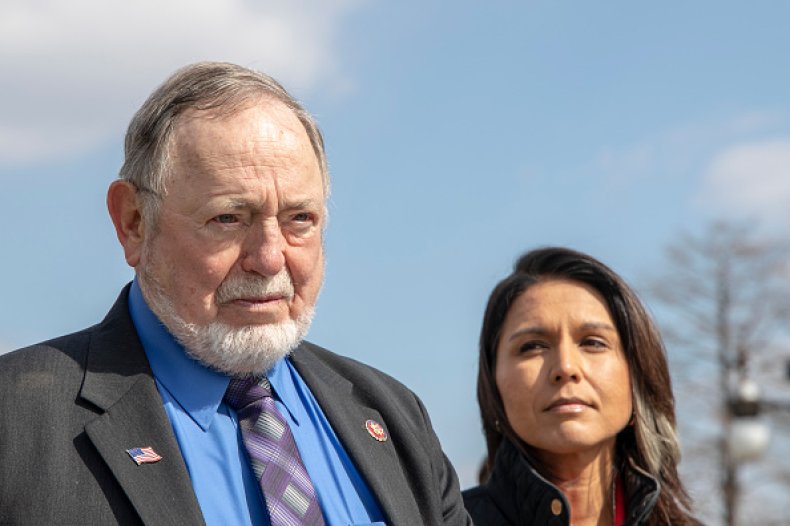 He is the latest member of Congress to test positive for the virus since the pandemic began.
In efforts to curb the spread, the House adopted pandemic-era rules which allow for lawmakers to vote remotely. However, nearly all Republicans have refused to use this system.
Young was endorsed by President Donald Trump in the last election. Young is one of dozens of prominent Trump-supporting Republicans who have tested positive for COVID-19 in the last week.
On Thursday, Trump campaign adviser Corey Lewandowski also announced he had contracted the virus after previously attending at an election night party at the White House.
Several other guests—including White House chief of staff Mark Meadows, Housing Secretary Ben Carson, Trump campaign legal adviser David Bossie and White House political director Brian Jack—also tested positive for coronavirus after attending the event.
Newsweek reached out to Young's office for comment but did not hear back before publication.
Alaska has recently seen a rapid surge in coronavirus cases across the state.
Shortly before Young made his announcement, Republican Governor Mike Dunleavy called on Alaskans to help reduce infections over the next three weeks. Face masks and social distancing are now mandatory for all workers and visitors on state work sites.
On Wednesday, the state reported 496 new daily cases—a stark increase from Alaska's coronavirus metrics a month ago. Before October, the state's highest daily case count was 234 on July 26.
As of November 12, Alaska has reported 21,211 confirmed cases and 90 deaths, according to data from The New York Times.