Donald Trump Didn't Want Any More Money Sent to Puerto Rico After Hurricane Maria, Amid False Claims About Debt Payment: Report
After falsely claiming Puerto Rico wanted to use hurricane relief money to pay off some of the island nation's debt last year, President Donald Trump reportedly told White House aides he no longer wanted the U.S. territory to receive federal disaster funds for Hurricane Maria and to instead redirect them to hurricane-stricken regions in Texas and Florida.
In October, Trump falsely said in a tweet that "inept politicians" in Puerto Rico were "trying to use the massive and ridiculously high amounts of hurricane/disaster funding to pay off other obligations. The U.S. will NOT bail out long outstanding & unpaid obligations with hurricane relief money!" he added.
The president appeared to be confusing a fiscal plan created by a federal oversight board for the island that showed billions of dollars in surplus for the state's budget was likely—if it made the right adjustments. Neither local officials nor federal government officials suggested using the billions of dollars in disaster relief money for its debt.
Still, Trump told then-White House Chief of Staff John Kelly and then-Office of Management and Budget Director Mick Mulvaney, who is now Trump's chief of staff, that he wanted the money appropriated for Puerto Rico by Congress to instead go to Florida and Texas, according to The Washington Post. The president's reasoning was reportedly because he believed Puerto Rico was misusing the funds for debt repayment.
San Juan Mayor Carmen Yulin Cruz took to Twitter to voice her frustration over the reported attempts to reappropriate hurricane relief funds. She did not immediately respond to Newsweek's request for comment.
"I was fed up a long time ago when Trump treated us poorly in Puerto Rico," said Cruz, who has long had back-and-forth Twitter spats with Trump since Hurricane Maria devastated the island in 2017. "@POTUS WE DESERVE TO BE TREATED LIKE PEOPLE. YOU ARE NOT A PLANTATION OWNER AND WE ARE NOT YOUR SLAVES. DAMN IT!"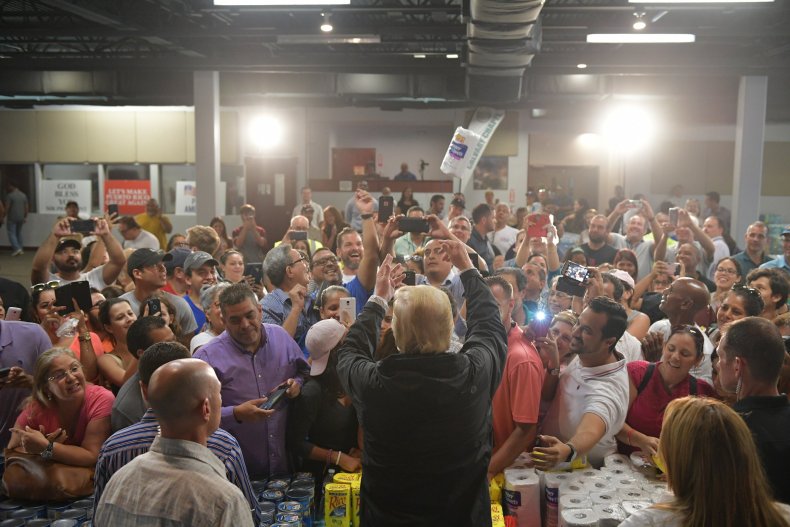 It's one of the laundry lists of reasons why the Department of Housing and Urban Development Deputy Secretary Pam Patenaude, who served directly beneath Trump-appointed HUD Secretary Ben Carson, resigned.
According to multiple sources who spoke with the Post, in addition to a former HUD official familiar with Patenaude who spoke to Newsweek, a series of events led to her resignation, which was made in December. She stayed on until Thursday while she transitioned from her role.
The former HUD official told Newsweek it was unlikely Patenaude departed solely because of the hurricane relief funds. "Pam's departure was a long time coming," the former official said, adding the former deputy secretary "was always butting heads with the more conservative Trump supporter politicos."
Some of the disagreements Patenaude had with Carson and others in the agency included fair housing standards and an attempted rewrite of HUD's mission statement, in addition to Puerto Rico's disaster relief, according to the former official. They added that Patenaude supported what was, in their mind, "Obama-era policies."