Donald and Melania Trump Were 'Really Gracious' at George H.W. Bush Funeral, Jeb Bush Says, Despite Bitter 2016 Campaign
Jeb Bush praised President Donald Trump and first lady Melania Trump's "gracious" demeanor and said the sitting president could not have been nicer at his father ex-President George H.W. Bush's funeral on Wednesday.
The late president's second son told The Wall Street Journal the Trumps were "really gracious" and that President Trump "couldn't have been nicer" when he called to pay his respects to the 41st president, who died last Friday.
Jeb Bush's positive comments about President Trump came after past spars. Jeb Bush was a favorite for the Republican nomination before Donald Trump won it and the presidential election. Donald Trump called the former Florida governor "low-energy" during the campaign.
The late president's son said that American politics and the country's culture had become coarser since his father's time in office.
"This is a time to celebrate George H.W. Bush, not to grieve his loss," he told the Journal.
While Jeb Bush appreciated the Trumps' behavior at the funeral, the first couple had a few awkward interactions at the Washington National Cathedral.
President Trump, who had criticized previous commanders-in-chief and their spouses, shook hands with his predecessor, Barack Obama and former first lady Michelle Obama, who raised her eyebrows during the exchange and did not look thrilled. Melania Trump shook hands with ex-President Bill Clinton and made a hand gesture at her husband's 2016 election opponent Hillary Clinton, who nodded several times but did not extend her hand or acknowledge Trump.
The New York Times reported that President Trump "was impatient for the memorials to end but expressed pride in himself for remaining publicly civil" at the funeral. "Mr. Trump has been snappish with aides most of the week, according to administration officials, miffed in part by so many ceremonial events not related to him," the newspaper reported.
Publicly, President Trump was sincere toward the Bush family.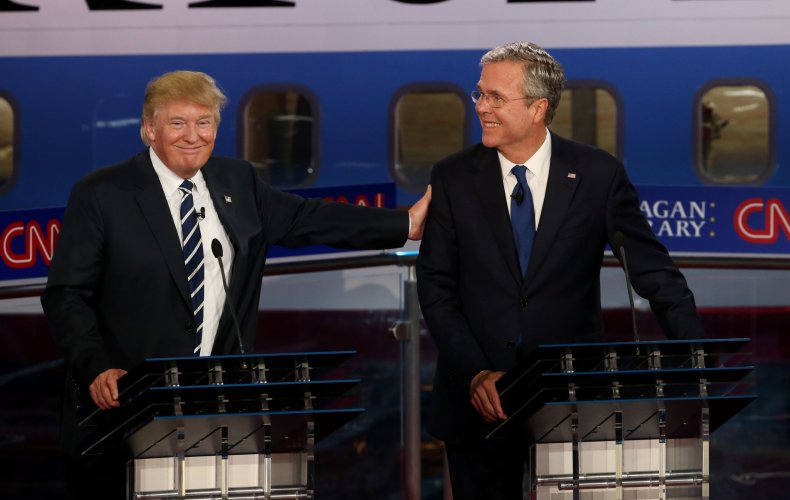 "Looking forward to being with the Bush family. This is not a funeral, this is a day of celebration for a great man who has led a long and distinguished life," he tweeted before the funeral on Wednesday. "He will be missed!"
President Trump strove to act "presidential" once news broke that the 41st president had died, according to The Washington Post.
The 45th president dispatched Air Force One to take George H.W. Bush's remains and his family members between Houston and Washington, D.C. President Trump also opened the Blair House doors to welcome the Bush family.