Former Deputy Attorney General Donald Ayer called his former colleague, Attorney General William Barr, "un-American" because he thinks the president is above the law.
"The reason I say he's un-American...is that the central tenet of our legal system and our justice system is that no person is above the law," Ayer told CNN's Wolf Blitzer on Monday. "Bill Barr's vision is that there is one man—one person—who needs to be above the law and that is the president."
Having known Barr for 40 years, Ayer told Blitzer that there was never a reason to "test" Barr's "very strong view" that the president "ought to have a great deal of power" during President George H.W. Bush's administration because the president "had no interest in being an autocrat." Now, with Trump in office, who Ayer said "apparently wants to be an autocrat," Barr's "carried out" his vision.
Ayer and Barr both worked at the Department of Justice under Bush and in 1990, Barr succeeded Ayer as deputy attorney general. Barr later became attorney general in 1991 and served until Bush left office in 1993.
Barr faced heavy criticism for his involvement in cases against political strategist Roger Stone and Trump's former National Security Adviser Michael Flynn. After advocating for a lighter sentence for Stone, Barr accepted an invitation to testify before the House Judiciary Committee on March 31.
On Friday, news broke that Barr appointed an outside prosecutor to examine the Justice Department's case against Flynn, which fueled calls for the attorney general's resignation.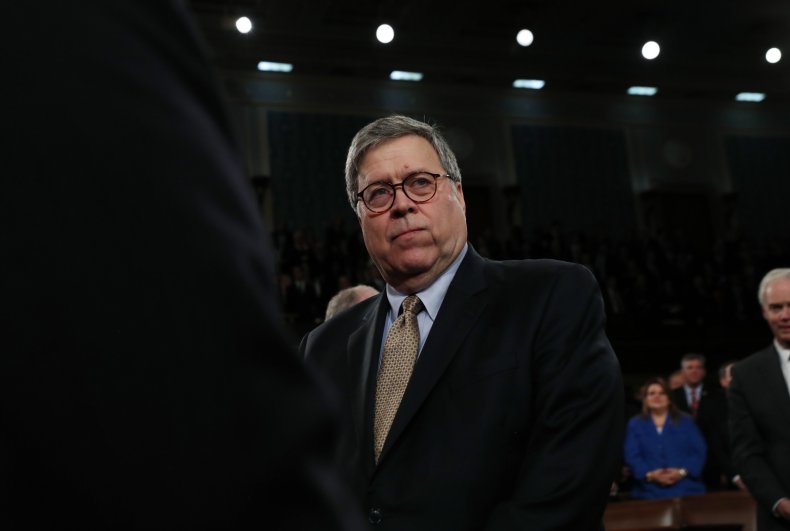 Ayer acknowledged during his interview with Blitzer that the "immediate uproar" was related to Barr's involvement in these criminal cases. He said people see politics "creeping into" the Justice Department, which has long been seen as devoid of personal bias. However, that was only the "tip of the iceberg," according to Ayer, who criticized Barr for claiming in a 2018 memo that the president "is the executive branch and that he necessarily has complete and unlimited discretion to oversee criminal cases."
Barr denied that he could be "bullied or influenced by anybody," including Trump, who the attorney general told ABC News on Thursday has "never asked me to do anything in a criminal case." The next day, Trump quoted Barr and noted that it didn't mean "I do not have, as president, the legal right to do so." So far, Trump claimed in the Friday tweet he has "chosen not to."
David Laufman, the DOJ's former counterintelligence chief, previously told Newsweek the president can give direction to the Justice Department but called it "grossly improper" for the president to "seek to influence a criminal investigation."
Newsweek reached out to the White House and the Department of Justice but did not receive a response in time for publication.
Ayer hasn't been shy in sharing his opinions on Barr's conduct and on Monday, published an op-ed in The Atlantic calling for Barr's resignation.
"Bill Barr's America is not a place that anyone, including Trump voters, should want to go," Ayer wrote. "It is a banana republic where all are subject to the whims of a dictatorial president and his henchmen. To prevent that, we need a public uprising demanding that Bill Barr resign immediately, or failing that, be impeached"