Rumor: Donald Glover Might Be Willy Wonka
As if Star Wars wasn't big enough, Donald Glover may be wading into even broader territory. Collider reports Glover, Ryan Gosling and Ezra Miller are the top contenders to play Willy Wonka.
The Willy Wonka adaptation is rumored to be a prequel, telling the story of how he acquired his riches and his legendary chocolate factory. This could be a franchise opportunity for whoever lands the role. Miller is already part of the Warner Bros. family, with roles in Fantastic Beasts and The Flash. Gosling is smooth sailing with WB as well, cashing in for critics fave Blade Runner 2049. He's bound to make a La La Land-level splash with his lead role in the upcoming film First Man, which follows Neil Armstrong's journey to the moon.
Who doesn't love Ezra Miller and Ryan Gosling? But Glover would undoubtedly offer a brand new take on the character the studio needs for a third remake. It would also pay homage to the source material. The author of Charlie and the Chocolate Factory, Roald Dahl, pitched Charlie as a Black character. His literary agents warned him against it and ultimately, the character was changed to be white. While Glover won't be playing Charlie, Wonka would certainly send a message.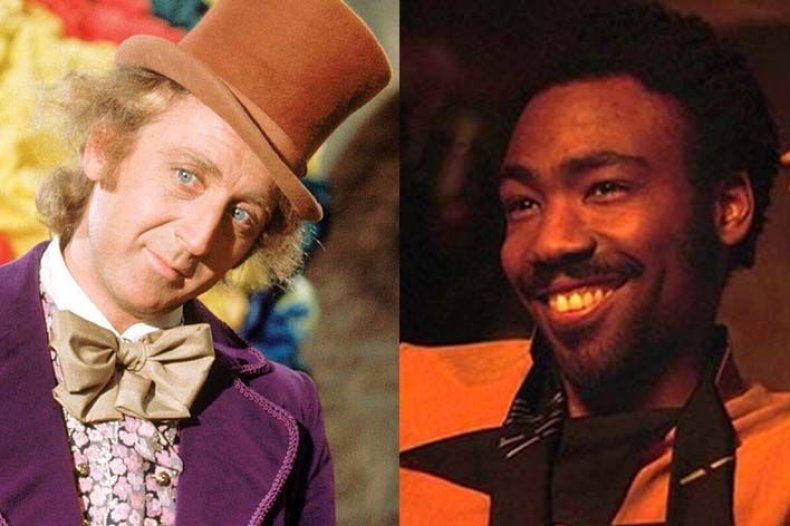 "His first Charlie that he wrote about was a little Black boy," Liccy Dahl said in a BBC Radio interview. She called it a "great pity" her husband obliged to the publisher's wishes. Upon hearing this news, Wrinkle In Time director Ava DuVernay called for an adaptation. Her wish may come true in the form of the masterful Glover.
The Willy Wonka standalone hails from Harry Potter producer David Heyman, Man Seeking Woman screenwriter Simon Rich and Paddington director Paul King. Warner Bros. aquired the rights to Willy Wonka intellectual property from the Roald Dahl Estate in 2016 and has been rumored to be working on the film ever since. The studio has not spoken about the film in any official capacity. Would you be down with Glover as Willy Wonka? Sound off in the comments.