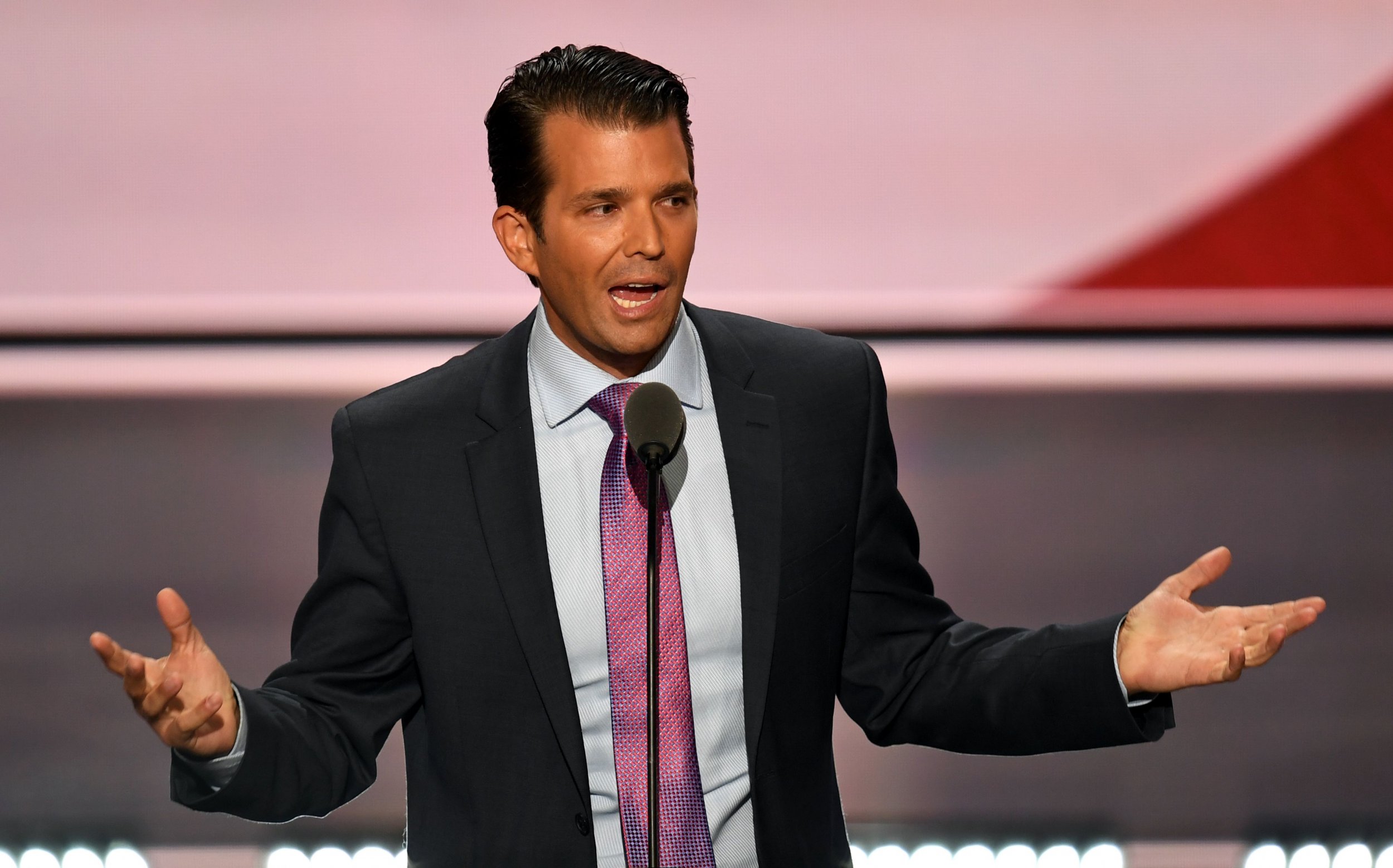 But the Democrats did it too! It's a refrain frequently deployed by supporters of President Donald Trump, whether to defend his treatment of the press or his relationship with Russia. The comparisons—to President Barack Obama and Hillary Clinton in particular—are often inaccurate, but they serve to remind Trump's base that he will never get fair treatment from the liberal media and its enablers in the so-called deep state.
Now, Trump's supporters are using that line of argumentation to explain Donald Trump Jr.'s meeting with Russian lawyer Natalia Veselnitskaya, who was said to have damaging information on the Clinton campaign. While that meeting would seem to only deepen suspicions of collusion between the Trump campaign and the Kremlin, including possibly hackers on its payroll, right-wing media outlets have been feverishly pointing to a story about a Democratic operative who met in the spring of 2016 with Ukrainian government officials during the campaign.
They are doing so at the direction of the White House.
"If you are looking for an example of a campaign coordinating with foreign country or a foreign source, look no further than the DNC which actually coordinated opposition research with the Ukrainian Embassy," deputy White House press secretary Sarah Huckabee Sanders said on Monday.
The source for that encounter is a Politico story from January. The report's key revelations have to do not with Trump, but Paul Manafort, his second campaign manager and a lobbyist with deep ties to Russian power: A Ukrainian-American operative who was consulting for the Democratic National Committee met with top officials in the Ukrainian Embassy in Washington in an effort to expose ties between Trump, top campaign aide Paul Manafort and Russia, according to people with direct knowledge of the situation.
As the revelations over Donald Jr.'s meeting seemed to plunge the White House back into crisis, supporters on the right seized on the Politico story as proof that, yet again, the Trumps were the subjects of unfair treatment from the establishment.
The Daily Caller, the site started by Fox News commentator Tucker Carlson, said that the significance of the meeting with Veselnitskaya at Trump Tower in Manhattan, which was attended by Donald Jr., Manafort and Jared Kushner, "pales when compared to the coordination between Clinton allies and Ukrainian government officials who hoped to see Clinton win the 2016 election."
In fact, the Politico report—and the Daily Caller summary of that report—described only one meeting, involving Democratic operative Alexandra Chalupa and Ukrainian ambassador to the United States Valeriy Chaly. The Daily Caller also ignores a crucial point that Politico does not: Ukraine's attempts to sway the election "were far less concerted or centrally directed than Russia's alleged hacking and dissemination of Democratic emails."
For its part, the Ukrainian Embassy in the United States said in a statement that it "did not coordinate with the DNC about opposition research. While some politicians who are not part of the Ukrainian government might have taken sides during last year's elections in the U.S., the government of Ukraine did not."
Chalupa did not respond to a request for comment from Newsweek.
Intelligence agencies have concluded that Russian interference with the election was meant to benefit Trump. Trump has rejected those findings while casting aspersions on the American intelligence community. After Trump met with Russian President Vladimir Putin last Friday at the G-20 summit in Hamburg, Germany, it was widely reported that Trump accepted Putin's denial of Kremlin meddling. While reports on that point have diverged, it would be stunning for an American president to so openly side with a foreign adversary.
At least five senior Trump officials failed to disclose meetings with Russians. ThinkProgress, the liberal politics site, has compiled a list of 20 occasions on which Trump surrogates, staffers or family members have misrepresented or downplayed their connections to Russia. There are now five separate inquiries on Capitol Hill regarding the Trump campaign's ties to Russia. Some have compared those inquiries to the Watergate scandal that ended the presidency of Richard Nixon.
But in defending Donald Jr., the right ignores these inconvenient facts. All that matters is that someone affiliated with Hillary Clinton did something that was somewhat similar. That is all the absolution the right requires. Absent is any evident concern for American democracy, Russia's attempts to undermine it, or the Trump camp's willingness to participate in those efforts.
Appearing on MSNBC on Tuesday morning, Sebastian Gorka, a blustery terrorism expert with alleged ties to neo-Nazis, continued this line of attack. He, too, referenced the Politico report. He also called Donald Jr.'s meeting with Veselnitskaya a "massive nothing-burger." It is not clear if Robert Muller, the special counsel appointed by the FBI to investigate Trump campaign's ties to Russia, will feel the same way.
By Tuesday afternoon, the story about the DNC meeting with Ukrainian officials had effectively become the central argument for Donald Jr. defenders:
Pointing to the supposed sins of Clinton and Obama has become a familiar recourse for supporters of the President. After Trump fired his national security adviser, Michael T. Flynn for unreported and potentially troubling ties to Russia, chief White House spokesman Sean Spicer said the oversight was Obama's fault, as Flynn had once been Obama chief of the Defense Intelligence Agency. " if President Obama was truly concerned about Gen. Flynn, why didn't he suspend Gen. Flynn's security clearance?" Spicer wondered.
And as the Trump administration moved to curtail televised White House briefings, The Daily Wire, a conservative outlet, ran a story headlined, "Obama WH Held Private Briefings, Too."
After Trump fired FBI director Comey, professional fulminator Rush Limbaugh came to his defense. "What Trump is alleged to have done is actually no different than what Barack Obama did in April last year when he made it known that he didn't want Hillary prosecuted," he said in May, misrepresenting an exchange Obama had with Chris Wallace of Fox News.
"7 Times The Obama Administration Obstructed Justice," declared a Daily Wire headline from June.
"Obama Collusion with Russia?" wondered WorldNetDaily.
Such headlines speak to Trump's inability to move beyond the presidential campaign, a difficulty compounded by his own obsession with the scope of his Electoral College victory. Grievances over Obama—many of them heavily dusted with racial animus—in part propelled Trump to the presidency. Now, six months into his presidency, he finds himself unable to govern. So he continues to blame.