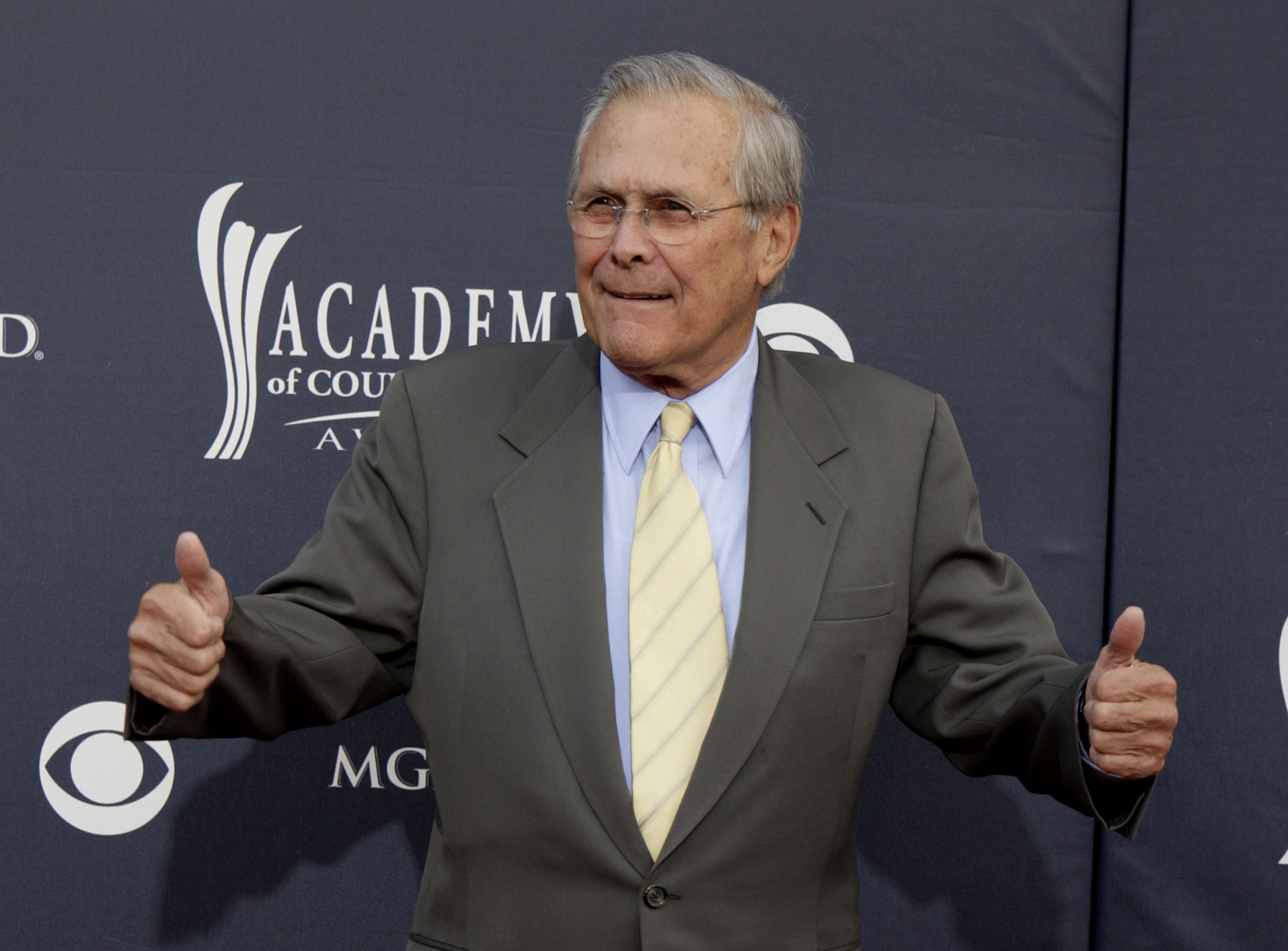 Former Defense Secretary Donald Rumsfeld is back in the spotlight, but not for his involvement in leading the United States to the Iraq War, being the main subject of an Errol Morris film or being quizzed if he is a baby-eating lizard man. Rumsfeld has been quietly building a mobile game app over the past two years.
Well, not him, exactly. The 83-year-old Rumsfeld led a group of developers to create Churchill Solitaire—a more challenging form of solitaire allegedly invented by Winston Churchill. And as a lifelong Republican, Rumsfeld clearly idolized Churchill.
According to The Wall Street Journal, Rumsfeld peppered his developers with his trademark rapid-fire messages called snowflakes, urging them to indulge the game with Churchill references at every opportunity.
The game is ladened with World War II references, lionizing the leader of the United Kingdom during the war. The app opens with World War II video montage that includes Churchill—Wired says it's a voice-over actor—giving a speech. The soundtrack is epic, a stark contrast with the generally calming game of solitaire.
Rumsfeld and his wife learned to play Churchill's style of solitaire through a Belgian diplomat who learned the game directly from Churchill, according to a post he wrote on Medium. Rumsfeld, his family and a dozen other people were the only people in the world who knew Churchill Solitaire—until now.
"There was every chance the game Churchill so enjoyed could be lost to the ages," Rumsfeld writes. "Then I was approached about turning this game into an 'app.' I can't say I had much of an idea of what an app even was."
Churchill Solitaire is played with two decks of cards, 10 piles on the playing table and eight foundational piles to arrange the decks back in its suit. (Normal solitaire is played with one deck, eight piles on the playing and four foundational piles.) It also has a special curveball called "The Devil's Row" to add more known unknowns to the game.
Rumsfeld received permission from the Churchill estate for permission to use the prime minister's name and images in the game. All profits—the game is free to play on iOS but will have to pay a dollar after you reach a certain level—will go to charity, according to Rumsfeld.
Newsweek could not reach Randolph Spencer-Churchill, the great-grandson who gave Rumsfeld his blessings, on the family's thoughts on the now-released game. Newsweek did reach out to Churchill's other progeny, Sir Nicholas Soames, for comment.
Rumsfeld used his new mobile gaming empire to go on television to talk about the current 2016 presidential elections. He spoke of Donald Trump "touch[ing] a nerve in our country" and dissed George W. Bush's dad and former President George H.W. Bush (to whom Rumsfeld lost the vice presidential nomination at the 1980 Republican convention).