Donald Rumsfeld's Shame: The Civil Affairs Crisis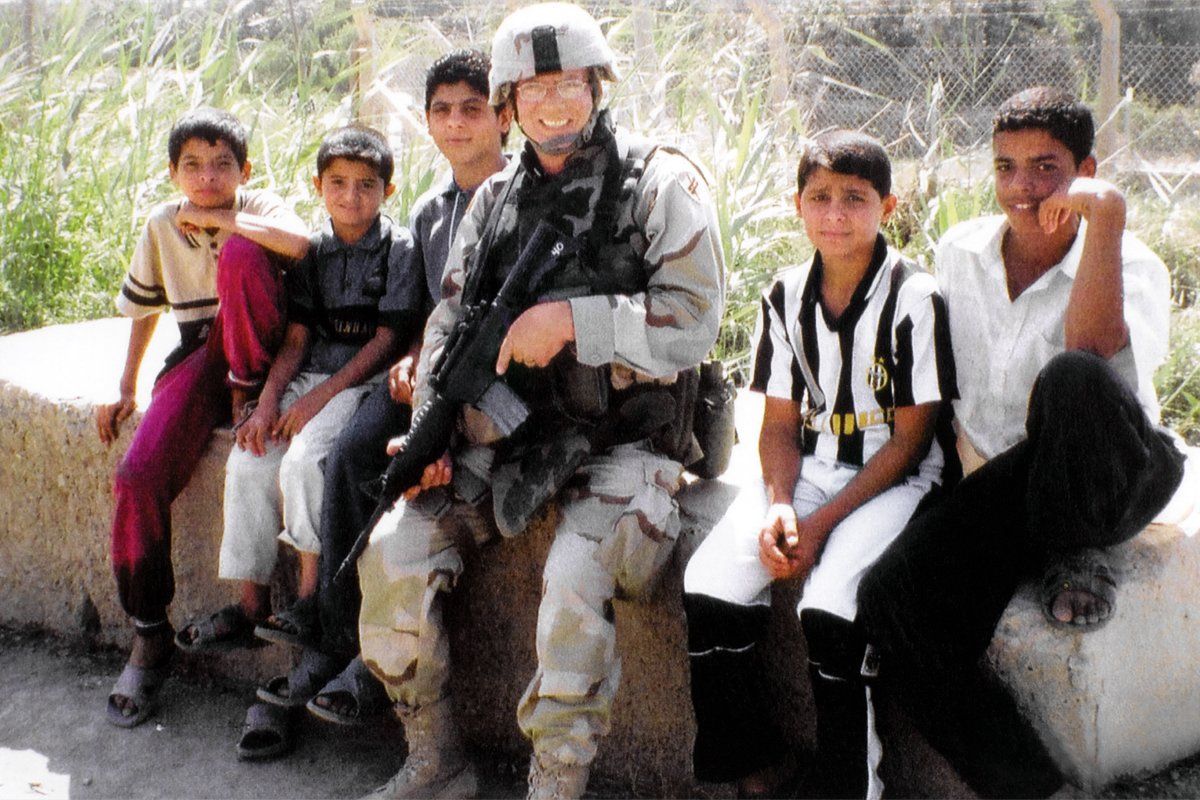 This story was reported and written by the Center for Public Integrity.
Donald Rumsfeld vowed to fight a "different kind of war." In the days following the 9/11 attacks, the secretary of defense spoke about how America's success in Afghanistan depended on the U.S. military being seen as liberators, not infidel invaders. Drawing upon the ranks of reservists in the military's Civil Affairs units—a vital part of U.S. campaigns since the American Revolution—Rumsfeld would send citizen soldiers, with day jobs as judges, lawyers, carpenters, and clerks, into the countryside to restore electricity, build roads, and spread good will. "While we may engage militarily against foreign governments that sponsor terrorism, we may also seek to make allies of the people those governments suppress," Rumsfeld said in a speech on Sept. 27, 2001. Days later, he proclaimed on Fox News that "we want to make sure that we can do everything we can to help the misery of the Afghan people, which has been imposed on them by Al Qaeda and by the Taliban leadership."
And thus, a new battle for hearts and minds was begun. But as Rumsfeld's new memoir, Known and Unknown, makes clear, his own heart was never really in that fight. "I recognized the Yankee can-do attitude by which American forces took on tasks that locals would be better off doing themselves," he writes in the defiant 800-page tome. "I did not think resolving other countries' internal political disputes, paving roads, erecting power lines, policing streets, building stock markets, and organizing democratic governmental bodies were missions for our men and women in uniform …The risk was that these nations could become wards of the United States."
Caught in the crossfire between the early high-flown rhetoric and the cold reality were the men and women of Civil Affairs. First in Afghanistan and then again in Iraq, they were rushed to the front without adequate training and equipment, as documents obtained by the Center for Public Integrity make plain. They were often caught in combat situations for which they were ill prepared. And they paid the ultimate sacrifice—in disproportionate numbers—for Washington's failure to commit fully to their mission. Although Civil Affairs specialists make up only about 5 percent of the Army's Reserve forces, they account for 23 percent of the combined fatalities among reservists in Iraq and Afghanistan, according to Maj. Gen. David Blackledge, the commander of the U.S. Army Civil Affairs & Psychological Operations Command.
Lawrence Morrison, plucked from a job at the U.S. Postal Service unloading cargo on the docks in Yakima, Wash., was one of the fatalities. The Army Reserve sergeant would have celebrated his 51st birthday in a few weeks with his wife, Becky, but he died in 2005 after four months in Iraq, the victim of an IED that tore apart his Humvee. "This was not the way I wanted my life with him to end," his widow said.
Just before his unit was deployed, Becky Morrison recalls him telling her, the reservists were instructed to grab gear from a hodgepodge spread out on a large table that included women's bras and flak jackets. "They had to go through and pick out what fit them best," she said. He spent much of his early months based in Taji, north of Baghdad, handing out candy to children, she said. But one day his unit was called away: "He had never been in combat before." He died near a water mill that "wasn't even his mission."
Joseph Collins, who served as deputy assistant secretary under Rumsfeld, describes Civil Affairs soldiers as "some of the great unsung heroes" of the Afghan and Iraqi wars. But they suffered from bureaucratic confusion and sporadic interest from Rumsfeld, the documents show—and Congress was misled.
Determined to impress Capitol Hill and satisfy Rumsfeld's constant demands for progress reports, the Army inflated the numbers of these troops available—creating on their books so-called ghost soldiers—and then pushed even older and sometimes physically ailing personnel into harm's way to make up for the shortfall between their estimates and the number of actual bodies at hand. (The Army currently has only about 8,000 Civil Affairs troops, or less than 1 percent of its active and Reserve force. And the number of Civil Affairs battalions has increased by only about a third since the late 1990s, despite two massive, ongoing counterinsurgency operations.)
Restless with the command structure, Rumsfeld reorganized—pulling Civil Affairs out from under the military's elite Special Operations Command, which had overseen those efforts since the mid-1980s. Military commanders say the reorganization backfired—leaving Civil Affairs units languishing without adequate numbers, training, or equipment.
The Civil Affairs Command's lack of resources and legacy of dysfunction is not just a matter for the history books. It complicates U.S. efforts to withdraw from Afghanistan starting this summer—and calls into question the ability of the military to fight future insurgencies or respond to humanitarian disasters, current and former military officers say.
"It was too small of a force to begin with. We are scrambling right now to meet additional requirements for Afghanistan," General Blackledge said. "Our mission load is actually going up."
The documents obtained by the Center for Public Integrity show the crisis was evident by 2004 at Fort Bragg, N.C., the mobilization center for Civil Affairs troops. A Jan. 14, 2004, trip report by Sgt. Maj. John W. Young Jr., the senior Army Reserve enlisted adviser monitoring Reserves at Special Operations, describes multiple serious problems:
• One thousand or more Civil Affairs soldiers were "ghosts" who lacked the training or fitness to be deployed.
• To get one unit filled out and ready to go, qualified Civil Affairs soldiers were cherry-picked from disparate units, a violation of the military tenet that soldiers fight best alongside those they've trained with—a "cross-leveling" practice still used in Afghanistan today.
• There was a lack of quarters for those who actually turned up, requiring some personnel to be billeted on cots in the gymnasium.
• Reservists were mobilized with only two weeks' notice.
• Soldiers were forced to sign statements that they were "volunteering" for what was "an involuntary mobilization."
• Soldiers were issued body armor without plates and bulky M-16s instead of smaller M-4 rifles more suitable for traveling in cramped vehicles. In training, due to "a shortage of weapons and ammo, they got to fire [only] one round."
• The memo also describes a "critical shortage" of senior noncommissioned officers.
"This won't do!" Gen. Bryan D. Brown, the commander then in charge of Special Operations, scribbled in a handwritten notation on a 2004 memo. The memo warned that Civil Affairs & Psychological Operations was short of critical supplies and had hundreds of "ghosts" on its books. A cover memo addressed to Lt. Gen. Philip R. Kensinger Jr., one of Brown's deputies, said, "Please take action not a very encouraging report."
Young's report upset the leadership of Special Operations responsible for Civil Affairs. He was accused of going behind commanders' backs and being "out of touch with reality," according to emails. "They chewed my butt out and then ignored me until I retired," said Young, who left the military in 2005 and now lives in Tulsa, Okla. "They were aware that the whole system was broke, and there wasn't much they were going to do to change things."
Meanwhile, a number of top Army officials told Congress that Civil Affairs units were fully qualified. On March 11, 2004, two months after Young's report, Brown told a House Armed Services subcommittee that Kensinger and the Army had been working to "ensure that all of our Civil Affairs forces are trained to … standards. They are fully qualified," he said. "Each one of those units are about 115 percent or more manned," Kensinger told the subcommittee. "People come into Civil Affairs because there's a great balance in what they do in the civilian sector."
The result of the shortages and mismatches was that soldiers died "needlessly," said Timothy M. Haake, a retired major general and former deputy commander for mobilization and Reserve affairs for Special Operations, who elevated Young's concerns to higher-ups. "These generals didn't do their job," Haake said. (Neither Brown nor Kensinger could be reached for comment.)
Rumsfeld's desire to shake up the command structure didn't help. A trail of the defense secretary's celebrated "snowflake" memos shows he thought Civil Affairs ill matched to be run by Special Operations command, whose predominant role is controlling 12-man Special Forces A-Teams for hunting down terrorists. On March 7, 2005, he wrote that Civil Affairs' "skill sets are, at this stage, probably more of a distraction than a benefit to the increasing Special Operations roles and missions."
"Secretary Rumsfeld focused largely on the high-value target set," said Thomas O'Connell, assistant secretary of defense for Special Operations and low-intensity conflict from July 2003 to April 2007. "The Special Operations Force components that operated at the lower end of the spectrum were less appreciated by many civilian policymakers as to their potential effectiveness in the fight."
In 2006, after a blizzard of Rumsfeld snowflakes, most Civil Affairs units were split away from Special Operations and now report to the Army Reserve. (In an awkward compromise, however, four battalions of active-duty Civil Affairs soldiers were assigned to Special Operations.) Many military experts consider this so-called divorce a mistake that has fractured Civil Affairs capabilities between two bosses. It's akin to assigning a child to one parent after a divorce but allowing the other parent to make most of the decisions about how the child will be raised.
The split was "probably flawed in its conception, it certainly was flawed in its implementation," a 2009 U.S. Army War College report by Col. Hugh Van Roosen found. "Given the recent rise in the importance of stability operations, relying significantly upon CA capabilities, this decision should be revisited by the current Secretary of Defense."
Maj. Gen. David Morris, who commanded U.S. Army Civil Affairs & Psychological Operations Command during the reorganization, said he opposed the "divorce" and that it caused multiple problems. Among them: getting money for replacement equipment when he suddenly lost access to regular Special Operations funds.
"We had to work our way through that with the Special Operations community, which we did," he said. "But we were in the middle of a fight, and it was one of those bureaucratic things that was like an anchor slowing us down."
President Obama may be exiting Iraq and trying to wind down the war in Afghanistan. But the need for more effective Civil Affairs units remains vital today, said David Barno, a retired lieutenant general who commanded U.S.-led forces in Afghanistan from late 2003 through mid-2005.
"They can get a power grid up and operating and look at how societies interact. These are the skills that are typically outside the mainstream of the combat-centric military … but in the environments we're in now, they're absolutely essential," Barno explained. "They are the glue that binds the military effort to the civilian population."
In a March 2009 speech on Afghanistan, Obama emphasized "agricultural specialists and educators, engineers, and lawyers" rather than foot soldiers. Likewise, now-retired Gen. Stanley McChrystal highlighted the establishment of local judicial systems more than military action in his confidential assessment of the Afghan war in 2009. "Our strategy cannot be focused on seizing terrain or destroying insurgent forces; our objective must be the population," he wrote in the report, which leaked to The Washington Post. "This is a 'deeds-based' information environment where perceptions derive from actions, such as how we interact with the population and how quickly things improve." He called for an "integrated civilian-military counterinsurgency campaign that earns the support of the Afghan people and provides them with a secure environment."
Indeed, demand for citizen soldiers is so acute today that the Army routinely still resorts to cross-leveling to get enough warm bodies into a Civil Affairs unit before it deploys.
The Pentagon tries to provide Reserve soldiers with four years of rest between yearlong deployments. Blackledge, the current commander of Civil Affairs, said his units deploy every 20 months. But even that number is misleading, and time at home—known as dwell time—was often reduced to less than two years, meaning reservists were treated like active-duty soldiers and deployed multiple times. An individual Civil Affairs soldier deploys much more frequently as he is cross-leveled from one unit to another. "The actual dwell time is much less for any individual soldier," Blackledge said. "And that is the best it has been since the war started."
Defense Secretary Robert Gates is mindful of the problems. He plans to increase Civil Affairs to 11,152 troops by 2013 and "is exploring ways to better integrate Civil Affairs functions with complementary stability operations" in Afghanistan, spokesman Geoff Morrell said.
But such promises come as cold comfort to Becky Morrison. She said her husband suffered from a bad knee, a bum shoulder, and high blood pressure—and never should never have been sent to Iraq in the first place, given his physical ailments.
"My husband was killed, and we're walking away from Iraq now," she said. "I'm angry at the fact they're bringing them all home because they didn't accomplish what they set out to accomplish."
The Center for Public Integrity is a nonprofit, nonpartisan investigative reporting organization in Washington.