Cop Fatally Shoots Off-Duty Officer Donald Sahota After Mistaking Him for Robbery Suspect
An off-duty officer has died in Vancouver, Washington after being shot by police who mistook him for a robbery suspect.
Donald Sahota, 52, was fatally shot by a Clark County Deputy on Saturday night during the pursuit of a suspected armed robber.
On January 29, police responded to an armed robbery at a Chevron at 9810 NE 117th Avenue.
The suspect had pointed a gun at the worker and demanded money. The suspect then fled in a stolen dark-colored Mercedes,
The robbery suspect was pursued by police and ditched his car after officers successfully deployed spike strips to immobilize the vehicle.
While on foot, the robbery suspect approached Sahota's house. He began banging on the front door asking for help and claimed he had been in a car accident.
Before the off-duty officer went outside to confront the robbery suspect, his wife called the police and explained the situation. Sahota exited his home and attempted to detain the suspect, who then became violent.
Sahota fumbled his firearm and the robbery suspect stabbed Sahota multiple times and then entered his home.
As Sahota recovered his firearm and attempted to run into his home, Clark County officers arrived at the scene. Not knowing who the suspect was, the County Deputy Sheriff fired several rounds, hitting Officer Sahota.
Sahota collapsed on his front porch before responding officers were able to determine he was the homeowner and not the alleged robbery suspect. He received medical attention but died of his injuries.
The suspect surrendered to police moments later without incident.
Sahota's official cause of death has not been determined and investigation into the use of force by the Clark County Deputy Sheriff is underway.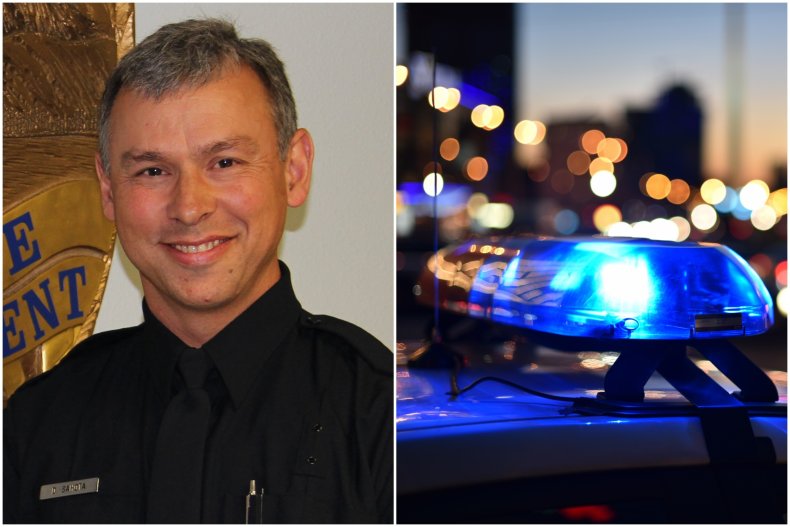 On Sunday, Vancouver Mayor Anne McEnerny-Ogle released a statement regarding the incident.
"Early Sunday morning we lost a member of our police community. I am heartbroken by the loss of officer Donald Sahota," she said.
"My thoughts are with his family, friends and all those he served with.
"Officer Sahota joined the Vancouver Police Department in 2014. I am grateful for his commitment and service to the department, his fellow officers and the community.
"The sudden death of Officer Sahota is devastating and we don't have all the details of what occurred.
"This will be investigated by the Lower Columbia Major Crimes Team. It will likely be days before we know more.
"I hope the community will join me as we hold Officer Sahota's family and our law enforcement community in our thoughts and hearts.
"To honor Officer Sahota, all flags at City of Vancouver will be lowered to half-staff.
"I appreciate the support we are receiving, however, there is no further information at this time."
Correction 8:45 a.m. ET 1/31/21: This article originally stated the shooting took place in Vancouver, Canada. It took place in Vancouver, Washington. Newsweek regrets the error.