President Donald Trump's record in office is frowned upon by half of independent voters as the country witnesses a nationwide increase in COVID-19 cases, new polling data has found.
The latest survey from YouGov found that 50 percent of independents disapproved of Trump's record in office, while 40 percent of the swing voters approved of the job the president was doing, giving him a net disapproval rating of 10 percentage points.
Republicans were unsurprisingly keen on the president's performance, with 87 percent approving of the job he was doing as just 10 percent of Democratic voters took the same view.
Fifty percent of all polled U.S. adults said they either "strongly" or somewhat disapproved of Trump's performance in the White House, compared to 43 percent who said they approved of his record.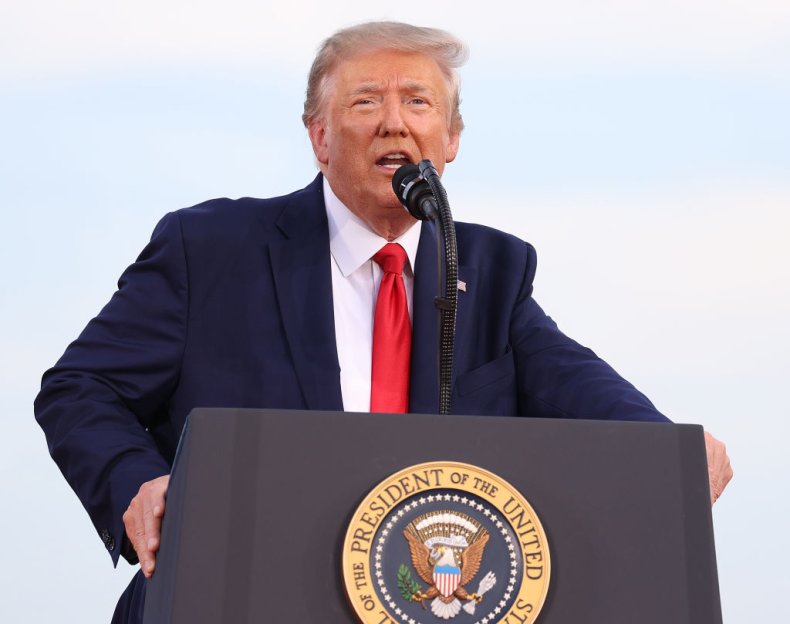 A further 6 percent of surveyed Americans told pollsters that they were unsure what to make of Trump's performance so far.
Among registered voters, the gap between the president's approval and disapproval ratings was wider. The poll found that a 55 percent majority of voters disapproved of the Trump's record in office, while 42 percent approved, landing the commander-in-chief with a net disapproval rating of 13 percentage points.
When pollsters broke the results down by age group, they found Trump's highest approval rating was among those age 65 and over. Fifty percent of the group said they backed the president's record in office so far, while only 45 percent said they disapproved.
By comparison, a little more than half (56 percent) of those aged 18 - 29 said they disapproved of Trump's performance in the White House as 54 percent of 30 - 44-year-olds took the same view.
Asked whether they believed the country as a whole was headed in the right or wrong direction, a little under two thirds of all U.S. adults (64 percent) said it was off on the wrong track.
Just a quarter of Americans told pollsters that the U.S. was heading in the right direction, and a further 12 percent said they were unsure about the future of the country.
YouGov's latest poll surveyed 1,000 U.S. adults between July 5 - 7. Its margin of error stands at 4 percentage points.
The pollster released the results of the survey as southern states continued to report thousands of new coronavirus infections following the lifting of lockdown measures.
Texas alone reported more than 10,000 new COVID-19 cases on Tuesday, the highest outbreak recorded in the state since the pandemic hit the U.S. in March.
According to the Johns Hopkins University COVID-19 tracker, more than 2.9 million coronavirus cases have been recorded nationwide over the past four months.