Trump 2020: 14 Percent of Republicans Don't Want President to Run for Re-election, Poll Shows
While President Donald Trump might often tout his support among Republicans, a new poll released Wednesday has shown that a decent portion of folks in the GOP don't want him to run for re-election in 2020.
A survey from The Economist/YouGov asked respondents: "Do you want Donald Trump to run for re-election in 2020?"
Among GOP respondents a strong majority—78 percent—wanted Trump, who is of course a Republican, to run for re-election. But 14 percent of his own party expressed they did not want Trump to run again. Eight percent of Republicans responded they were not sure.
Further, a majority of Americans overall don't want Trump to run again, according to The Economist/YouGov. Fifty-two percent of respondents said they did not want Trump to run in 2020, while 32 percent said they did want him to give it another go.
The poll from The Economist/YouGov surveyed 1,500 U.S. adults from November 25 through November 27. It had a margin of error of plus or minus 3.1 percentage points.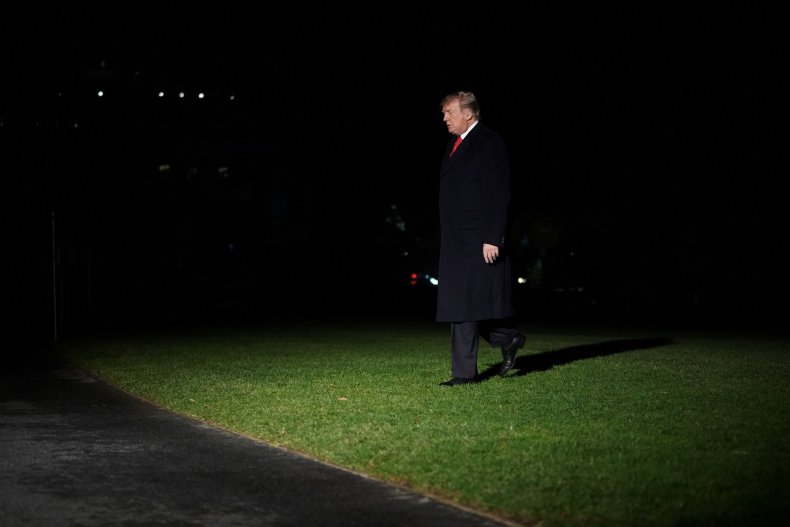 The 14 percent figure measured by the survey—for those in the GOP who don't want Trump 2020—falls in line with past polling. A Monmouth University poll this month found 16 percent of the GOP wanted Trump to be a one-term president.
For what it's worth, Trump has shown made no indication that he won't run again. But that hasn't stopped a lot of folks—like longtime Trump associate Roger Stone, for instance—from speculating that he might opt-out of a re-election bid.
Meanwhile, other recent polling has shown a lack of support for Trump. His disapproval in the Gallup poll, for instance, just tied his all-time high. Sixty percent of Americans disapproved of the job he was doing. Just 38 percent approved.
The Economist/YouGov's new poll on Wednesday found marginally better figures for Trump. It pegged his approval at 40 percent, while his disapproval came in at 52 percent.