Donald Trump's 2020 Advisers Worried About His Unpopularity With Women, Suburban Voters As He Seeks Re-Election: Report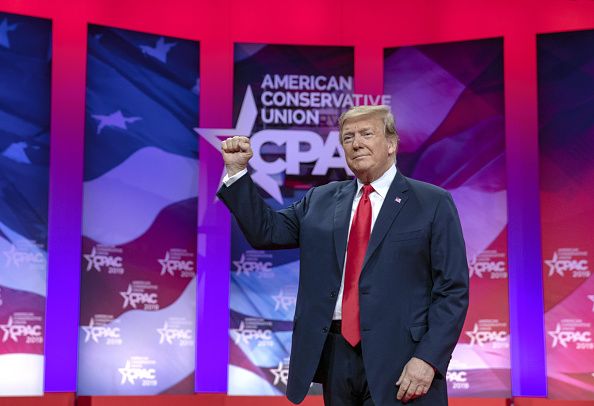 As the 2020 election looms, President Donald Trump's campaign advisers are reportedly worried about the president's unpopularity among female and suburban voters.
They are especially nervous about the president's waning favor among the two demographics in states and regions that propelled him to the White House in 2016 but have since weakened in their support, such as Pennsylvania, Florida and the Upper Midwest, according to a report published on Sunday by The Washington Post.
A Post-ABC News survey conducted in late January found that Trump faced mounting opposition from key voting groups, including women, suburban residents and minorities—the majority of who said they would "definitely not" vote for the president.
The 2018 midterm elections also highlighted Trump's weakening hold on Republican suburban areas. According to an analysis by the Post, the GOP lost control of 37 suburban districts during the midterm election cycle. Heading into Election Day, Republicans had held nearly 70 of those districts.
On top of Trump's growing unpopularity among these key voting blocs, his campaign advisers are also reportedly worried that without a foil candidate like Hillary Clinton, the president's path to re-election would be even more difficult.
Early 2020 polling indicated that Trump was trailing several possible Democratic opponents, including Bernie Sanders, Kirsten Gillibrand, Kamala Harris and Elizabeth Warren. Trump also trailed former Vice President Joe Biden, who has not officially tossed his hat into the Democratic ring for the nomination.
But the president's campaign reportedly feels confident that the Democratic Party's progressive shift on such issues as health care and climate change would be an advantage for Trump and his "America First" message.
Last week, the Trump campaign's fundraising committee sent an email to supporters, falsely claiming that Democrats running for president were "full-blown socialists" who want "wide open borders" and increased tax rates.
"Over the past couple of weeks, Democratic presidential candidates have been unveiling their 2020 strategy and it's TERRIFYING," the Trump Make America Great Again committee wrote in the email.
The message then lists some of the supposed "main talking points" of Democrats heading into 2020, including a 90 percent proposed tax rate, wide-open borders, full-term abortion, ripping away 2nd Amendment rights, government-run health care and full-blown socialism.
During his freewheeling two-hour speech at the Conservative Political Action Conference earlier on March 2, Trump hit on many of the themes of his 2020 campaign as he defended his emergency declaration over the border wall and slammed socialism.
"All of us are here today because we know that the future does not belong to those who believe in socialism," Trump told the crowd, adding that the "future belongs to those who believe in freedom… America will never be a socialist country."