Trump Campaign Committee Falsely Claims 2020 Democrats Want '90 Percent' Tax Rate, 'Full-Blown Socialism'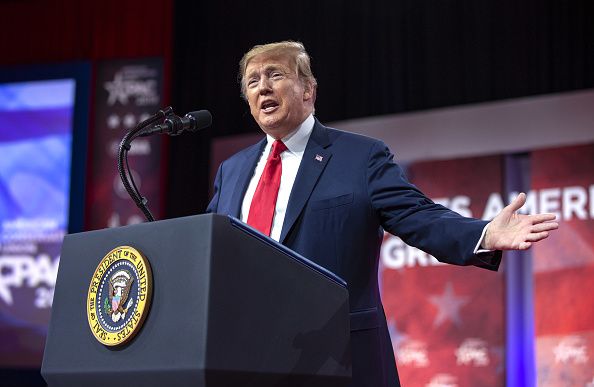 A fundraising committee for Donald Trump's re-election campaign is warning voters that Democrats running for president in 2020 are "full-blown" socialists who want to increase tax rates, open borders and allow for full-term abortions.
"Over the past couple of weeks, Democratic presidential candidates have been unveiling their 2020 strategy and it's TERRIFYING," the Trump Make America Great Again committee wrote in an email to supporters on Monday night.
The email goes on to list some of the supposed "main talking points" of the Democratic candidates heading into the 2020 election. The catalog includes: 90 percent proposed tax rate, wide-open borders, full-term abortion, ripping away 2nd Amendment rights, government-run healthcare and full-blown socialism.
"This isn't a joke, this is actually what Democratic presidential candidates are running on in 2020 and we need to know what you think about this," the email goes on to read.
The only problem is that none of the Democrats currently in the running for party's nomination have campaigned for a 90 percent tax rate.
Freshman congresswoman Alexandria Ocasio-Cortez has offered the idea of implementing a top marginal income tax rate as high as 70 percent. The tax rate would only apply to those earning more than $10 million a year and only to income accrued after that original $10 million. Her proposal is part of a plan to finance the Green New Deal, which aims to decrease the country's carbon dioxide emissions.
But Ocasio-Cortez is not a Democrat running for president in 2020, being too young to even put her name on the ballot.
Even Bernie Sanders, a self-described democratic socialist, only proposed raising the tax rate to 52 percent. The proposal was made during his 2016 White House run as a way to pay for "Medicare for All."
Elizabeth Warren has made headlines for a new proposal for an annual 2 percent "wealth tax" on Americans with over $50 million in assets. The tax would increase to 3 percent for those who have more than $1 billion in assets.
Other candidates like Kamala Harris and Kirsten Gillibrand have focused their 2020 economic policy on tax cuts for the middle class.
Even as these progressive economic proposals take shape over the 2020 race, it would be misleading to say that any of the Democratic candidates endorse "full-blown socialism."
Even Sanders, a self-described democratic socialist, has signed a loyalty pledge to the Democratic Party for his presidential run.
The pledge, given to all current Democratic presidential campaigns, makes the candidate promise to run and govern in alignment with the party if elected president in 2020. The document also states that the Democratic National Committee has the right to examine a candidate's record to determine whether they are indeed a "bona fide Democrat."
"I am a member of the Democratic Party," the document signed by Sanders reads. "I will run a Democrat, accept the nomination of my Party, and I will serve as a Democrat if elected."
According to a new poll released by NBC News and the Wall Street Journal over the weekend, only four in 10 voters say they want Trump to be re-elected in 2020. The poll showed that 48 percent of voters say they will "definitely" or "probably" vote for the Democratic candidate.