Donald Trump 2020 Re-Election Supported by Just 40 Percent in Crucial Swing State of Florida, Poll Finds
President Donald Trump's popularity has dipped in Florida, a key swing state in presidential elections, according to a new poll released on Wednesday in which more than half the voters in the state said he shoud not be re-elected in 2020.
The poll, from Bendixen & Amandi International and reported by Politico, asked if voters believed that Trump should be re-elected in 2020: 40 percent said he should be re-elected, 53 percent said he should not be re-elected and 7 percent either said they were unsure or did not answer the question.
The survey also polled Trump's favorability in Florida, a state he won by a narrow 1.2 percent margin in 2016: 43 percent viewed him favorably, while 52 percent viewed him unfavorably.
The pollster who conducted the survey, Fernand Amandi, told Politico that Trump was "in trouble" in the state.
"This idea that we need to re-evaluate Florida as a swing state is utterly disproved by this poll," Amandi told the outlet. "Florida remains the swing state prize. The $64,000 question is, 'Can Democrats not named Barack Obama seize that prize?'"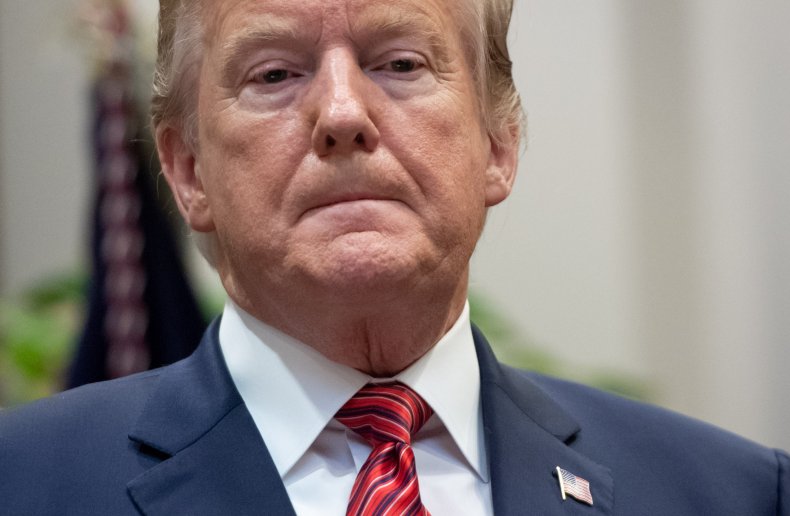 Trump won Florida in 2016 with 48.6 percent of the popular vote, compared with 47.4 percent for Democratic nominee Hillary Clinton. The University of Virginia's Center for Politics recently published its first Electoral College ratings for 2020 and had Florida leaning Republican, but today's poll could raise new concerns for the Trump campaign.
Other recent polls have also spelled potential trouble. Gallup pegged Trump's overall approval rating at 43 percent this week, while Quinnipiac University had him at 38 percent.
The Quinnipiac poll also found that nearly two-thirds of voters believed Trump had committed crimes before taking office, and 45 percent believed he had committed crimes since entering the White House.
"The answers to two survey questions deliver a double-barreled gut punch to the honesty question," Tim Malloy, assistant director of Quinnipiac University, said in a statement. "When two-thirds of voters think you have committed a crime in your past life, and almost half of voters say it's a toss-up over whether you committed a crime while in the Oval Office, confidence in your overall integrity is very shaky."