Donald Trump's 2020 Election Support is Even Lower Than His Approval Rating, According to New Poll
A strong majority of the country does not want President Donald Trump to serve a second term and support for Trump's re-election is even lower than his already poor approval ratings, according to a new poll released Wednesday and conducted just days after Republicans were served sweeping midterm election losses.
A mere 37 percent of adults polled by Monmouth University supported Trump's re-election, with 58 percent against the billionaire's run in 2020. The poll also reflected a 43 percent approval rating, with 49 percent disapproving, numbers that have held steady for Trump through much of 2018 in other national polls.
Support for a Trump 2020 campaign remained the same among registered voters. Thirty-six percent backed Trump for a second term while 59 percent wanted a new leader come January 2021.
But, much like his approval ratings since taking office nearly two years ago, support for Trump was drawn deeply along partisan lines. Fifty-nine percent of independents and 92 percent of Democrats want Trump out after 2020, while 16 percent of Republicans said their party's leader should exit the stage in 2020.
"It's interesting that the number of Americans who feel Trump deserves re-election is actually smaller than the number who give him a positive job rating. It seems that some Americans are okay with Trump as president now but feel that four years might be enough," Monmouth University Polling Institute director Patrick Murray said in a statement.
The 16 percent of Republicans could suggest Trump's popularity in the party may have taken a hit recently. Most polls have pegged Trump's support within the GOP as high as 90 percent or in the mid-to-high 80s.
Still, speculation has continued about a Republican possibly challenging Trump for the party's nomination in 2020, while a host of potential Democratic candidates could upend Trump's shot at a second term if others polls find similar numbers in the months leading up to the election.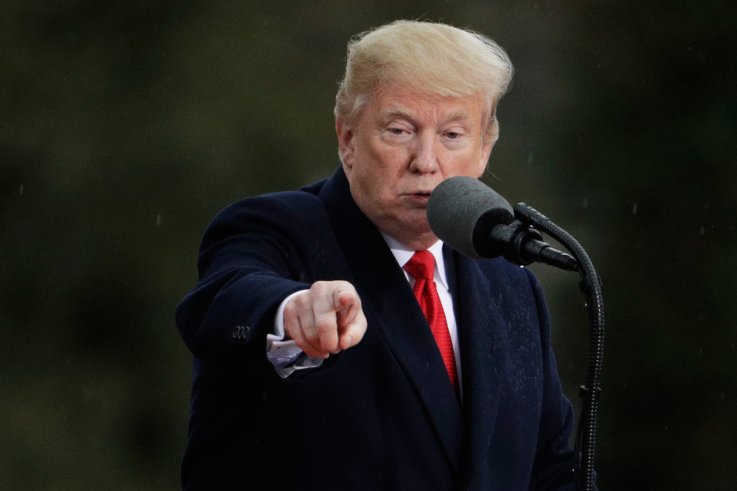 Monmouth's poll followed strong gains by Democrats in last week's midterm elections, which Trump had made a referendum on his time in office. Democrats took back 33 House seats and control of the chamber with the possibility of padding their majority as ballots continue to be counted around the country. Republicans also lost six governor's races, and thus far only improved their majority in the Senate by one seat with Florida and Mississippi longshots for Democrats but not unwinnable.
The poll also dug into what the expectations are for Congress moving forward in the rest of Trump's first term. Fifty-two percent said checking Trump should be a "major priority" for the next Congress, with 20 percent answering a "minor priority."
Most Democrats, led by potential new Speaker of the House Nancy Pelosi, opted not to run a midterm campaign calling for Trump's impeachment and it could have been the right play for the party. The poll showed only 36 percent wanted Trump impeached, with 59 percent against impeachment.
The Monmouth poll of 802 adults was conducted between November 9 and 12 and had a margin of error of 3.5 percent.
Donald Trump's 2020 Election Support is Even Lower Than His Approval Rating, According to New Poll | U.S.