Former Senate Majority Leader Harry Reid warned an audience at the University of Nevada Las Vegas this week not to underestimate President Donald Trump's chances of winning reelection.
The stern words from the former Democratic leader who retired in 2017 come as multiple polls show nearly every Democratic 2020 candidate coming in ahead of Trump in a general election.
"If anyone thinks Trump can't be reelected, they better get another thing coming. He can be reelected," said Reid, before adding, "hope to hell he isn't."
Reid also took the time to admonish his former Republican colleagues in the Senate for what he called their fear of the president. "I served with many Republicans who are in the Senate now, these fine men and women are doing nothing to speak out against Donald Trump. Now that's unfair to the country," Reid said. "I think that he has intimidated these good men and women and they're afraid to say anything about him. All the criticism comes from the Democrats and that's wrong."
Reid joined former Republican Senator Dean Heller on Thursday to launch the Boyd Law School's Law and Leadership Program, led by former Republican Nevada Governor Brian Sandoval.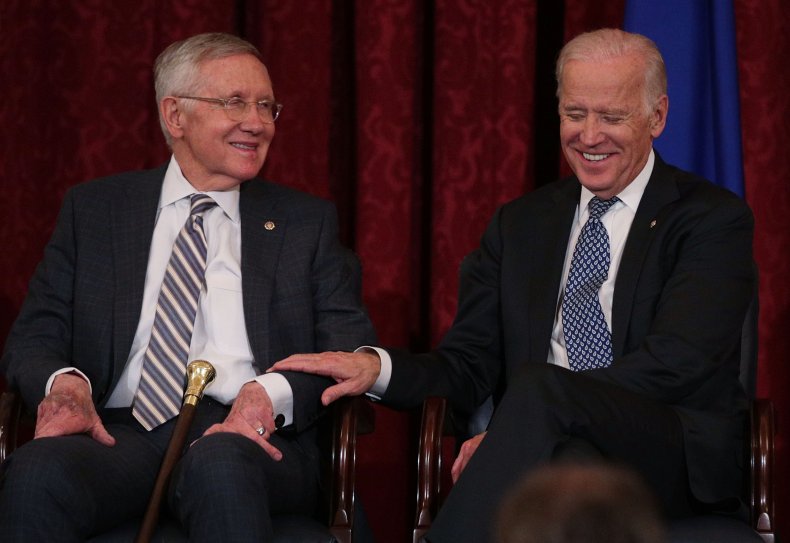 "I think you would be misguided if you didn't think Donald Trump can't be reelected," said Heller, who opposed Trump during his 2016 campaign, but became an ally once he was elected to the presidency. "When I go to Costco, when I go to Walmart, everybody wants to tell me how they're going to vote. But here's the common thing that I find in it, it's this: if I have to choose between crazy and socialism, I'm going with crazy."
Reid responded that he'd rather "go with socialism."
Republicans are banking on framing the 2020 elections as a fight against socialism, although only one Democratic candidate identifies as a Democratic socialist and the rest have said they are capitalists. At the GOP retreat this week, Republicans went so far as to make their wifi password, "Socialism_Is_Very_Very_Bad."
Heller later explained his allyship with Trump to a group of reporters. "Between leadership and what's going on back home — sometimes there is conflict. So you do what's necessary in Washington, D.C. that you know, long term, is [for] the betterment of the country," he said.
In August, Reid also told The Daily Beast that he was "pretty damn worried" Trump would win another term in office. "Anybody that thinks he's going to be beaten easily is wrong. As sad as it is. As hard as it is for me to say this: Don't count that man out."