Donald Trump Should Face 2020 Republican Primary Challenge, Majority of Voters Say in Poll
If a majority of Americans had their way, President Donald Trump would face a challenger in the Republicans primaries leading into the 2020 presidential election, a new poll found.
A poll from Hill.TV and HarrisX polling that was released this week found that nearly three-quarters of voters—72 percent—would like Trump to face a GOP challenger in the primaries. Just 28 percent wanted him to be the GOP nominee without facing a Republican opponent.
Despite Trump's relative popularity among GOP voters, even a fair number of Republicans wanted him to face a challenger in the 2020 primary. Forty-three percent of GOP respondents said Trump should face a primary challenge. Still, a majority of Republican respondents, 57 percent, said Trump should not face a primary challenge.
It's not ideal for the president that about seven in 10 Americans—and four in 10 Republicans—want Trump to face a primary challenge.
"Those aren't that great numbers for President Trump," Republican pollster Conor Maguire told Hill.TV. "There seems to be a lot of Republicans that are really not sold on reelection."
The poll surveyed 1,000 registered voters from November 9 through November 10. It had a margin of error of plus or minus 3.1 percentage points.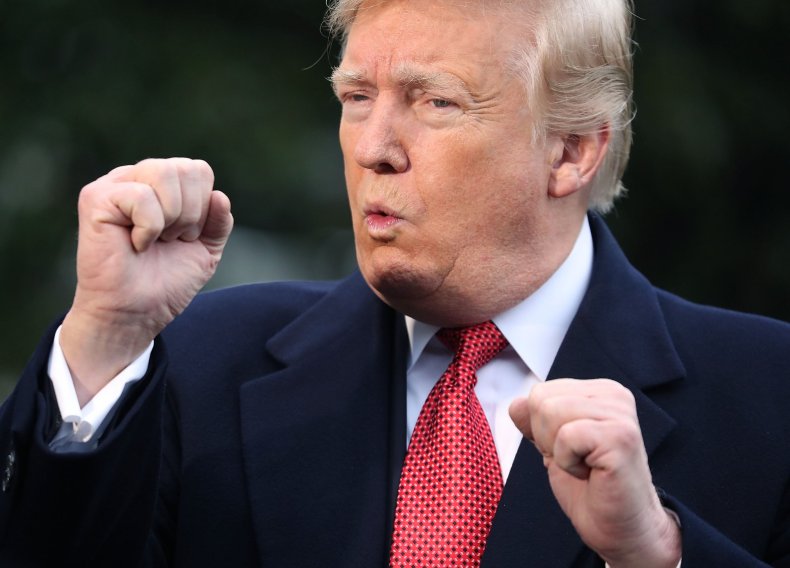 A number of GOP politicians have been floated as potential primary challengers to Trump. Typically speaking, they're more center-leaning Republicans who've proven willing to speak out against Trump.
Outgoing Arizona Senator Jeff Flake has been floated as a potential challenger. He has, after all, made it a point to speak out against the president (even if he typically voted in line with Trump's interests). Flake seems to be mulling it.
"I've not ruled it out. I've not ruled it in. Just, somebody needs to run on the Republican side," Flake told Politico last week.
Another name that's been floated is outgoing Ohio Governor John Kasich. He's a Republican but has hinted he might actually prefer a third-party run. Kasich was asked on ABC's The View if he was going to run for president.
"I don't know. I mean, all of my options are on the table. You know, in the Republican Party… pretty hard because it's kind of locked down right now, but we don't know what's going to come in the future," he said. "I think, for the first time, there is a legitimate chance for a third-party candidate."