Donald Trump Says He'd 'Love' to Face Stacey Abrams in 2020: 'To Run for President You're Supposed to Have Won'
Following their face-off over the State of the Union address on Tuesday night, President Donald Trump says that he does not believe Democrat Stacey Abrams can win a Senate seat in Georgia in the 2020 election but would "love" for her to challenge him for the presidency.
In an exclusive Oval Office interview with the Atlanta Journal-Constitution on Wednesday, the president said he did not think it was wise for Abrams to run against Republican Senator David Perdue for Congress in the next election.
"I think it's a mistake for her to run against him because I don't think she can win," Trump told the newspaper. The president praised Perdue, an early supporter of his campaign in 2016, calling the senator "incredible" and "very hard to beat."
Trump then went on to say that he would "love" for Abrams to consider a 2020 presidential campaign.
"Why? Because so far I'm liking the candidates and she'd be another one I'd like. To run for president you're supposed to have won, unless you're a non-politician like me. I'd never ran. I'm one for one," he added. (Trump formed an exploratory committee to run for president in 2000, contesting the Reform Party nomination before bowing out of the race.)
Trump's comments came just hours after Abrams delivered the Democratic Party's response to the president's State of the Union address. In her short speech, Abrams outlined the Democratic vision on immigration, voting rights, education and healthcare.
In her rebuttal, Abrams criticized Trump for his tireless calls for a border wall between the United States and Mexico. She slammed the administration for choosing to separate migrant children from their families at the southern border and for keeping them in "cages."
Compassionate treatment at the border is not the same as open borders," she said. "America is made stronger by the presence of immigrants, not walls."
Abrams continued, saying: "So even as I am very disappointed by the president's approach to our problems—I still don't want him to fail. But we need him to tell the truth, and to respect his duties and the extraordinary diversity that defines America."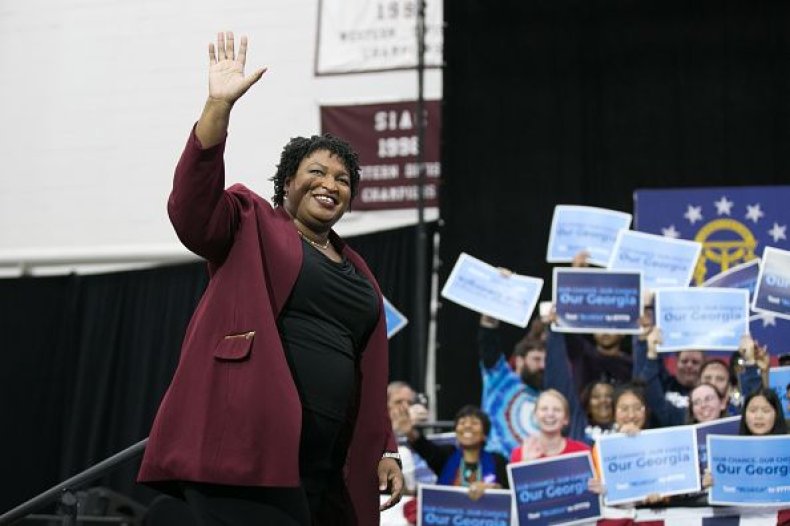 Abrams first entered the national spotlight during her gubernatorial bid in the 2018 midterm elections. The Georgia Democrat went head-to-head with Brian Kemp, a longtime Republican endorsed by President Trump.
Her campaign attracted the support of top Democrats like former President Barack Obama and former Vice President Joe Biden. Celebrities like Oprah Winfrey and Will Ferrell stumped for Abrams during the contentious race.
But Abrams was ultimately defeated by Kemp, losing the race by fewer than 60,000 votes. The Democrat at first refused to concede, claiming that thousands of votes had been rejected or not counted. When she did formally exit the race, she slammed Kemp and the state for "gross mismanagement" of the election and filed a federal lawsuit against the state of Georgia.
Following her rebuttal on Tuesday night, Democratic leaders showered Abrams with praise. House Speaker Nancy Pelosi called her an "inspiration" and Biden wrote on Twitter that she "achieved in a matter of minutes something Donald Trump failed to do in over an hour—to embrace and give voice to the spirit and core values that make America great."
Following her 2018 election loss, Abrams has said that she plans to run for office again but has given no indication of when or at what level of government.