Trump's Headed for a Major Victory on Election Night
Former President Donald Trump's Senate endorsement record is headed for a stellar election night with 10 days until the midterms, a victory Trump is likely to use to bolster his status as the top dog in the GOP.
Of the 22 Republican candidates that Trump has endorsed for the Senate, only two are currently at risk of losing their races, according to a Newsweek analysis.
The two Trump-backed Republicans who are projected to lose their contests as of Friday are Kelly Tshibaka, who is running in Alaska's ranked-choice voting system against incumbent Republican Senator Lisa Murkowski, and Leora Levy, who is running in Connecticut against incumbent Democratic Senator Richard Blumenthal.
Of Trump's remaining 20 candidates, only six are currently in toss-up races: Herschel Walker in Georgia, Adam Laxalt in Nevada, Mehmet Oz in Pennsylvania, Blake Masters in Arizona, J.D. Vance in Ohio and incumbent Senator Ron Johnson in Wisconsin.
This means that more than 60 percent of Trump's endorsements are projected to win their Senate races in less than two weeks time, including the reelection campaigns of GOP Senators Marco Rubio of Florida, Chuck Grassley of Iowa, Mike Lee of Utah, Jerry Moran of Kansas, Rand Paul of Kentucky, John Boozman of Arkansas, John Hoeven of North Dakota, Mike Crapo of Idaho, James Lankford of Oklahoma, Tim Scott of North Carolina and John Neely Kennedy of Louisiana.
Trump spent much of the midterm cycle bragging about the victories of his endorsements. While his primary wins had suggested that he continues to yield significant influence over GOP voters, he is likely to use the general election wins of his endorsements to credit himself with a Republican midterm victory.
Republican strategist Jay Townsend told Newsweek that Trump is likely to take credit if any of his endorsed candidates win, regardless of whether he was the driving force of their success. He's also likely to blame losses on election fraud or a misstep from the candidate themselves.
However, the impact Trump has on his endorsed candidates is likely to come into question. Townsend said anti-Trump pundits will try to divert credit, claiming the GOP surge was about crime and inflation and had little to do with Trump.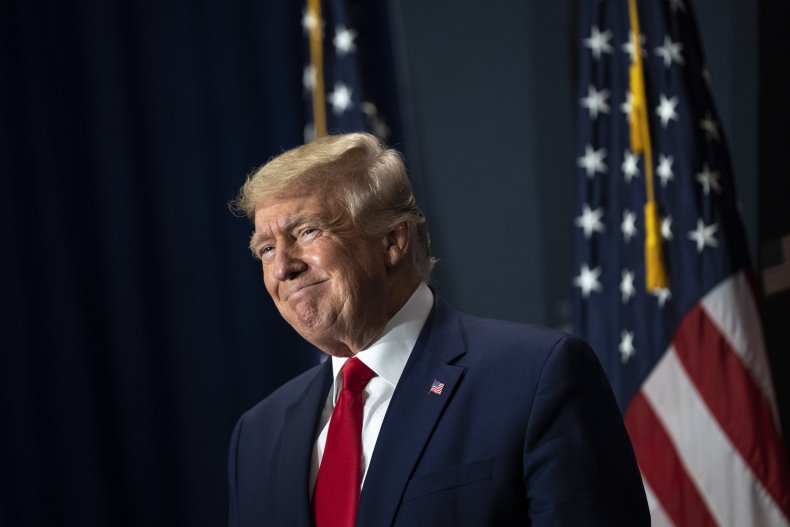 Trump's known for endorsing candidates who have good chances of winning and historically has taken on safer bets when issuing his endorsements. Some have argued that the strategy has inflated Trump's endorsement record and several of his candidates, including Senator Tim Scott, were likely headed for re-election even without the former president's endorsement.
Others, however, are struggling to gain traction.Trump's candidates are facing their toughest races in Georgia, Nevada, Pennsylvania and Arizona, where Republicans and Democrats are neck-and-neck in the polls.
Although Johnson is in a close contest with Democratic Lieutenant Governor Mandela Barnes in Wisconsin, FiveThirtyEight is still projecting the incumbent Republican senator to win reelection with a 77-in-100 chance. And Cook Political Report is forecasting Vance to beat out Democratic Representative Tim Ryan in the "lean Republican" race in Ohio.
The closest Senate races are in Georgia and Nevada, where Trump's candidates are still projected to win against their incumbent Democratic opponents, albeit each by a very narrow margin.
As of Friday, Walker has a 52-in-100 chance of unseating Senator Raphael Warnock and Laxalt has a 54-in-100 chance of ousting Senator Catherine Cortez Masto, according to FiveThirtyEight. At the same time, RealClearPolitics shows Warnock with a lead of 0.6 points, and Cortez Masto trailing by 1.2 points behind Laxalt.
Oz and Masters are also in tight races against Pennsylvania Lieutenant Governor John Fetterman and Senator Mark Kelly in Arizona, respectively. Currently, FiveThirtyEight shows that Fetterman has a 59-in-100 chance of taking Pennsylvania's open seat and Kelly has a 69-in-100 chance of winning reelection.
While Fetterman commanded a dominating advantage for much of the election cycle, Oz has quickly gained momentum. Fetterman had an 8.7-point lead for much of August, but as of Friday, the Democrat is only ahead by 0.3 points, according to RealClearPolitics.
Update 10/31/22, 11:20 a.m. ET: This story was updated with comment from Republican strategist Jay Townsend.