Donald Trump Faces $250,000 Penalty as Contempt Fine Deadline Nears
Donald Trump faces a $250,000 fine, with the deadline looming for him to meet a number of judge-imposed demands after he was found in contempt of court for failing to comply with a subpoena.
On April 25, New York Judge Arthur Engoron held the former president in contempt for not fully cooperating with the civil investigation by Attorney General Letitia James, which is looking into allegations of tax fraud by The Trump Organization.
Trump was issued with a daily $10,000 fine for until he complied with the subpoena, or could convince the judge his business did not have the documents that James' office is requesting.
On May 11, Engoron released Trump from the judicial order on the condition that he pays a $110,000 fine as well as meet a number of other conditions by May 20.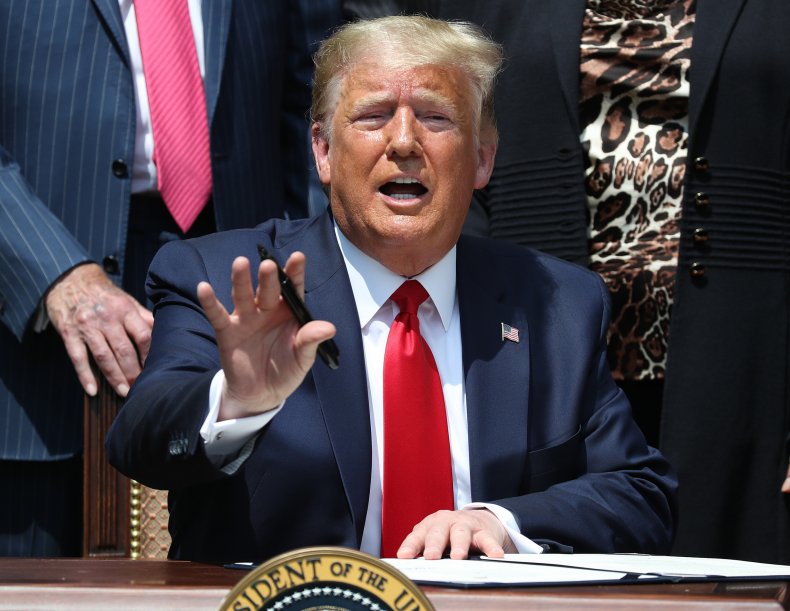 The criteria Trump was told he must meet on top of paying the fine include providing details of the Trump Organization's document retention and destruction policy, as well as more details about the document searches conducted by his team.
A review of the documents and affidavits submitted by Trump's team must also be reviewed by a third party.
If Trump does not pay the $110,000, Engoron would reinstate the contempt order and retroactively apply the $10,000-a-day fine, meaning he now faces a $250,000 fine if he does not comply with the subpoena by Friday.
Trump was not asked to pay the total running cost of fines on May 11, which would have amounted to $160,000, as his lawyers had submitted 66 pages of court documents on May 6 to show they are trying to locate the subpoenaed records, reported Politico.
Engoron previously criticized Trump's brief affidavit arguing why the daily fines should be thrown because he does not own the necessary documents as "completely devoid of any useful detail."
"It fails to state where he kept his files, how his files were stored in the regular course of business, who had access to such files, what, if any, the retention policy was for such files, and, importantly, where he believes such files are currently located," Engoron wrote in a ruling.
In a statement after the judge told Trump to pay the $110,000 fine and meet the other conditions by May 20, James said: "For years, Mr. Trump and the Trump Organization have tried to thwart our lawful investigation, but today's decision makes clear that no one can evade accountability.
"We will continue to enforce the law and seek answers as part of this investigation."
Trump and James have been contacted for comment.