Donald Trump Announces 4th of July Rally Dubbed 'Salute to America' Hosted By Everyone's 'Favorite President'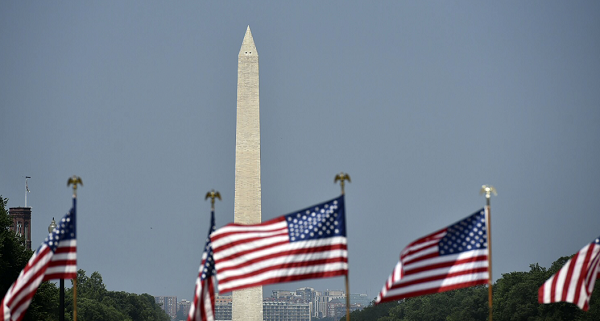 No plans for Independence Day yet? No worries, President Donald Trump has you covered. Trump announced plans to throw what he claims will be the "biggest" Fourth of July extravaganzas ever in the nation's capital in the summer. The 45th president teased a few details about the event on Twitter on Sunday.
"HOLD THE DATE! We will be having one of the biggest gatherings in the history of Washington D.C. on July 4. It will be called 'A Salute to America' and will be held at the Lincoln Memorial," Trump wrote. "Major fireworks display, entertainment and an address by your favorite President, me!"
While some people on social media praised the president for the idea of an even bigger Independence Day celebration, others roasted Trump for planning such a big event during a time when Washington D.C. was already flooded with holiday activities.
Trump's Salute to America would be one of many events held during the July 4 holiday each year in the nation's capital. D. C. already hosts an annual fireworks show at National Mall on Independence Day in addition to a parade and free concert along Constitution Avenue.
This also isn't the first time the president has alluded to having a bigger celebration in D.C. for the yearly holiday. He recently suggested throwing an event for Independence Day at either National Mall or the Lincoln Memorial during a Cabinet meeting in January.
"It could be a very exciting day," Trump said. "It'll be a, really a gathering, as opposed to a parade I guess you'd have to say. Perhaps at the Lincoln Memorial. We're looking at sites. But we're thinking about doing something which would become perhaps, become a tradition, Salute to America, on July Fourth or July Fourth weekend, somewhere around that area."
Trump's new Fourth of July fiesta comes following the president's failed plan for a military parade in honor of the 100-year anniversary of World War I in August. The 72-year-old suggested the commemorative event to be held on November 10, just one day before the anniversary of the historic war. However, he canceled the event citing high costs in August.
See a few more reactions to Trump's Fourth of July announcement below.