Video of Donald Trump Saying 'Only the Mob' Take 5th Amendment Resurfaces
A video of Donald Trump claiming that only the mob and people who are guilty take the 5th amendment has resurfaced on social media.
During his presidential candidacy, Trump repeatedly attempted to attack his opponent Hilary Clinton with comments about the use of the 5th Amendment.
A clip posted on Tuesday, which has so far been viewed more than 80,000 times, showed the comments Trump made about the 5th Amendment to Clinton before showing the moment the former president pleaded the 5th himself.
Speaking to Clinton during a 2016 debate, Trump said: "When you have your staff taking the 5th Amendment, taking the 5th so they are not prosecuted, when you have the man who set up the illegal server taking the 5th, I think it is disgraceful."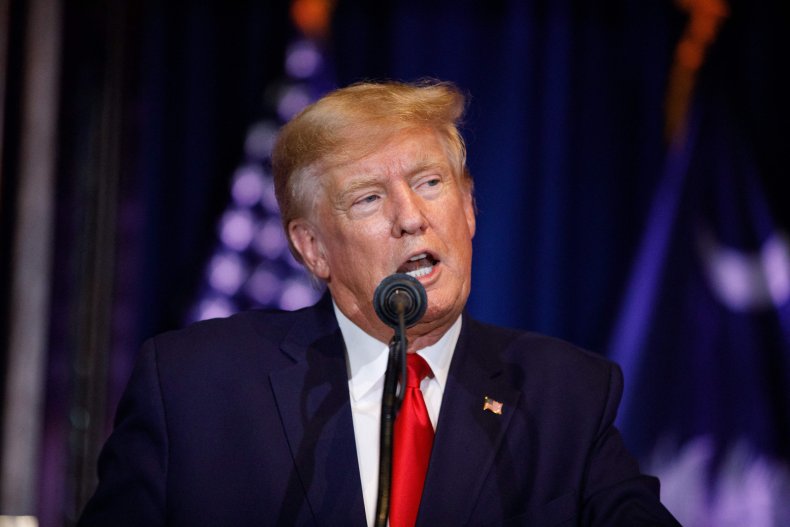 The video then showed a portion of Trump's deposition before showing him speak at a podium saying: "The mob takes the 5th Amendment, if you are innocent why are you taking the 5th Amendment?
Videos and clips of Trump dismissing the use of the 5th amendment come at the same time videos have begun to circulate showing him taking the 5th during his New York Civil Fraud investigation.
A clip from a CNN broadcast that showed videos of Trump during his deposition for a New York fraud investigation last year has gone viral, with over 830,000 views since being posted on Tuesday.
According to a CNN report, during his deposition, Trump pleaded the 5th more than 400 times.
In the clip, Trump said: "Anyone in my position not taking the 5th amendment would be a fool, an absolute fool.
"One statement or answer that is ever so slightly off, ever so slightly by accident or mistake, such as: 'It was a sunny beautiful day' when actually it was slightly overcast would be met with law enforcement.
He continued: "Under the advice of my counsel, for all of the above reasons I effectively decline to answer the rights and privileges afforded to every citizen under the United States Constitution."
Trump was being deposed as part of a civil investigation into the Trump Organization's business practices by New York Attorney General Letitia James.
The civil investigation culminated in a lawsuit filed by James in September.
During a press conference, James announced the lawsuit and said: "Donald Trump falsely inflated his net worth by billions of dollars to unjustly enrich himself, and to cheat the system, thereby cheating all of us."
She continued: "For too long, powerful, wealthy people in this country have operated as if the rules do not apply to them.
"Donald Trump stands out as among the most egregious examples of this misconduct."
Newsweek has contacted Trump for comment.