Donald Trump Is the Oldest World Leader to Test Positive for Covid
President Donald Trump announced late Thursday that he and first lady Melania Trump have tested positive for COVID-19 coronavirus, the pandemic that has thrown the world into turmoil and claimed 1 million lives to date; more than 207,000 of those in the U.S.
Trump has now joined a growing list of world leaders who are confirmed to have contracted the disease. The president—who downplayed the severity of the virus in public early in the pandemic despite knowing how dangerous it was—is 74 years old, his age putting him at greater risk of potentially deadly complications.
Indeed, Trump is the oldest world leader so far to have a confirmed coronavirus infection. While the overall survival rate for COVID-19 remains high, older patients—particularly men—are at higher risk of death from the virus.
Trump wrote on Twitter that he and Melania "will begin our quarantine and recovery process immediately. We will get through this TOGETHER!"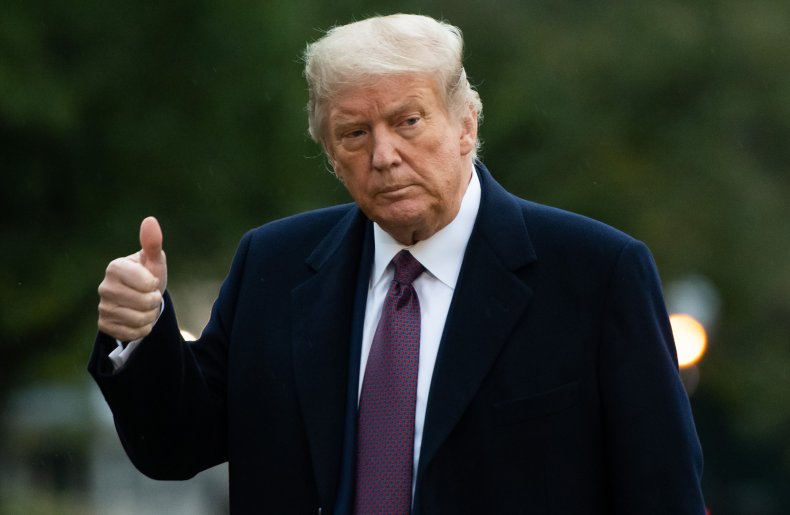 British Prime Minister Boris Johnson was the first major world leader to be confirmed positive with COVID-19. In April, Johnson was hospitalized and put into intensive care as his symptoms worsened, leaving his government rudderless and raising fears he may die. The 56-year-old was given oxygen but did not need to be put on a ventilator.
Johnson claimed his situation "could have gone either way" but he eventually recovered. Since returning to work, he has been widely criticized for a lackluster response to the pandemic, with some observers questioning whether his illness left a lasting impact.
As news of Trump's diagnosis spread, critics were quick to point out his earlier efforts downplay the virus and malign those pushing for more significant restrictions to stop its spread. The same was true of far right populist Brazilian President Jair Bolsonaro, 65, who was confirmed infected in July.
Bolsonaro was perhaps the most publicly dismissive of the pandemic, encouraging mass gatherings and refusing to wear a mask while mixing with crowds. The Brazilian president used his illness to promote hydroxychloroquine, the unproven malaria drug that some—including Trump—have touted as a treatment for COVID-19.
Another strongman leader dismissive of the pandemic was Belarus President Alexander Lukashenko. The embattled leader—now facing mass protests demanding his resignation—rejected concerns about the virus as "psychosis" and recommended drinking vodka and visiting saunas to stay healthy. Lukashenko, 66, contracted the virus in July but said he was asymptomatic, and has now recovered.
Several other American leaders contracted coronavirus. Honduras President Juan Orlando Hernandez, 51, tested positive along with his wife and several aides in June. He was hospitalized but released in July.
When released, he told reporters: "Many think this is a game and it is not until they see a relative who gets sick or when they get sick themselves that they understand the seriousness of this issue...I tell you, the truth is I don't wish this on anyone."
The president of neighboring Guatemala, Alejandro Giammattei, contracted the virus in September and experienced symptoms "like a bad cold," he said. Giamattei—who is 64, has multiple sclerosis and uses canes to walk—confirmed he would isolate and work from home until he recovered.
Bolivian interim President Jeanine Anez—who took power after the right-wing coup in November—was forced into isolation when she was confirmed as infected in July, though said she was feeling well and continued to work from home. Anez, 53, will be president until after the country's October election, which has been delayed due to the pandemic.
Dominican Republic President Luis Abinader, 53, spent weeks in isolation this summer after testing positive, staying home in the middle of his successful election campaign. He has since recovered and taken office after winning the July vote.
Armenian Prime Minister Nikol Pashinyan, 45, tested positive for coronavirus in June, saying he had no visible symptoms and was working from home. He has now recovered and is currently steering his nation through its latest outbreak of violence with Azerbaijan over the disputed Nagorno-Karabakh pocket.
Guinea-Bissau Prime Minister Nuno Gomes Nabiam, 53, also contracted coronavirus in April, as did several government ministers.
The graphic below, provided by Statista, highlights some of the world leaders that have contracted cornavirus.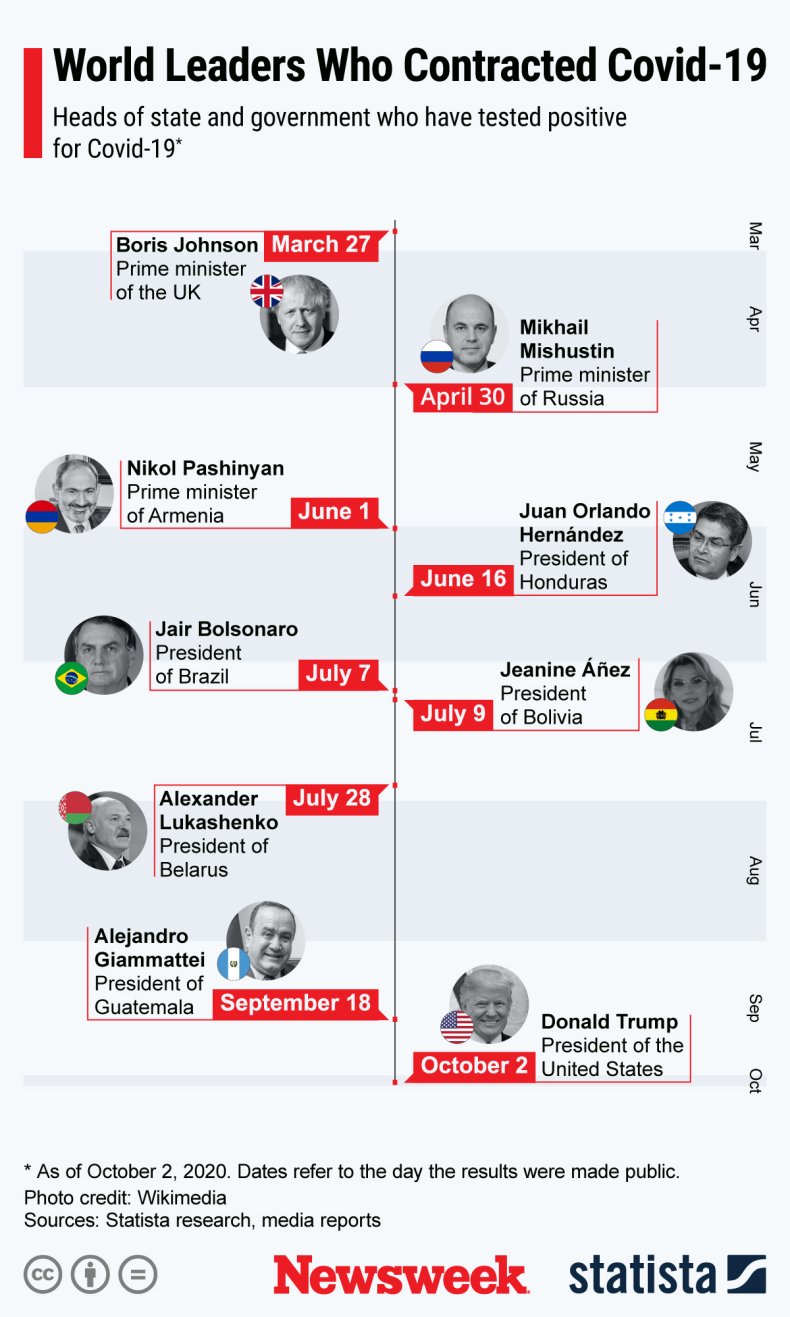 Correction 10/2/20, 11 a.m. ET: This article's headline was updated to remove the statement that Trump is the 8th world leader to contract coronavirus. The article was also updated to include more information about other world leaders that have contracted coronavirus.