Is Donald Trump About to Pardon Michael Flynn? President Sparks Speculation by Praising Convicted Former Advisor
President Donald Trump stoked speculation Thursday about a potential move to pardon his former National Security Advisor Mike Flynn, who pleaded guilty in 2017 as part of the special counsel's Russia probe and is set to be sentenced in the coming months.
"General Michael Flynn, the 33 year war hero who has served with distinction, has not retained a good lawyer, he has retained a GREAT LAWYER, Sidney Powell," Trump wrote on Twitter. "Best Wishes and Good Luck to them both!"
Last week, Flynn fired his previous counsel, Robert Kelner and Stephen Anthony of powerful D.C. law firm Covington & Burling, which counts former Attorney General Eric Holder as a partner. In their place, Flynn retained Powell as his new defense attorney. Powell, a former federal prosecutor, is perhaps most recently known for her numerous appearances on Fox News and diatribes against former Special Counsel Robert Mueller.
Powell responded to Trump: "Thank you Mr. President!! I'm honored."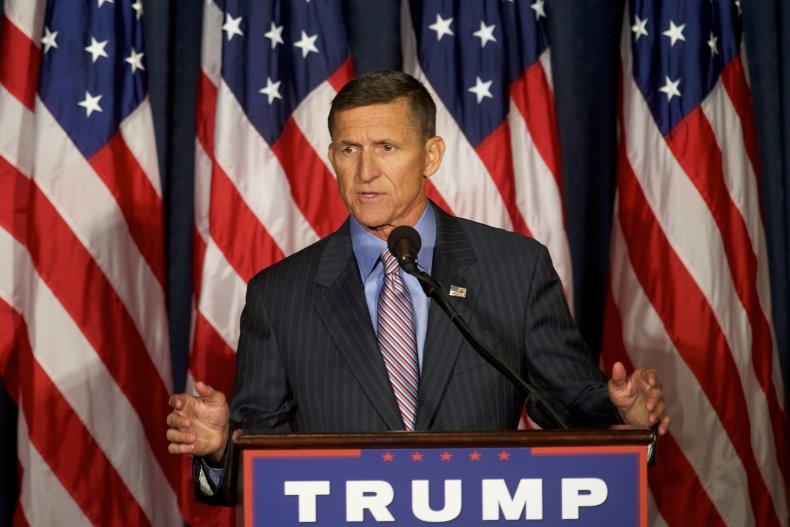 Legal analysts have speculated that this and other moves by the president have left open the possibility that he may seek to issue pardons for associates entangled in the Russia probe's lingering prosecutions, a controversial use of presidential authority that Trump has hardly shied away from in the past.
Former Maricopa County Sheriff Joe Arpaio and right-wing commentator Dinesh D'Souza were both at the receiving end of the president's clemency. In recent weeks, reports have revealed that the president is also considering a sweeping set of pardons for U.S. servicemembers convicted of, or being tried for, war crimes.
A voicemail described in Mueller's report was recently made public by an order from the judge overseeing Flynn's case. In the 2017 message to Flynn's then-lawyer, Trump attorney John Dowd can be heard dancing around the idea of pardoning Flynn while allegedly attempting to interfere in his cooperation with prosecutors, an avenue pursued by Mueller as part of his investigation into potential obstruction of justice.
"If there's information that implicates the president, then we've got a national security issue," Dowd warned, according to the recording. "Remember what we've always said about the president and his feelings toward Flynn, and that still remains."
Flynn's guilty plea related to his contacts with Russian officials during the presidential transition period and subsequent lies to the F.B.I. about these contacts.
The decision to hire Powell, a notorious and outspoken Mueller critic, has been taken by some to be a ploy to attract the attention of the president, who has spent the majority of his time in office trying to discredit Mueller and the Russia probe. As part of this effort, Attorney General William Barr recently announced that the Department of Justice will begin an inquiry into the origins of the investigation, which President Trump has, without evidence, described as an illegal spying operation on his 2016 campaign.
Former Office of Government Ethics director Walter Shaub believed the pardon allusions signal something more sinister than perhaps an attempt to retroactively clean up the outcome of the Russia investigation. Shaub, who served during portions of both the Obama and Trump administrations, wrote on Twitter that the president's hints suggest to his re-election campaign staff that they have the freedom to collude with foreign governments and the "hope of [a] pardon" to fall back on if they are ever caught.