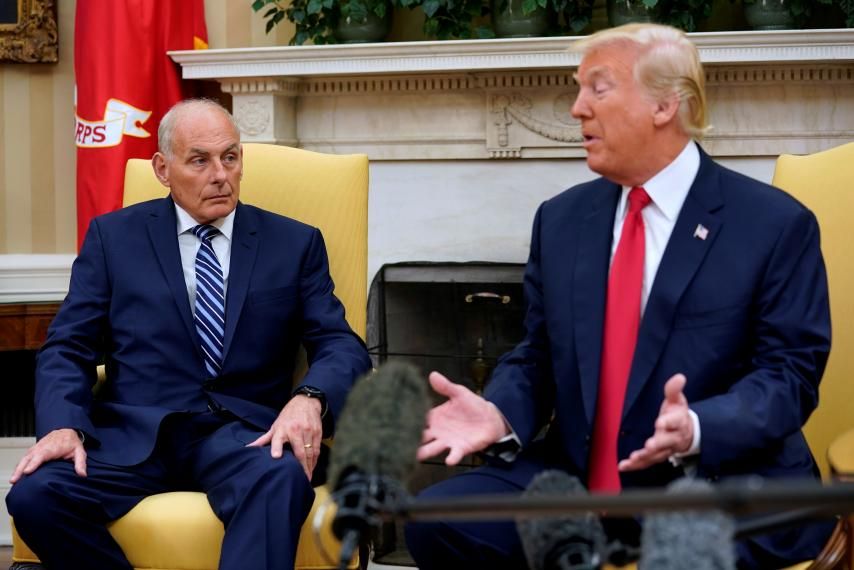 President Donald Trump isn't one for particulars—he prefers bullet points over in-depth analysis and sweeping, misleading statements on Twitter to, well, telling the American people the truth.
That's what made a new report from Wednesday from scoop-heavy website Axios all the more surprising. Trump appears to be actually trying hard—as much as he can—to do presidenty things to impress his new Chief of Staff, General John Kelly. Axios' Mike Allen and Jonathan Swan noted in a news bulletin that Kelly had brought a bit of order to a White House that has been defined by chaos and that the general was clearly running the show, whereas there seemed to be more confusion under former Chief of Staff Reince Priebus.
Kelly "has taken control in dramatic fashion, and is already imposing unmistakable signs of order," Axios noted, while suggesting everyone is attempting to get in line under the new chief of staff.
"Even POTUS appears to be trying to impress his four-star handler, picking up his game by acting sharper in meetings and even rattling off stats," Allen and Swan wrote.
Normally, a president remembering stats or acting "sharp" wouldn't be news, but with Trump that's a (albeit very) modest improvement. His attention span is so limited, NATO officials were reportedly "freaking out" in May, cutting presentations down to just two-four minutes so the president of the United States might stand some chance at retaining critical information. Trump really only likes things in short bursts with plenty of simple maps, graphs and charts to spell it out for him so he doesn't have to read anything more than one page.
As Newsweek's Alexander Nazaryan wrote about in-depth this week—in a piece titled "Trump, America's Boy King: Golf and Television Won't Make America Great Again"—Trump spends much of his time watching television and raging at what he sees (often on Twitter). The White House, for its part, said he was "focused on creating jobs, securing the border, protecting Americans and growing our economy, and has been working on those issues every day" but Trump largely seems to be easily distracted and focused on winning PR battles that he has continually lost.
So all that goes to say that Trump doing something as simple as remembering a stat or two in an attempt to impress a general (the president's affection for military higher-ups is a subject for another time) is a leap forward of some sort for the former reality TV star.