Watch Donald Trump Address to Nation on Border Security: Time, Live Stream for President's Oval Office Speech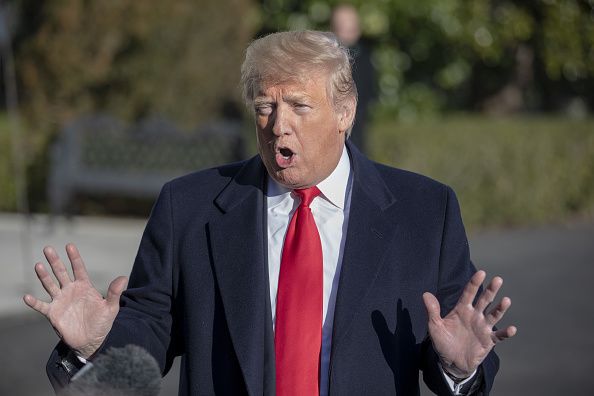 Donald Trump will address Americans in a prime time speech Tuesday about the "humanitarian and security crisis" at the southern border as the partial government shutdown over border security stretches into its third week.
President Trump announced the speech in a tweet on Monday, writing that it will take place at 9 p.m. ET. All of the major news networks—ABC, CBS, NBC, MSNBC, CNN, PBS and Fox News—have confirmed that they will carry Trump's remarks. The address can be live streamed below.
The networks' decision to broadcast Trump's speech has been scrutinized after they refused to air a similar address by former President Barack Obama in 2014 about a series of executive actions on immigration.
According to the White House, Trump plans to discuss border security, the ongoing government shutdown and the payment of federal employees. Secretary of State Mike Pompeo reportedly told Jordan's King Abdullah on Tuesday that he saw an early draft of the president's remarks and that it will "make a lot of news."
Trump is expected to further make the case for his long-promised border wall between the U.S. and Mexico during his address on Tuesday evening. Last week, as lawmakers remained deadlocked on the issue, the president suggested declaring a national emergency to reallocate existing Defense Department funds toward the construction of the wall.
Vice President Mike Pence told NBC News on Tuesday that Trump has made "no decision" on whether he would declare a national emergency. As for the address, Pence said he expects the president will "explain to the American people that we have a humanitarian and security crisis at our southern border."
"It is a real crisis. Tonight he will tell the American people why Congress should act," Pence added.
Shortly after network executives decided to carry Trump's remarks, top Democrats demanded that they be given an equal amount of airtime to respond to the president.
"Now that the television networks have decided to air the President's address, which if his past statements are any indication will be full of malice and misinformation, Democrats must immediately be given equal airtime," House Speaker Nancy Pelosi and Senate Minority Leader Chuck Schumer said in a statement on Monday.
Pelosi and Schumer will jointly speak directly following President Trump's address. So far, ABC, CBS, NBC, CNN and Fox News have agreed to air the Democrats' rebuttal.
Democrats show no signs of giving in to Trump's border security demands, calling the proposed border wall "wasteful and ineffective."