Donald Trump Admits He Hired Some 'Clinkers' for His Administration, but Argues 'Who Doesn't?'
Donald Trump, who has the emptiest cabinet in recent presidential history, admitted he has hired "some clinkers" to lead his administration over the past two years.
"But that's okay," Trump told Yahoo's national correspondent Alexander Nazaryan in February. "Who doesn't?"
Trump explained that it's "very difficult for people" to work for the White House: "Some people can't take it. As much as they want to, they can't take it." He added that some of the past leaders in his administration simply "got burned out."
The president's remarks are included in Nazaryan's upcoming book The Best People: Trump's Cabinet and the Siege on Washington. The book, set to hit stands June 18, examines the scandals that rocked the Trump cabinet during the administration's first two years.
In his Oval Office interview with Nazaryan, Trump praised some of his still-present cabinet members. He described Secretary of State Mike Pompeo as "fantastic" and Transportation Secretary Elaine Chao as "great." (Chao, wife of Senate Majority Leader Mitch McConnell, has been under fire recently for trying to schedule meetings between members of her family's shipping business and Chinese government officials).
While Attorney General William Barr had just started his role at the time of the interview, Trump predicted in February that Barr "will be... really outstanding." The attorney general has subsequently been accused by Democrats and legal experts of acting as a defense attorney for the president amid the fallout from Special Counsel Robert Mueller's report on the Russia investigation. Trump, on the other hand, has continued to praise Barr as "fantastic."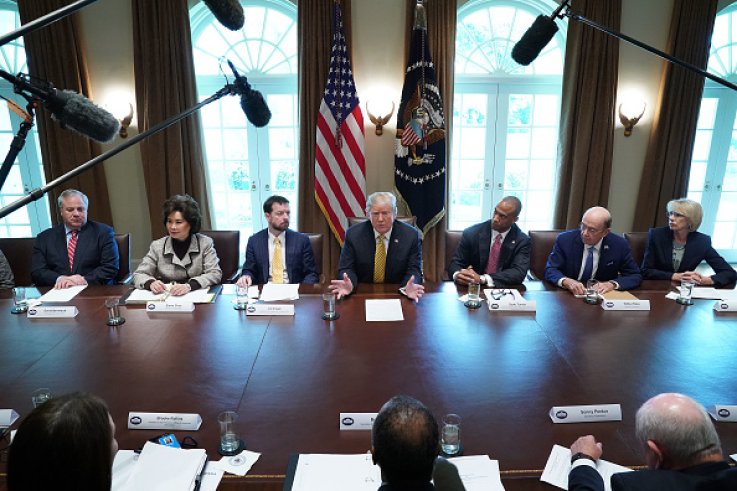 According to a report by Axios, no other president in recent history has had as many extended cabinet vacancies as Trump. In the time that he's been in office, there has been nearly 30 individual cabinet roles left empty.
The longest vacancies during the Trump administration include Environmental Protection Agency administrator (237 days), United Nations ambassador (157 days) and White House chief of staff (157 days).
Trump, so far, has had 1,397 cumulative days where cabinet positions were vacant. In comparison, Barack Obama had 288 cumulative days of vacancy and George W. Bush had just 34 — each over the course of two full terms in the Oval Office.
Trump has claimed that these vacancies allow for more "flexibility" within his administration and that he is in no rush to fill empty positions.
"Well, I'm in no hurry. I have acting [administration officials]. And my actings are doing really great," Trump told reporters in January. The president added that he has "a great, great Cabinet. If you look at my Cabinet, we have a fantastic Cabinet. Really great."
Donald Trump Admits He Hired Some 'Clinkers' for His Administration, but Argues 'Who Doesn't?' | U.S.