Donald Trump Admitted to Walter Reed Military Hospital, To Spend Next 'Few Days' There After COVID Diagnosis
President Donald Trump was expected to spend a "few days" at the Walter Reed National Military Medical Center in Bethesda, Maryland beginning on Friday, the White House said. Trump announced on Friday that he and First Lady Melania Trump had tested positive for COVID-19.
According to a memo from White House physician Sean Conley on Friday, Trump had been given a "single 8-gram dose" of Regeneron, a therapeutic which contains clonal antibodies. However, Conley said that Trump "remains fatigued." White House Press Secretary Kayleigh McEnany released a statement on Friday confirming Trump's transfer to the medical facility.
"President Trump remains in good spirits, has mild symptoms, and has been working throughout the day," the statement read. "Out of an abundance of caution, and at the recommendation of his physician and medical experts, the President will be working from the presidential offices at Walter Reed for the next few days. President Trump appreciates the outpouring of support for both he and the First Lady."
Newsweek reached out to Walter Reed for comment.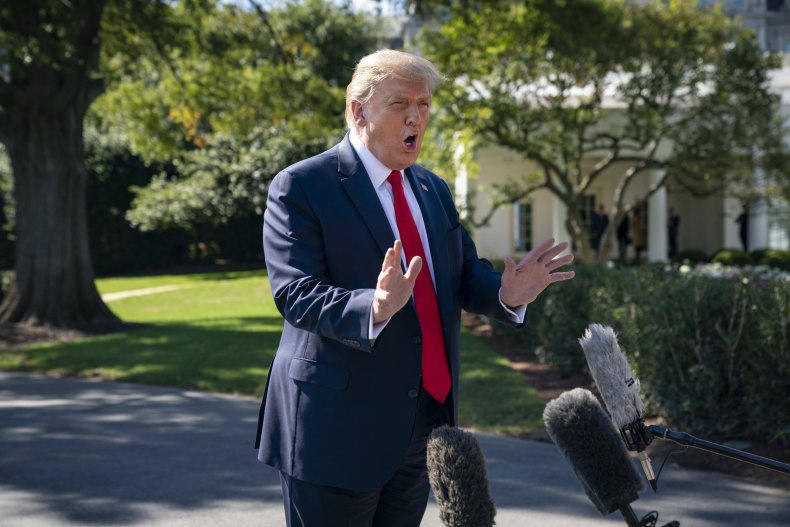 Trump's announcement that he contracted COVID-19 came after presidential adviser Hope Hicks tested positive for the coronavirus on Thursday. Trump and members of his family were observed at Tuesday's presidential debate not wearing face masks.
In the wake of Trump's diagnosis, his in-person campaign events are in the process of being either postponed or undergoing a format change, according to Trump campaign manager Bill Stepien.
"In addition," Stepien said in a Friday statement, "previously announced events involving members of the first family are also being temporarily postponed."
How Trump's medical condition will affect the two upcoming scheduled presidential debates is unknown. Advice from the Centers for Disease Control and Prevention (CDC) suggests that individuals who test positive for COVID-19 remain in isolation for at least 14 days. The second presidential debate is scheduled to occur on October 15, a date that would be within the recommended 14-day timeframe.
Democratic presidential candidate Joe Biden has continued his in-person campaigns after testing negative for the coronavirus on Friday. Biden's penchant for mask wearing has been a target for Trump during public remarks. "Every time you see him, he's got a mask," Trump said during Tuesday's presidential debate. "He could be speaking 200 feet away from and he shows up with the biggest mask I've ever seen."
At a Friday speech in Michigan, Biden encouraged Americans to "be patriotic" by wearing face masks. "It's not about being a tough guy," Biden said. "It's about doing your part."