Trump Adviser Dismisses Unfavorable Poll, Says It's Like 'Taking a Poll of Vegetarians About Their Favorite Cut of Steak'
Marc Lotter, the director of strategic communications for Donald Trump's 2020 campaign, dismissed an unfavorable poll showing several of the top Democratic presidential hopefuls beating the president in hypothetical head-to-head contests.
"I think any kind of head-to-head match-up at this point is rather meaningless," Lotter said, when confronted by the poll results on CNN Newsroom on Tuesday. "They're just getting started campaigning against each other, let alone campaigning against President Trump," he said.
Lotter then suggested these early head-to-head polls are "a lot like taking a poll of vegetarians about their favorite cuts of steak." CNN's Poppy Harlow pushed back against Lotter's comments however, pointing out that the poll had come from the "most reputable polling agency in Michigan." She asked: "You don't believe the numbers at all?"
Responding, Lotter said: "Well, we're a year and a half out."
The poll Harlow and Lotter were discussing was conducted in Michigan and published last month by EPIC-MRA. As the Detroit Free Press reported at the time, the poll suggested that the majority of voters in Michigan supported replacing the president in 2020, despite him narrowly winning the state over Democratic opponent Hillary Clinton back in 2016.
According to the survey, 52 percent of voters said they would support former vice president and 2020 Democratic candidate Joe Biden over Trump. Only 41 percent said they'd support the president in a head-to-head match-up, with 7 percent undecided. The poll also showed that 45 percent wanted to replace Trump, while only 32 percent wanted to keep him in office. Additionally, 54 percent of Michiganders said they had an unfavorable view of Trump.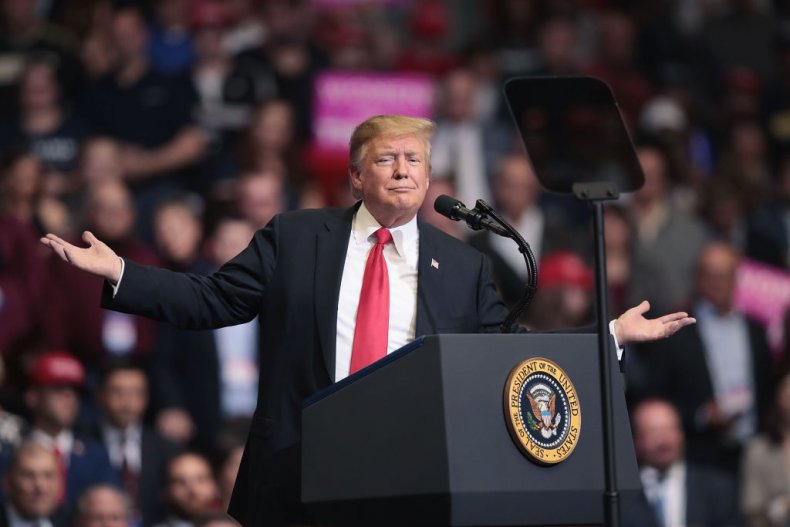 Those poll results are in line with recent national polls, which show Trump losing in match-ups with several frontrunners. A Quinnipiac University poll showed Biden beating Trump 53 percent to 40 percent in a nationwide survey, published last month. Other 2020 candidates Senator Bernie Sanders of Vermont, Senator Elizabeth Warren of Massachusetts, Senator Kamala Harris of California, South Bend Mayor Pete Buttigieg of Indiana and Senator Cory Booker of New Jersey all would beat the president by several percentage points, according to the voter responses.
Michigan and several other swing states were key to Trump's success against Clinton in 2016. Many voters in the midwestern state had voted for Democratic President Barack Obama in the past and then decided to vote for Trump in 2020. Prior to Trump's election, the state had gone blue in every presidential election since 1992.