Did Donald Trump Have Affair With Porn Star Stormy Daniels? Everything We Know About Alleged Relationship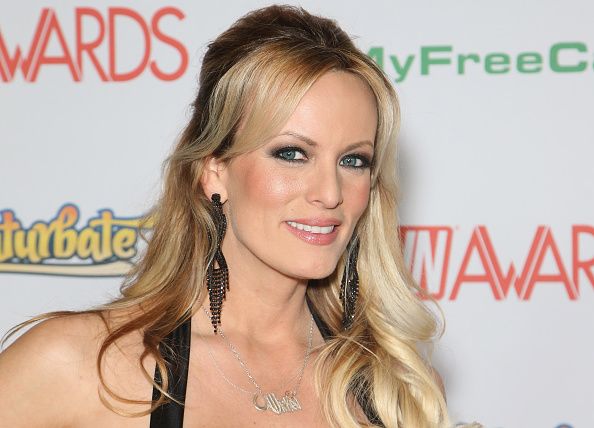 Days after a report that President Donald Trump's lawyer paid porn star Stormy Daniels to keep quiet about a sexual relationship she had with him in 2006, salacious details about the alleged affair have continued to emerge.
Related: Trump told Stormy Daniels she was 'just like his daughter,' porn star claims about alleged affair
The Wall Street Journal first reported that the $130,000 payment was arranged by Michael Cohen to Daniels, real name Stephanie Clifford, as part of a nondisclosure agreement one month before the 2016 election.
Cohen told the Journal that Trump and Clifford both deny that the extramarital fling occurred, calling the allegations in the story "outlandish" and a "false narrative." Separately, Clifford denied that she received "hush money" and that the relationship ever took place.
In 2011, however, she told a different story. In an interview with In Touch Weekly that had never been released until Wednesday, Clifford confirmed the affair with the then-TV star. The first-person account was reportedly corroborated by Clifford's good friend and ex-husband, and supplemented with a polygraph test, which In Touch says she passed.
In the interview, Clifford said that she and Trump had an affair less than four months after Melania Trump had given birth to their son, Barron, after meeting the future president at a celebrity golf tournament at Lake Tahoe, Nevada, in 2006.
According to her account, Trump asked for Clifford's phone number after the meeting before inviting her to dinner. When she arrived at his hotel room, he was wearing sweatpants. She excused herself to use the bathroom, then returned to see Trump sitting on the bed, inviting her to join him. Clifford recalls the sexual encounter as "textbook generic" and said that Trump told her she was "just like his daughter."
"He told me once that I was someone to be reckoned with, beautiful, smart, just like his daughter," she says in the interview. "We hung out for a little while, and he just kept saying, 'I'm gonna call you, I'm gonna call you. I have to see you again. You're amazing. We have to get you on The Apprentice.'"
Clifford told In Touch that she met with Trump on several occasions, including at least one instance at his private bungalow at the Beverly Hills Hotel in Los Angeles. Another adult-film star, Alana Evans, told the Megyn Kelly Today show earlier this week that Clifford invited her to attend a party with Trump.
Evans also said that she heard Trump invite her to "come have fun." Evans declined but later heard from Clifford that Trump had chased her around his hotel room "in his tighty-whities."
Newly released information from Slate includes Clifford's claim that the affair went on for nearly a year. The article also says Clifford provided the Slate writer a copy of a non-disparagement agreement given to her by Trump's lawyer.
Cohen's statement denies the 2006 encounter between Clifford and Trump took place but does not address reports of a payment. It is unclear whether Trump was aware of the alleged agreement in October 2016.