Donald Trump Aide Blasted Obama for Visiting Cuba in 2016, Calling it Equivalent to Going to North Korea
An official from President Donald Trump's administration lashed out at Barack Obama back in 2016 before the then-president's visit to Cuba that year, saying such an action would be tantamount to an American commander-in-chief visiting North Korea.
"@BarackObama visiting Cuba is equivalent to visiting North Korea [sic] Embracing communism is anti-American," Mercedes Schlapp wrote on Twitter at the time, arguing the former president "is giving Castro dictators a pass."
Schlapp has served as the White House director of strategic communications under Trump, announcing on Monday that she would leave that role to serve on the president's reelection campaign instead. It's unclear whether her sentiments toward North Korea have changed since she attacked Obama on Twitter back in 2016, but a sitting U.S. president visiting North Korea on the weekend has not caused Schlapp to end her support of Trump.
The White House did not immediately respond to Newsweek's request for comment.
Trump has now met with Kim Jong Un on three separate occasions. The first historic summit between the two leaders, which took place in Singapore last summer, marked the first time a sitting U.S. president met face-to-face with a North Korean dictator. The two leaders followed up that meeting with second round of discussions, which ended abruptly, in Vietnam earlier this year. Then on Sunday, Trump again made history by becoming the first sitting U.S. president to step foot in North Korea, meeting with Kim for the third time.
These efforts have been billed as an effort to denuclearize the Korean peninsula, which technically has remained at war since the early 1950s. Although Kim initially promised he was committed to denuclearization, little if any progress has been made on that front. Some reports even suggest that North Korea has worked to expand its nuclear capabilities since direct diplomacy began between Trump and Kim last year. But over the weekend, Kim and Trump vowed once again to restart stalled talks and move forward with new negotiators.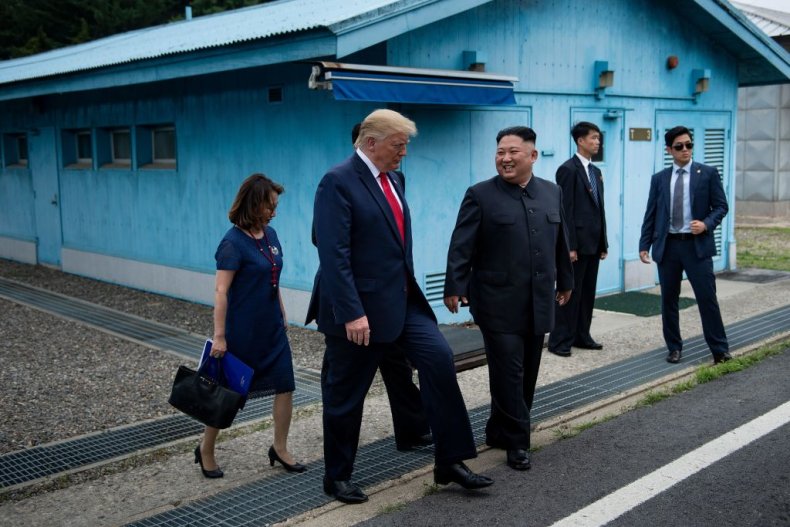 The president has also repeatedly praised Kim, previously saying he "fell in love" with the North Korean dictator. After he stepped across the border into North Korea on Sunday, Trump also said the symbolic gesture was a "great honor."
Obama worked to improve ties with Cuba after decades of tensions between the Caribbean island nation and Washington. In 2016, he became the first sitting U.S. president to visit the country since former President Calvin Coolidge back in 1928. Despite Obama's efforts to open up to Cuba, easing sanctions and allowing better freedom of movement, Trump has worked to undo those policy changes.
Trump's national security adviser John Bolton has also made the administration's position toward Cuba abundantly clear, dubbing the island nation along with the Latin American countries of Nicaragua and Venezuela as the "troika of tyranny."