Trump Is 'Aiding and Abetting' Putin by Undermining NATO and Failing to Stand up to Turkey, Senator Warns
President Donald Trump left last week's NATO meeting in chaos, cancelling a planned press conference and departing London earlier after two days of spats with fellow alliance leaders.
The alliance is currently grappling with multiple internal disputes and diverging priorities. Some of the most contentious issues center on Turkey and its strongman leader President Recep Tayyip Erdogan.
And according to Democratic Maryland Senator Chris Van Hollen, Trump is facilitating Erodgan and directly undermining the 70-year-old alliance, thus "aiding and abetting" the wider strategic goals of Russian President Vladimir Putin.
Turkey's recent invasion of Syria and its purchase of the Russian S-400 anti-aircraft system have drawn fire from its NATO allies, fearful of the growing influence of Putin abroad.
Trump's failure to stop either development has strengthened Putin's hand and undermined alliance unity, Van Hollen said.
The Trump administration did not immediately respond to Newsweek's request for comment.
Turkey infuriated NATO allies in October with its latest invasion of Syria, seeking to clear a border buffer zone of Syrian Democratic Forces fighters, who have been fighting alongside U.S. and allied forces in the campaign against the Islamic State in Syria.
The SDF is led by the Kurdish People's Protection Units (YPG). Turkey considers the YPG an extension of the Kurdistan Workers' Party, which has been fighting a guerrilla war inside Turkey since the 1980s and is considered a terrorist organization by the U.S. and the European Union.
The invasion and subsequent allegations of war crimes and forced displacement prompted protests from the U.S. and European nations. Turkey hit back, accusing its NATO allies of hypocrisy and of siding with terrorists.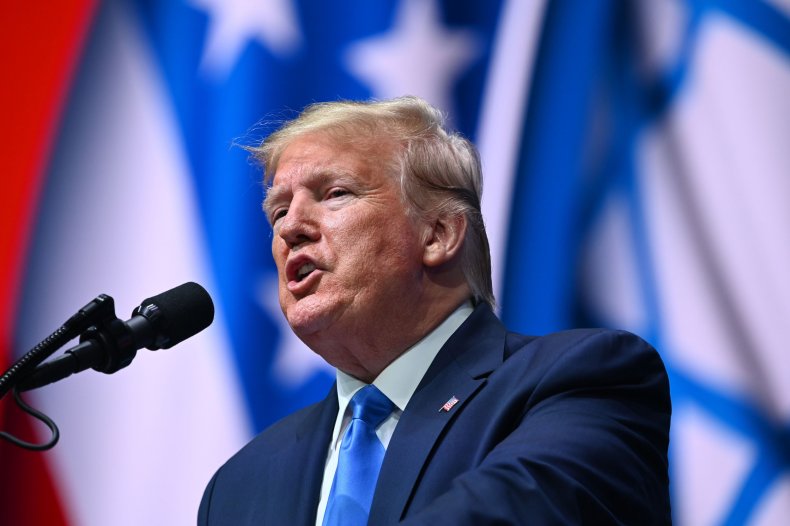 Trump had ordered U.S. troops out of the combat zone just before the Turkish assault, prompting allegations that he gave Erdogan the green light. As Turkish troops crossed the border, Trump dismissed America's Kurdish allies and denied responsibility.
Facing bipartisan backlash, the president then pivoted to threaten Turkey with crippling sanctions if the attack continued. Following a ceasefire deal, Trump claimed credit and reverted to maligning the Kurdish forces and rejecting the strategic value of the region.
Trump's erratic stance horrified American lawmakers, while Turkish officials and Syrian President Bashar al-Assad mocked the president's lack of strategic coherence.
"The takeaway from NATO is that Trump was a disruptive element again, undermining the unity of NATO," Van Hollen told Newsweek.
"He sends a very bad signal when he rewards the most disruptive member of NATO—which is Erodgan—and undermines all those who are calling for more unity within NATO."
Trump's vacillation in Syria was a strategic disaster for the U.S. and a boon for its rivals. Without the U.S., the Kurds were forced to turn to Assad and his Russian allies for protection.
This allowed Assad to re-establish control over key cities and areas of northeastern Syria with barely a shot fired. Meanwhile, Russia emerged as the unquestioned power broker within Syria, left to agree a ceasefire deal with Turkey and begin moulding what a post-war Syria might look like.
Meanwhile, Turkey and Russia were forging ahead in the multi-billion S-400 deal, despite threats of sanctions from the U.S. NATO nations are concerned about integrating a Russian system into the alliance's defensive networks. The U.S. has also kicked Turkey out of the F-35 fighter jet program, fearing the Russians could get access to classified information on the aircraft.
"It sends a very bad message to both our friends and our adversaries when Edrogan cozies up to Russia with impunity," Van Hollen warned.
The chart below, provided by Statista, shows what each NATO nation spends on military investments.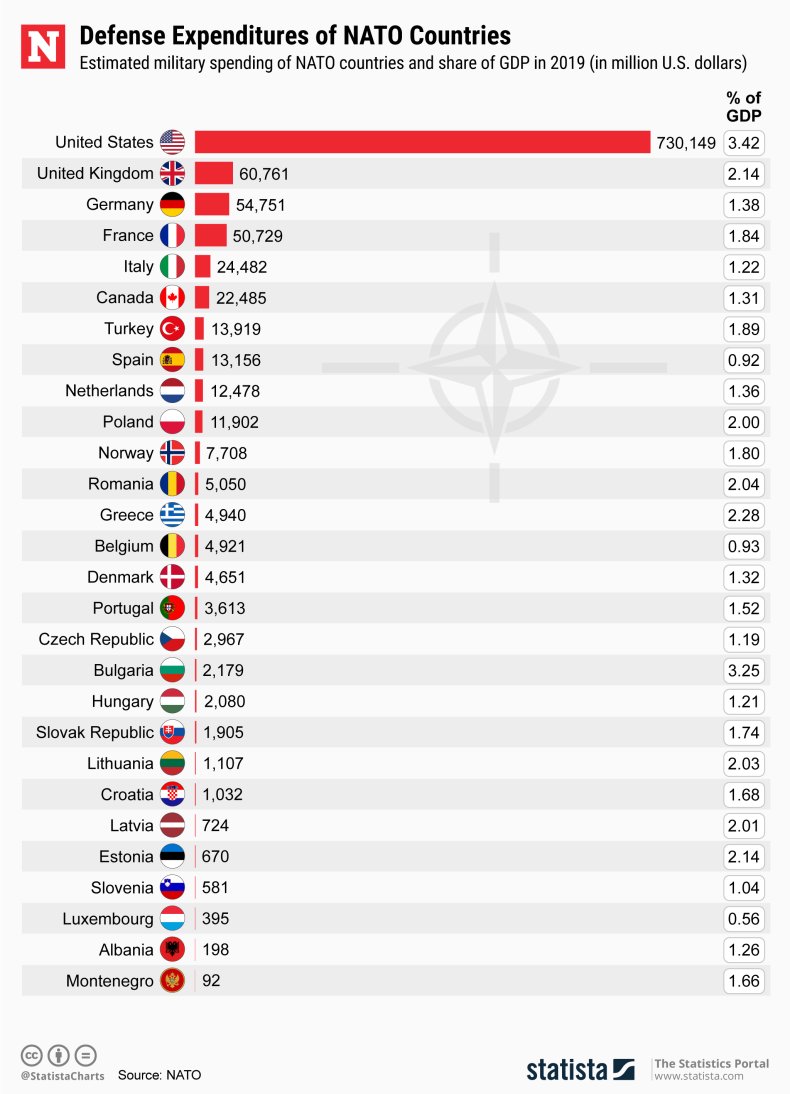 Despite the S-400 deal and the Syria invasion, Trump welcomed Erdogan to the White House last month, even after receiving a bipartisan letter from senators calling for the visit to be canceled.
"Trump just sort of stands by and doesn't push back, and in fact sends all the wrong signals," Van Hollen continued. "This is a very dangerous approach, because it's an approach that gives aid and comfort to our adversaries, and really creates uncertainty and apprehension among our friends."
"President Trump is again aiding and abetting Putin's efforts to divide the alliance and undermine unity within the alliance," he concluded.
Van Hollen joined Republican Senator Lindsey Graham to introduce the Countering Turkish Aggression Act of 2019 following the Syria invasion, but the legislation has not yet come up in the Senate. Van Hollen accused Senate Majority Leader Mitch McConnell of blocking the bill.
"Senator McConnell has been doing the bidding of President Trump, and President Trump has been essentially kowtowing to Erdogan," he said. "And in the process helping Russia."
Van Hollen noted that the president is already required to introduce sanctions on Turkey over its purchase of the S-400 system, but still none appear to be forthcoming. Last week, Van Hollen and Graham wrote to Secretary of State Mike Pompeo warning, "It is time you applied the law."