Trump Invites Air Force Academy Graduate Who Battled Cancer to Stage: 'Thank You, Parker'
President Donald Trump used his commencement speech at the Air Force Academy's graduation to draw attention to a particularly exceptional member of the graduating class.
On Thursday, Trump traveled to Colorado Springs, Colorado, for the service academy's commencement ceremonies and singled out a number of graduates for their accomplishments. Among the distinguished cadets were two Rhodes Scholars and All-American athletes.
Two cadets were also invited to join the president on-stage in the kind of spontaneous moments audiences have come to expect from Trump's speeches. The first was Nick Ready, who won the 2018 College Baseball Home Run Derby. The second was a cadet whose trials and tribulations called attention to to the family-like community at the Air Force Academy.
"And like one family, you have all been pulling for one of your classmates who has bravely fought his battle with cancer," Trump said. "Today, Parker Hammond graduates as a munitions and missiles maintenance officer along with the class that has stood with him every step of the way."
After pointing toward the crowd, Trump said, "Come on Parker, get up here, Parker," and the cadet made his way to the stage. Veering off-script, Trump noted how Hammond's fellow cadets loved him. The two shook hands and saluted each other, and as Hammond returned to his seat, Trump said, "Thank you, Parker."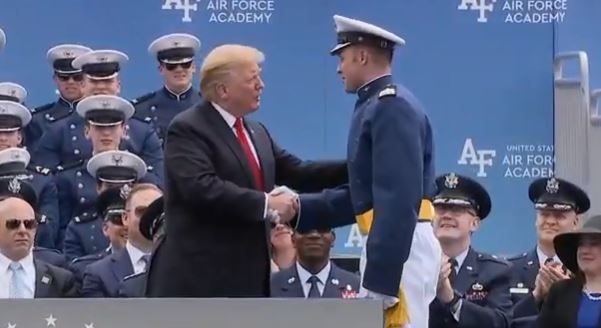 Hammond posted on Facebook in May that he had testicular cancer and needed to undergo emergency surgery. He later updated people on Facebook, saying that it had spread and he was considered stage three.
The Air Force cadet had chemotherapy and wrote on Facebook in August that it was a "rough road," but thanked his friends, family and community for their unwavering support. In September, Hammond posted on Facebook that he was officially cancer-free. He wrote that his tumors had shrunk and his blood work was back within the normal range.
"I can't even begin to express how thankful I am for all the prayers, texts, and letters for me and my family," Hammond wrote. "The constant outpouring of love has pushed me through rough days and kept my head up."
As a munitions and missiles maintenance officer, Hammond will be responsible for formulating and implementing maintenance procedures that ensure arsenals are fully stocked, highly functional and ready to be deployed. To be considered for the position, a member of the Air Force must have completed Officer Training School, Air Force Reserve Officer Training Crops or graduated from the Air Force Academy.