Trump Raid Hours After Alex Jones Texts Reportedly Filed Sparks Theories
The FBI's raid of Donald Trump Mar-a-Lago home has sparked theories involving the release of texts by far-right conspiracy theorist Alex Jones.
The former President confirmed that FBI agents had searched his Mar-a-Lago estate in Palm Beach, Florida, on Monday.
He released a statement condemning the act and said "nothing like this has ever happened to a President of the United States before."
It is not yet entirely clear the reason for the federal law enforcement's raid on Trump's home. However, it follows months of speculation that federal prosecutors had turned their attention to his actions regarding the riots that occurred on January 6.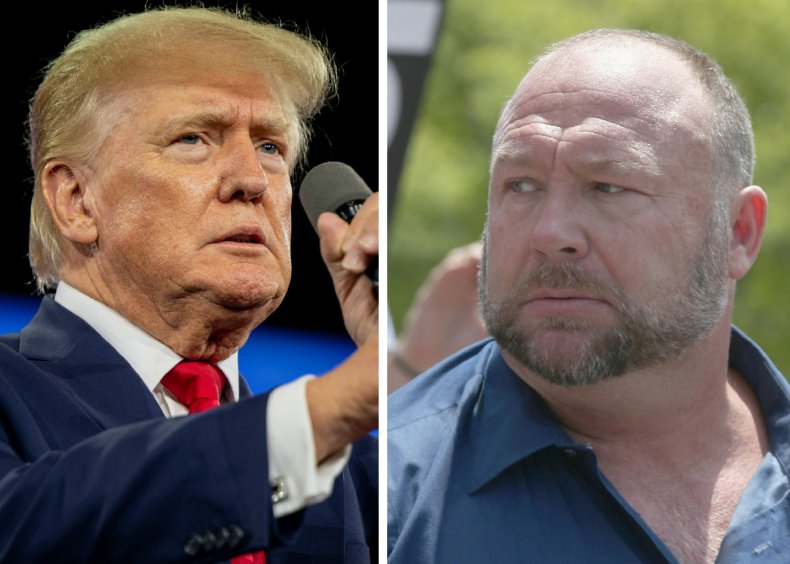 This raid comes after two years' worth of text message sent and received by Jones were turned over the House select committee investigating the January 6 riots.
The text messages were handed over to the committee by Mark Bankston, who represented two Sandy Hook parents who successfully sued Jones in Texas and won almost $50 million in a civil trial that ended last week.
Jones' attorney Federico Andino Reynal asked the judge in the case to order Bankston to destroy the material and not give it to the committee, but the judge declined this request.
"I'm not standing between you and Congress," Judge Maya Guerra Gamble told Bankston when asked about sending Jones' texts to the committee. "That is not my job. I'm not going to do that."
Social media users have now begun questioning whether the two things are related, and suggested that the Jones texts contained information that related to Trump.
"Trump says the FBI has searched his home in Mar-a-Lago, including his safe. Wonder what turned up in those Alex Jones texts?" Journalist Karen Dalton Beninato tweeted.
"Donald Trump's Mar-a-Lago raid happened within hours of Trump coup supporter Alex Jones' text messages, going back two years, being passed onto the Jan 6 committee- and most probably others. Coincidence? Maybe. Hilarious? Definitely," author Will Black tweeted.
"The January 6 committee has received about two years' worth of Alex Jones texts, including some that 'indicate Jones was in touch with Trump allies,' per CNN," Reuters editor William Mallard tweeted.
"FBI raided Mar-a-Lago TODAY - just hours after InfoWars host Alex Jones handed two years of texts to January 6 committee: Trump confirms 'my home was under siege by large group of agents who even broke into my safe,'" radio host Larry Elder tweeted.
Newsweek has reached out to Donald Trump's office and Alex Jones for comment.