Donald Trump and Alexandria Ocasio-Cortez Finally Agree on Something—Sort of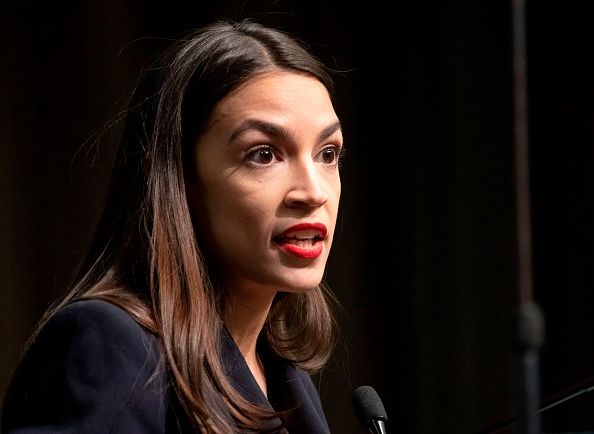 Donald Trump and Alexandria Ocasio-Cortez seem to finally agree on something—sort of. In a departure from the frequent attacks on the freshman Democratic representative by conservatives, the president tweeted that Ocasio-Cortez was "correct" in her recent comments about the Department of Veterans Affairs.
"Rep. Alexandria Ocasio-Cortez is correct, the VA is not broken, it is doing great," Trump wrote in a Twitter post on Wednesday. Though he was quick to add that the success "is only because of the Trump Administration. We got Veterans Choice & Accountability passed."
The president then quoted Dan Caldwell, the executive director of Concerned Veterans for America, a group funded by the Koch network that has long advocated for the increased privatization of veterans health care. Caldwell said during an appearance on the Fox News show Fox & Friends that "President Trump deserves a lot of credit."
Trump appears to have seized on Ocasio-Cortez's comments from a town hall event last week, in which she slammed the idea of privatizing the VA's health care system. The agency has been under fire over long-standing administrative and funding problems.
"All I can think of is that classic refrain that my parents always taught me growing up: 'If it ain't broke, don't fix it," Ocasio-Cortez said during the event in her New York district. She added that efforts to privatize VA health care are aimed at benefiting pharmaceutical companies and insurers rather than helping veterans.
In January, the Department of Veterans Affairs proposed implementing the VA Mission Act, which would essentially overhaul and consolidate the network of private health care providers where veterans can use benefits.
"That is the opening approach we have seen when it comes to privatization, it's the idea that this thing that isn't broken, this thing that provides some of the highest quality care to our veterans somehow needs to be fixed, optimized, tinkered with until we don't even recognize it anymore," Ocasio-Cortez said during the town hall event.
Republican lawmakers and conservative media commentators quickly slammed Ocasio-Cortez for her remarks, citing several health care scandals that have rocked the government agency over the past few years.
It's been revealed that many veterans face delays to health care and were placed on secret waiting lists. Many patients even died while waiting for treatment. According to the Department of Veterans Affairs' 2015 inspector general report, more than 300,000 military veterans likely died while waiting for health care with twice as many still waiting for treatment.
"Apparently ignorance is bliss when it comes to Rep. Ocasio-Cortez and her views of VA," Phil Roe, the ranking Republican on the Committee on Veterans Affairs, told Fox News in a statement.
But most of the major veterans' organizations are opposed to the idea of privatization, with critics arguing that it would take too much away from the department's health care system and force a lot of hospitals to close.
Rick Weidman, the executive director of Vietnam Veterans of America, told The New York Times in January, "We don't like it. This thing was initially sold as to supplement the V.A., and some people want to try and use it to supplant."
Correction (4/26/19, 8:00 a.m.): A previous version of this story stated that the Concerned Veterans for America is a group funded by the Koch brothers. In June 2018, David Koch retired from the company and all related activity due to health. The story has been updated to reflect that the veterans group is funded by the Koch network.