Trump Ally Duda Wins Poland Election After Anti-LGBT Campaign
Poland's incumbent right-wing President Andrzej Duda has defeated his liberal challenger to secure a second term in office, after running a divisive campaign which included his open opposition to LGBT rights and abortion.
Poland's National Electoral Commission said Duda secured 51.2 percent of the votes in Sunday's poll, the BBC reported, with more than 99 percent of polling stations having reported. He narrowly beat out rival and Warsaw Mayor Rafal Trzaskowski, who ran from a more socially liberal stance.
There are some 500,000 votes between the two candidates, Reuters reported, with counting still going on and the final results still not clear. However, it appears Duda has done enough to secure another term.
Grzegorz Schetyna, the former head of the opposition Civic Platform party and a sitting member of parliament, told the TVN24 channel Monday: "I think that this difference is large enough that we have to accept the result," Reuters reported.
The electoral commission said turnout was 68.2 percent, the highest in Poland since the country emerged from Communist rule at the end of the Cold War.
The opposition Civic Platform party which supported Trzaskowski has said it is collecting data on what it called voting "irregularities," for example Poles living abroad not receiving their required documents in time to cast their vote.
Duda is expected to push ahead with controversial plans to reform the Polish judiciary and block LGBT and abortion rights in Poland.
During the campaign, Duda said he would not support gay marriage or adoption by gay couples, describing such rights as part of a "foreign ideology" incompatible with Polish society.
Duda also said he would "ban the propagation of LGBT ideology" in schools and public institutions. He also claimed that the movement for greater LGBT rights represented a greater threat to Poland than communism.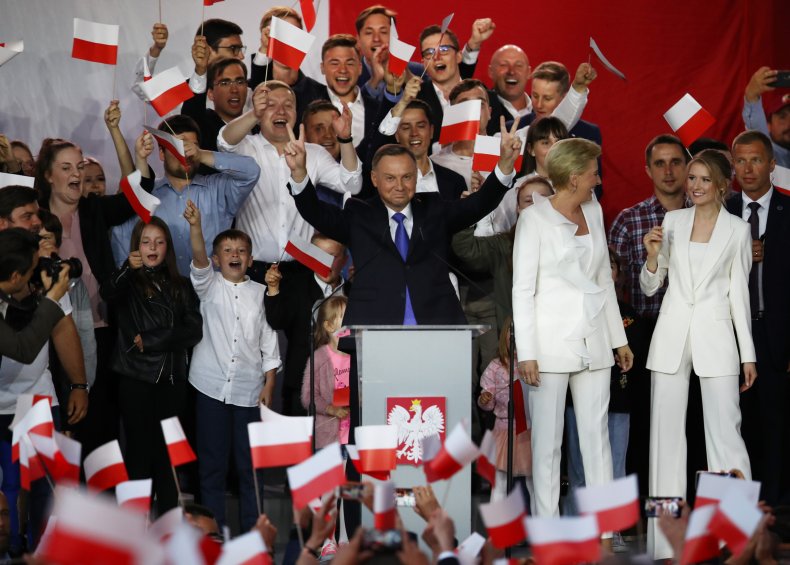 Duda is backed by the ruling Law and Justice Party (PiS), which critics have accused of undermining Polish democracy since it won a parliamentary majority in 2015. The right-wing party has sought to take control of the country's judiciary and exert greater influence over the media, all of which have drawn criticism from fellow European Union members.
Duda and the PiS largely draw their support from rural areas and smaller cities and towns, stressing their commitments to traditional Polish Roman Catholic and patriotic values. This has been bolstered by a welfare campaign to lift retirees and families out of poverty.
Meanwhile, Duda and the PiS have attacked liberals in Poland's major urban centers, the country's Jewish population and the LGBT community, casting them as threats to traditional Polish values.
During the campaign, Duda and his allies sought to similarly tar Trzaskowski. Pro-government right-wing magazine Sieci last week featured Trzaskowski on its cover dressed in a black hoodie and wearing a rainbow armband and anti-fascist badge, with the caption: "The extremist candidate."
Duda also accused Trzaskowski of planning to take the welfare payments from families and instead give it to foreign Jews, although his challenger never said he would do so.
Duda has sought to build closer relations with President Donald Trump since the latter entered office. Duda visited the White House last month, after which the two leaders released a joint statement lauding the "centuries-old friendship and partnership" between the U.S. and Poland.