Trump Almost Doubles Biden's Facebook Spending After Signing Social Media Order
President Donald Trump has almost doubled the Joe Biden campaign's spending on Facebook adverts over the last week, new data from the social media platform shows.
According to the Facebook Ad Library, Trump's re-election campaign spent a little more than $2.1 million on advertising on the website between June 24 and June 30, with spending split between Donald J. Trump for President Inc and the Make America Great Again Committee.
By comparison, the Biden campaign splurged roughly $1.1 million on Facebook adverts in the U.S. over the same period.
There has also been a large long-term difference in the sums the competing presidential campaigns have spent on Facebook since May 2018.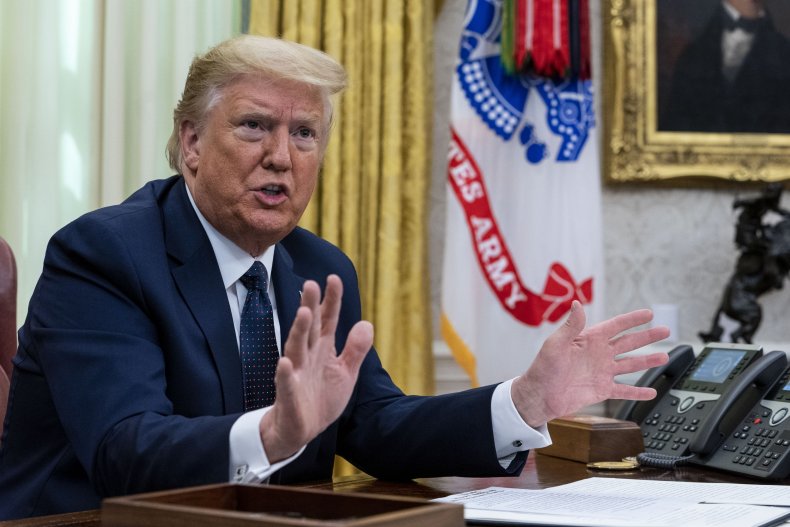 In the two-year period covering May 2018 to the end of June this year, Biden has plowed $25.1 million into spending on the platform, while Trump's re-election team spent more than $47.5 million on Facebook ads over the same period.
Trump's ads on the website largely consisted of calls for supporters to donate to his campaign and help him reach his second-quarter funding target, which Biden bested by roughly $16 million.
The former vice president's adverts made similar pleas for backers to make donations to his campaign ahead of the June 30 second-quarter deadline, while others took aim at Trump's response to the coronavirus pandemic.
Facebook Ad Library data shows many adverts from both candidates had a potential reach of more than 1 million users, despite spending on individual ads often being below the $100 mark.
Trump almost doubled his Democratic challenger's spending on Facebook advertising a month after signing an executive order that would ban federal government agencies from advertising on platforms deemed to violate free speech principles.
The president's order also removed a shield from liability for social media platforms that censor and edit content—moves he described as "editorial decisions" that would be made by publishers rather than supposedly neutral public platforms.
Trump's campaign also ramped up its spending on Facebook as the platform announced that it would start labeling content posted by politicians if they violated the website's rules.
"There is no newsworthiness exemption to content that incites violence or suppresses voting," Facebook CEO Mark Zuckerberg said. "Even if a politician or government official says it, if we determine that content may lead to violence or deprive people of their right to vote, we will take that content down."
Newsweek has contacted the Trump campaign for comment. This article will be updated with any response.