Donald Trump Says America Was Laughed at 4 Years Ago, but Is 'Respected' Now—Week After Viral World Leaders NATO Video
President Donald Trump claimed the U.S. was "so respected" at a rally speech Tuesday, just a week after a video of world leaders appearing to joke about the commander-in-chief behind his back caused a stir at the NATO summit.
The president told his backers in Hershey, Pennsylvania, last night that America was "winning again" four years after being "not respected" and "laughed at" under the Obama administration.
But at a reception for NATO leaders at Buckingham Palace during the organization's 70th-anniversary summit in London last week, a video published by CBC showed Canadian Prime Minister Justin Trudeau appearing to joke about Trump with French President Emmanuel Macron, British Prime Minister Boris Johnson and Dutch PM Mark Rutte.
The hot mic video seemed to show the leaders talking about the length of the president's press conferences, with Trudeau caught saying that he saw Trump aides' "jaws drop to the floor" when he spoke.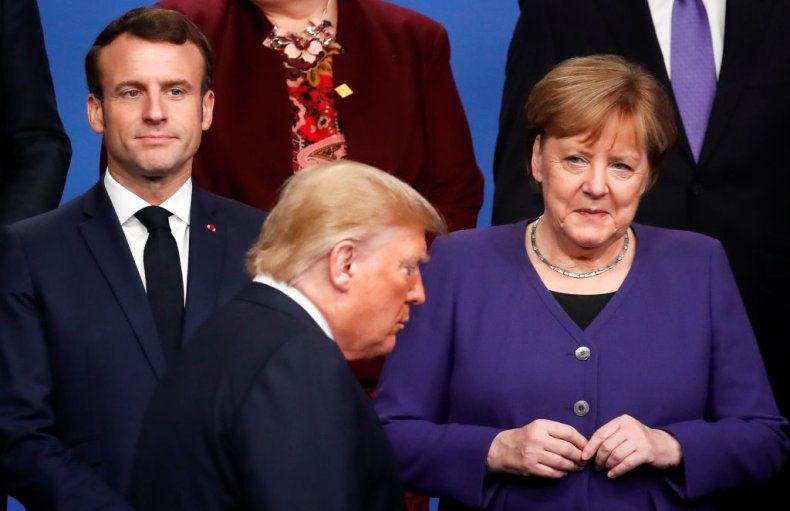 Trudeau confirmed later that he had been discussing an "unscheduled" press conference with Trump, as reported by Al Jazeera, and said leaders were "surprised" and "pleased" by the president's announcement that the next G7 would be held at Camp David when asked what his "jaws drop" comment referred to.
Following the release of the viral hot mic video and spats with Trudeau and Macron, President Trump pulled out of a scheduled press conference and left the NATO summit earlier than anticipated.
After speaking to supporters in Pennsylvania on Tuesday about the killing of Abu Bakr al-Baghdadi, President Trump said: "America is winning again. America is winning again, like never before.
"As I always say, and I've already said it twice tonight: this country is so respected, and we were not respected four years ago. We were laughed at."
Vox journalist Aaron Rupar posted a clip of the commander-in-chief's claims, noting they had come after he was "mocked by European leaders and Trudeau in a viral video."
Policy analyst William Kedjanyi also tweeted: "Donald Trump is doing a thing! He says 'this country is so respected. And we were not respected four years ago. We were laughed at.' Of course, he definitely wasn't laughed at 4 days ago in Watford"
"Did he not see the video of all the world leaders laughing at him?" Daily Beast editor-at-large Molly Jong-Fast said.
The president's comments in the Keystone State yesterday came less than a week after he called Trudeau "two-faced" for appearing to joke about him at Buckingham Palace last Tuesday.
When asked what he thought of the hot mic video at a bilateral meeting with German Chancellor Angela Merkel, Trump said: "Well he's two-faced. And honestly with Trudeau, he's a nice guy. I find him to be a very nice guy.
"But you know the truth is that I called him out on the fact that he's not paying two percent and I guess he's not very happy about it."
NATO states have a commitment to spend 2 percent of their GDPs on military spending by 2024, and the failure of some states to meet that sum has been a sticking point for Trump.
"He's not paying two percent and he should be paying two percent," the president said of Trudeau last week. "It's Canada. They have money and they should be paying two percent."
Elsewhere in his speech in Hershey on Tuesday, Trump heaped more criticism on the FBI's leadership, saying there were "not good people" in the intelligence agency's upper echelons.
His attack on FBI leadership followed direct criticism of director Christopher Wray by the president earlier in the day due to splits over the Inspector General's report into the agency's opening of a probe into Trump campaign officials amid fears of Russia interference in the 2016 election.
"You have great people in the FBI, but not in leadership," Trump said yesterday. "You have not good people in leadership."
Newsweek has contacted the White House for further comment. The FBI has also been contacted for a response to the president's rally remarks.