Donald Trump and Kim Jong Un's Historic Summit in Singapore: In Pictures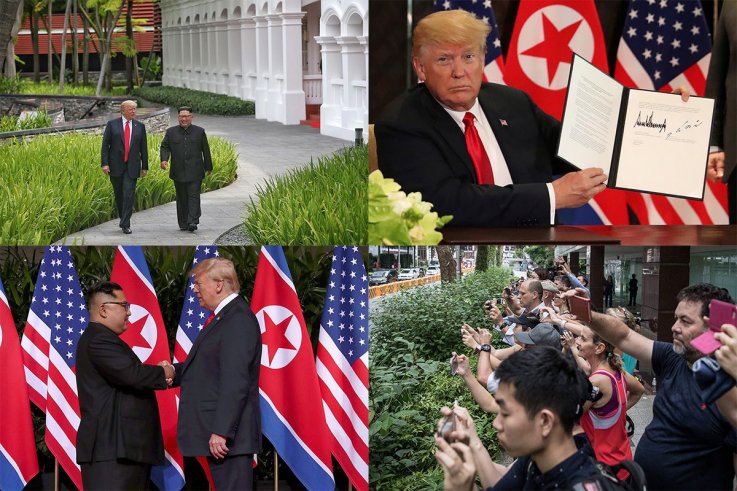 U.S. President Donald Trump has reached an agreement with North Korean leader Kim Jong Un that Pyongyang will work toward complete denuclearization of the Korean peninsula—while Washington has committed to provide security guarantees for its old enemy.
Trump said he expected the denuclearization process to start "very, very quickly." U.S. Secretary of State Mike Pompeo and North Korean officials will hold follow-up negotiations "at the earliest possible date," according to a joint statement signed at the end of the historic summit in Singapore.
The statement said: "President Trump committed to provide security guarantees to the DPRK [Democratic People's Republic of Korea] and Chairman Kim Jong Un reaffirmed his firm and unwavering commitment to complete denuclearization of the Korean Peninsula."
However, the statement gave few details on how denuclearization would be achieved, and political analysts said the summit had yielded only symbolic results rather than a tangible plan of action.
"It is unclear if further negotiations will lead to the end goal of denuclearization," said Anthony Ruggiero, senior fellow of Washington's Foundation for Defense of Democracies think tank, as quoted by Reuters. "This looks like a restatement of where we left negotiations more than 10 years ago and not a major step forward."
The leaders displayed an initial atmosphere of bonhomie as they met on the veranda of the Capella, a refurbished 19th-century British regimental officers' mess.
Body language experts said both men tried to project dominance as they met, but also displayed signs of nerves.
After a handshake, they were soon smiling and holding each other by the arm, before Trump guided Kim to the library where they held a private meeting with only their interpreters present. Trump had said Saturday he would know within a minute of meeting Kim whether the pair would reach a deal.
Inside, they sat alongside each other against a backdrop of North Korean and U.S. flags, with Kim beaming broadly as the U.S. president gave him a thumbs-up.
Kim was heard telling Trump through a translator: "I think the entire world is watching this moment. Many people in the world will think of this as a scene from a fantasy… science fiction movie."
We've collected the best images from the summit, which saw the first sitting U.S. and North Korean leaders meet, shake hands and negotiate to end a decades-old nuclear stand-off.
—Reuters contributed to this report.