Tuesday marked the first time a U.S. sitting president sat down with a leader of the hermit kingdom. Donald Trump and North Korean strongman Kim Jong Un have met on Singapore's Sentosa island, where they are expected to address issues such as nuclear disarmament and peacebuilding on the Korean peninsula.
The summit is arguably one of Trump's most significant diplomatic moves in the international arena, especially after months of heated exchanges and threats of nuclear confrontation. The talks started at 9 a.m. on Tuesday Singapore time, and this might be the beginning of the end of diplomatic and economic estrangement.
Below are some of the most recent developments so far:
UPDATE 11:27 p.m. ET — Images from South Korea emerge, as locals watch the summit between Kim and Trump. "I think every South Korean's attention is on Singapore. I too could not sleep last night," South Korean president Moon Jae-in reportedly said.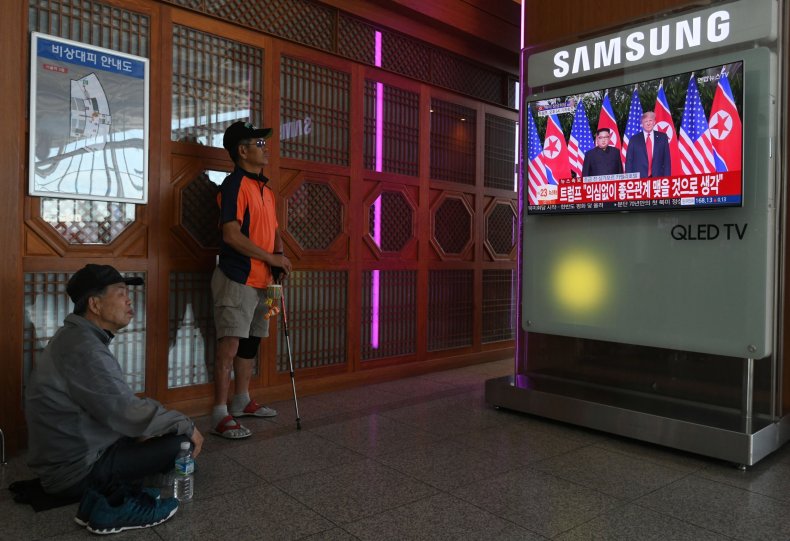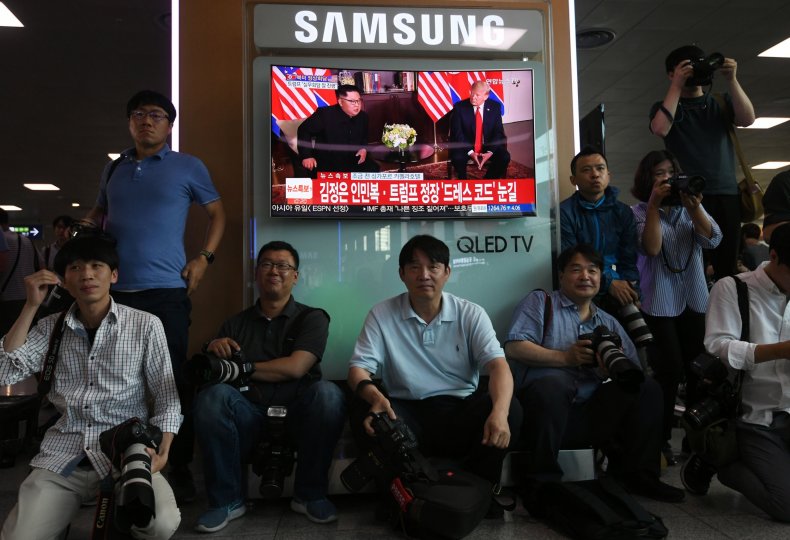 UPDATE 11:00 p.m. ET — BBC reports that North Koreans know about the summit, and it is "being reported by state media and that in itself is already quite remarkable."
UPDATE 10:58 p.m. ET — According to Kim's translator, the North Korean leader said: "We overcame all kinds of skepticism and speculations about this summit and I believe that this is good for the peace."
UPDATE 10:35 p.m. ET — White House press secretary Sanders shared a series of tweets showing Trump's interaction with Kim. ".@POTUS and U.S. delegation start expanded bilateral meeting with Leader Kim Jong Un and North Korean delegation," she wrote.
UPDATE 9:56 p.m. ET — At the summit site, Trump sat down with Kim and their advisors, telling the press that "we will cooperate, we will negotiate."
UPDATE 9:39 p.m. ET — First images of Trump and Kim's handshake are being released.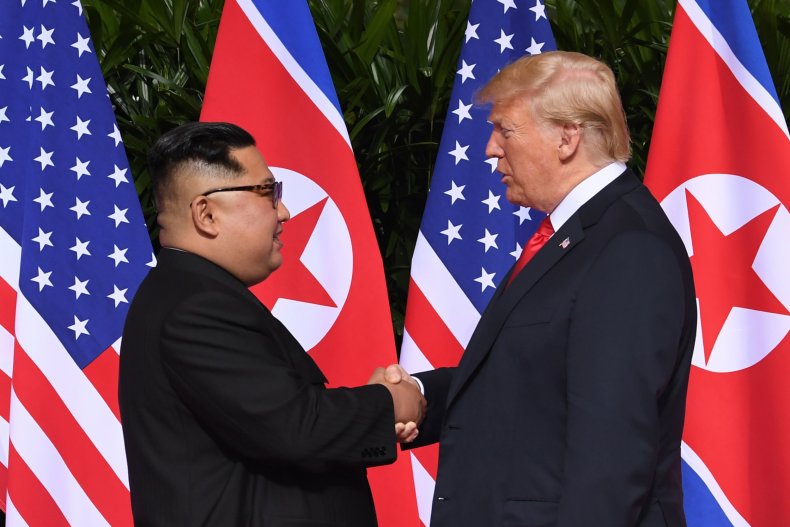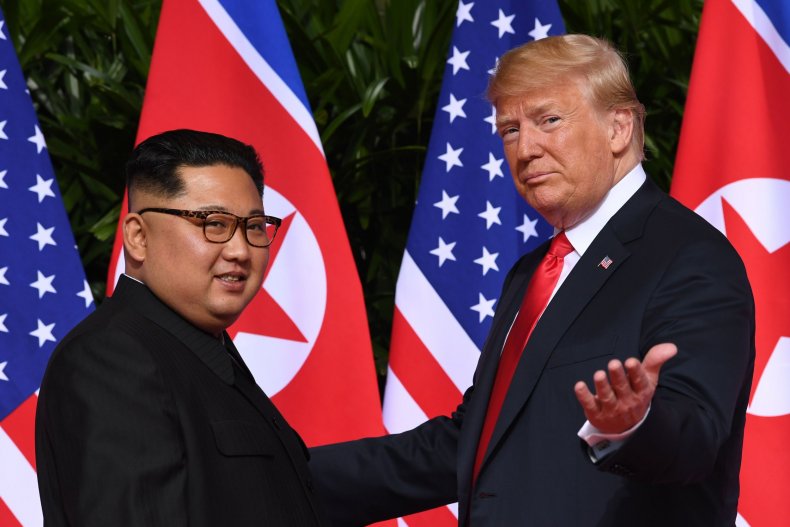 UPDATE 9:13 p.m. ET — Footage of President Donald Trump and North Korean leader Kim Jong Un's handshake, published by Politico:
UPDATE 9:09 p.m. ET — When asked how he feels, President Donald Trump said, "I feel great, it is an honor to be here." Moments later, journalists were dismissed, as both leaders stayed in the room with translators.
UPDATE: 9:03 p.m. ET — For the first time in history, a U.S. sitting president and a North Korean leader met in person. Both Donald Trump and Kim Jong Un shook hands in front of photographers and international media.
UPDATE: 8:49 p.m. ET — Moments prior to meeting Kim, Trump tweeted that Larry Kudlow, director of the National Economic Council, suffered a heart attack. "He's now in Walter Reed Medical Center," he wrote.
UPDATE 8:35 p.m. ET — White House press secretary Sarah Huckabee Sanders tweeted, ".@POTUS arrives at Capella hotel, site of summit with North Korean Leader Kim Jong Un."
UPDATE 8:13 p.m. ET — President Donald Trump's motorcade is seen leaving the St. Regis hotel for the Summit With Kim Jong Un.
UPDATE: 6:04 pm ET — President Donald Trump called out critics of his meeting with North Korean leader Kim Jong Un, tweeting "We will be fine!"
UPDATE: 1:45 p.m. ET — NBA former star and celebrity Dennis Rodman arrives in Singapore for the Singapore Summit, expressing support for the diplomatic process.