#TrumpNotWelcome Trends In Germany After Donald Trump Says He Would Like To Visit Soon
President Donald Trump may have his heart set on a trip to Germany, where the U.S. leader says his family has roots, but, it seems the country's residents are less than enthused about the potential visit.
On Monday, Trump suggested that he could be visiting Germany sometime "soon" during a press conference with German Chancellor Angela Merkel at the G7 Summit in Biarritz, France.
It didn't take long for Germany to respond, however, with the hashtag "#TrumpNotWelcome" trending across the European nation within hours of the U.S. leader's announcement.
Trump made the announcement after Merkel said she had invited the U.S. leader to visit Berlin "many times" in the past in response to a question on whether such a trip might take place in the future.
"We'll be there," Trump said. "We're very honored by the invitation—and that's true—and we will be there. Maybe soon."
"I have German in my blood," the U.S. leader then added, eliciting a chuckle from Merkel.
While Trump may have received a formal invitation to visit Germany, however, a number of politicians and residents have made it clear that the U.S. leader may not receive the warmest of welcomes under the #TrumpNotWelcome hashtag.
"Hey @realdonaldtrump, you old brown sock you! About your visit—no offense—we don't really want you here," one social media user wrote on Twitter.
"So, I thought maybe if we tell you that we won't sell you any of our islands, you will want to cancel your visit right away again?" the user said.
"We don't need another problem," another social media user said under the hashtag. "And by the way, @realDonaldTrump: There is not one piece of our beautiful country for sale."
"We have a history with walls and nazis and we learned from it," another Twitter user weighed in. "We don't need you here, Trump."
Noting that the hashtag trend had taken off, another commented: "I have never loved my country more than I do right now."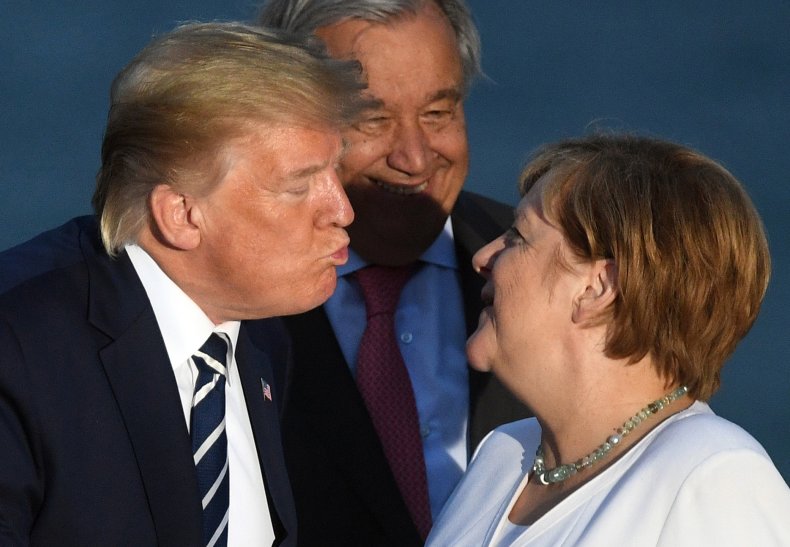 In Kallstadt, the hometown of Trump's grandparents, Mayor Thomas Jaworek expressed indifference to the president's plans for a potential visit.
"If he comes, then he comes, if he doesn't then he doesn't," Jaworek told press agency Deutsche Presse-Agentur on Monday. "Until then, our church clock will keep ticking as usual."
"As I perceive Donald Trump, he is one for surprises," Jaworek added. "Maybe he'll be at my front door asking for breakfast tomorrow morning."