Donald Trump Announces 30-Day European Travel Ban Starting Friday
Calling the actions "strong but necessary," President Donald Trump announced new travel restrictions for European nations into the U.S. as he spoke about the coronavirus outbreak in an address to the nation on Wednesday.
"To keep new [coronavirus] cases from entering our shores, we will be suspending all travel from Europe to the United States for the next 30 days," Trump said. "The new rules will go into effect Friday at midnight."
Americans coming into the U.S. who have been appropriately screened for coronavirus will not be subject to the new rules. The United Kingdom is also exempt from the new policies, as are cargo and items related to trade.
The European Council pointed Newsweek to a Thursday tweet by European Council President Charles Michel.
"Following the travel ban @realDonaldTrump announced, we will assess the situation today," Michel wrote. "Economic disruption must be avoided. #Europe is taking all necessary measures to contain the spread of the #COVID19 virus, limit the number of affected people and support research."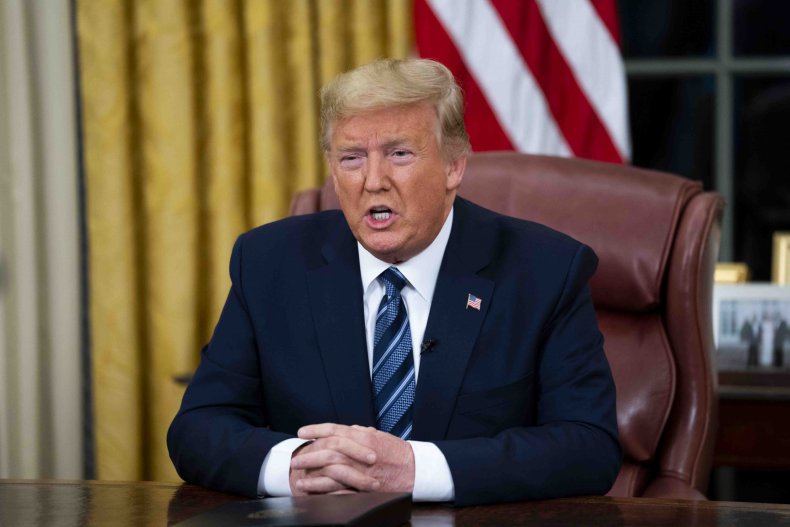 Trump also announced during the Wednesday address that he would be asking Congress to approve a bevy of emergency economic policies to assist Americans who have been affected by coronavirus. Among the proposals suggested by Trump were an additional $50 billion allocated to the Small Business Administration (SBA).
"I am instructing the Small Business Administration to exercise available authority to provide capital and liquidity to firms affected by the coronavirus," Trump said. "Effective immediately, the SBA will begin providing economic loans in affected states and territories."
"These low-interest loans will help small businesses overcome temporary economic disruptions caused by the virus," Trump continued. "To this end, I am asking Congress to increase funding to this program by an additional 50 billion dollars."
The SBA currently offers guaranteed business loans, recovery loans after disasters and assistance to small businesses seeking to do contract work for the U.S. government.
House Democrats have already said that some of the White House's economic proposals for coronavirus relief were not far-reaching enough, including Trump's plan to cut payroll taxes.
Because payroll taxes fund Medicare and Social Security, some Democrats perceived Trump's proposal as enabling corporations instead of individuals affected by coronavirus that need assistance.
"We believe the help should be aimed at people not at corporations. We believe the help should be targeted at the people who have suffered from this coronavirus problem," said Senate Minority Leader Chuck Schumer on Wednesday. "We don't think they should just throw money out of an airplane and hope some of it lands on the people who are affected."
Newsweek reached out to Schumer's office for comment but did not receive a response in time for publication.
House Democrats released their own version of a coronavirus economic relief plan Wednesday, which included a six-month forbearance on federally insured or guaranteed mortgages and student loans. Also included in the proposal were direct grants for small businesses "to help cover the cost of lost business, providing paid sick leave, and more." Democrats are pushing for a vote on Thursday, though nothing has been confirmed regarding the plan.
In his Wednesday address, Trump also urged Americans to unite amid the COVID-19 outbreak, saying, "We are all in this together. We must put politics aside, stop the partisanship, and unify together as one nation and one family."
Updated 9:28 p.m. EST 3/12/2020: This story was updated to include a tweet from European Council President Charles Michel.