Donald Trump Announces Plan to Leave Hospital, Says 'Don't Be Afraid of COVID'
President Donald Trump is expected to leave Walter Reed National Military Medical Center in Bethesda, Maryland, on Monday, after being treated for the coronavirus for four days.
Trump confirmed that he, as well as first lady Melania Trump, tested positive for the new coronavirus early on October 2, and was admitted to Walter Reed later that day. Since testing positive, he has had a series of ups and downs, including two episodes where his oxygen saturation dropped. However, the president improved over the weekend and, with just mild symptoms, was set to be discharged on Monday.
Hours before he was scheduled to leave the hospital, Trump announced on Twitter that he would be heading back to the White House and was "feeling really good."
"Don't be afraid of COVID. Don't let it dominate your life. We have developed under the Trump Administration some really great drugs & knowledge. I feel better than I did 20 years ago," Trump's tweet said.
The president is being treated with a mixture of therapeutics: dexamethasone, a steroid; Regeneron Pharmaceuticals' antibody treatment for the coronavirus; and remdesivir, an antiviral drug that's undergoing trials to gauge its effectiveness fighting the virus. Studies have shown modest but positive results, and researchers have found similar results in patients that had five-day and 10-day treatments.
Trump's treatment plan includes a five-day course of remdesivir, according to Dr. Brian Garibaldi, a pulmonary physician who is treating Trump. He said that the president experienced none of the potential side effects and that his liver and kidney function remain normal.
The usage of dexamethasone and reports that Trump was on oxygen fueled speculation that his condition was far worse than officials were sharing. Dr. Sean Conley, the president's physician, confirmed that Trump was given a round of oxygen last Friday morning but denied he was "on oxygen."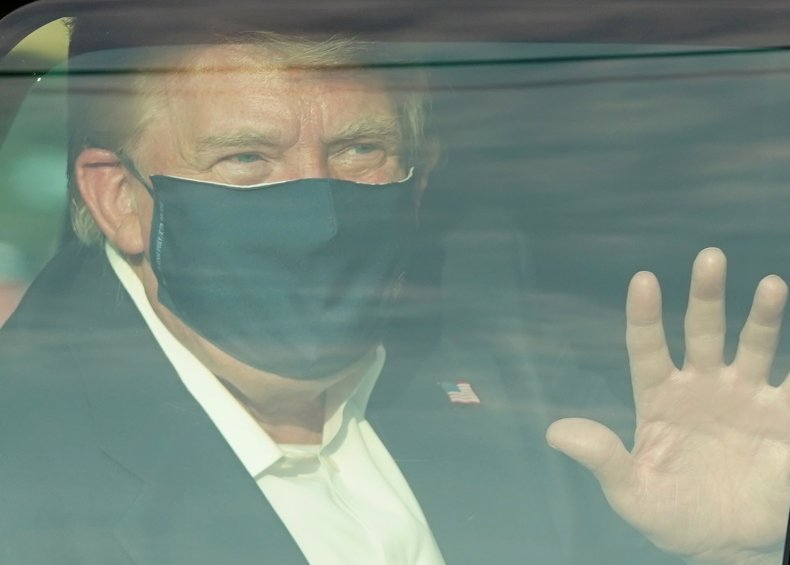 Sunday was the first time Conley disclosed Trump was given oxygen and acknowledged that it appeared the medical team had been attempting to hide something. However, he said that wasn't "necessarily true," explaining that he didn't share the information because it may "steer the course of the illness" in a direction away from the positive, upbeat message coming from the president.
Because of several risk factors, including Trump's gender, age (74) and weight (244 pounds), experts have been closely monitoring the president's condition while he's been at Walter Reed. Once he is discharged, Conley will continue to focus on the president's health and Trump will be treated at the White House, where Melania is in isolation.
According to Conley, the first lady has a mild cough and headache and does not need to be admitted to a hospital at this time.
Since Trump's coronavirus announcement, multiple members of the Senate have tested positive for the virus, including Republicans Thom Tillis and Mike Lee, who are both on the Senate Judiciary Committee. The committee is expected to begin hearings on Trump's Supreme Court nominee, Judge Amy Coney Barrett, on October 12, and a spokesman for Senator Lindsey Graham, chairman of the committee, confirmed to Newsweek they will continue as planned.
The virus has also hit the Trump administration. On Monday, press secretary Kayleigh McEnany announced she had tested positive for the virus. Her diagnosis came after days of "testing negative consistently." She said she had no symptoms but would "begin the quarantine process."
From the confines of his isolation, the president has worked to maintain a connection with the American people. In a video message released Saturday, Trump said he thought he'd be "back soon" and looked forward to finishing up his re-election campaign "the way it started."
"We're going to beat this coronavirus, or whatever you want to call it, and we're going to beat it soundly," Trump said, calling the therapeutics "miracles."
Along with thanking people for their support in the video, the president did a drive-by to wave to supporters on Sunday. The move was criticized as a publicity stunt that risked the health of the people around him, including members of the president's security detail. But Judd Deere, White House deputy press secretary, said that it was cleared by the medical team and that all the "appropriate precautions" were taken.
Conley confirmed that when physicians are in the room with Trump, they're wearing full personal protective equipment and N95 masks. He said Trump is also wearing a mask, despite his criticism of Joe Biden's mask wearing during last week's presidential debate. As long as Trump is under Conley's care, the physician said, "we'll talk about him wearing a mask."
Once back at the White House, Trump should continue to isolate himself from people who aren't infected for at least another six days, in accordance with guidelines from the Centers for Disease Control and Prevention. If he receives two negative test results in a row, with tests done 24 hours apart, he can stop the isolation, the CDC says.
The president's experience with the coronavirus has "taught him a lot," the president said in a video message. But for some of his critics, it's information he has learned too late.