Anthony Scaramucci Complains Trump 'Turns On Everyone' After President Mocks Him as 'Incapable'
Anthony Scaramucci, former White House Communications Director, doubled down on criticism of Donald Trump after appearing on several cable news shows blasting the president's response to recent mass shootings.
Pulling back on years of ardent support for the president, Scaramucci told MSNBC's Chris Matthews on Thursday that Trump's visits with victims and families in El Paso and Dayton was a "catastrophe" and a failed attempt at demonstrating empathy. He also appeared on HBO's Real Time with Bill Maher Friday, which Trump acknowledged watching "by accident." But even Scaramucci's overly positive portrayal and staunch defense of Trump on Maher's show were not enough to please the president.
Scaramucci's prediction that the president "would be mad" for criticizing his visits soon came to fruition, as Trump mocked him as incompetent and attention-seeking in a tweet Saturday night.
"Anthony Scaramucci, who was quickly terminated (11 days) from a position that he was totally incapable of handling, now seems to do nothing but television as the all time expert on 'President Trump.' Like many other so-called television experts, he knows very little about me other than the fact that this Administration has probably done more than any other Administration in its first 2 1/2 years of existence."
"Anthony, who would do anything to come back in, should remember the only reason he is on TV, and it's not for being the Mooch!" Trump added in a second tweet.
Scaramucci was dismissed as White House communications director in July 2017 after a week-and-a-half on the job. He has consistently defended Trump and his administration on cable news shows ever since but, on Saturday, he said "eventually [Trump] turns on everyone."
"For the last 3 years I have fully supported this President. Recently he has said things that divide the country in a way that is unacceptable. So I didn't pass the 100% litmus test. Eventually he turns on on everyone and soon it will be you and then the entire country."
Scaramucci at first deleted the tweet responding to the president before quickly re-posting Sunday morning. A number of former Trump associates and White House workers have accused the president of turning his back on them or using people close to him for his own selfish gain. The president's former attorney Michael Cohen testified before Congress in February, saying those who blindly support Trump may soon find themselves thrown under the bus or facing prison time.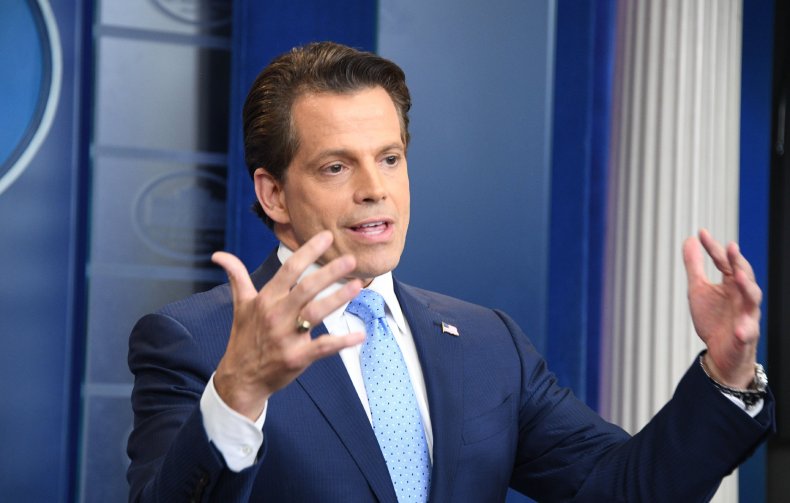 In addition to appearances on Fox News, CNN and Real Time with Bill Maher as a former "inside guy" at the White House, Scaramucci appeared on MSNBC's Hardball on Thursday, claiming that the president's visits were a disastrous attempt at showing "love and caring" toward victims.
"So, look, the president didn't do well on the trip. He probably would be mad at somebody for saying that," Scaramucci told Matthews. "Maybe he'll tweet something negative about somebody for saying he didn't do well, but facts are he did not do well on the trip because if the trip is being made about him and not the demonstration of compassion and love and caring and empathy for those people, then it becomes a catastrophe for him, the administration, and it's also a bad reflection on the country."