Donald Trump Keeps Calling Adversaries 'Globalists,' Despite Warnings It's Anti-Semitic
President Donald Trump called out the Koch brothers, who are billionaire Republican mega-donors, as "globalists" on Tuesday. The brothers have long opposed Trump's policy of increasing trade tariffs.
On Sunday, Charles Koch, 82, devoted part of a news conference to criticizing Trump's tariff policies. "Every nation that's prospered is one that didn't engage in trade wars," he said, as reported by Bloomberg. Shortly afterward, it was made known that the Koch brothers would no longer back only Republican candidates.
Trump's attack echoed a line he used on the campaign trail to disparage adversaries, and sometimes allies, who disagreed with his worldview. On its surface, the word "globalist" seems like a convenient label for those who favor international cooperation over "America first," isolationist policies.
But the idea of globalism (sometimes called cosmopolitanism) has a long association with anti-Semitic movements, and the term "globalist" has often served as a dog-whistle to mean Jewish people.
In Nazi Germany, Adolf Hitler referred to Jewish people as "international elements that 'conduct their business everywhere.'" These "global Jews," he said, hurt Germans who were "bounded to their soil, to the Fatherland." The idea that Jews are not loyal to their country has long been used to "otherize" them and undermine their autonomy.
Today, the alt-right, white nationalists and neo-Nazis use the term online to refer to Jews. Protection from the "Globalist elite," explained the Anti-Defamation League, is code for "mostly Jews."
The term was originally developed and spread by "certain extremist circles populated by white nationalists," said Jonathan Greenblatt, ADL CEO, in an opinion piece. "It gained currency in recent years as the alt-right used their understanding of technology to spread that term into the mainstream. But make no mistake, where the term originates from is a reference to Jewish people who are seen as having allegiances not to their country of origin, like the United States, but to some global conspiracy."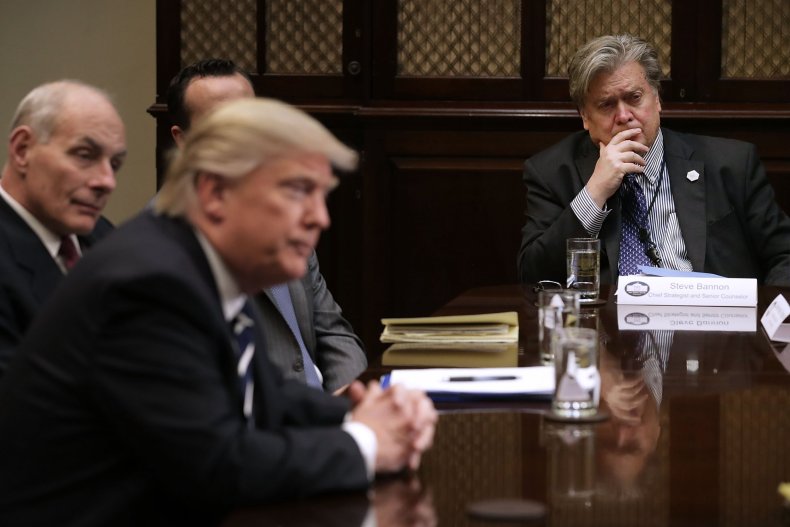 The term may well have been introduced to the Trump administration by former adviser Steve Bannon, who ran the alt-right Breitbart News, and reportedly referred to Gary Cohn, Trump's former economic adviser, and Trump's son-in-law and adviser Jared Kushner as globalists in closed-door meetings. When Bannon was brought into the administration, Ku Klux Klan leader David Duke called him an "excellent" pick and said he was "basically creating the ideological aspects of where we're going."
At a meeting in France earlier this year with the far-right National Front party, which has often been accused of espousing anti-Semitic sentiments, Bannon said, "Let them call you racists. Let them call you xenophobes. Let them call you nativists. Wear it as a badge of honor."
Trump used the term on the campaign trail, insinuating that his opponent, Hillary Clinton, was conspiring with "globalists" to harm America. "Hillary says things can't change," he tweeted in June 2016. "I say they have to change. It's a choice between Americanism and her corrupt globalism."
When Cohn, who is Jewish, resigned, the president echoed Breitbart News in calling him a globalist. "This is Gary Cohn's last meeting in the Cabinet," Trump said during the televised meeting. "He's been terrific. He may be a globalist, but I still like him. He is seriously a globalist. There's no question."
It's incredibly disturbing when the president or one of his top advisers "literally parrot this term, which is rooted in prejudice," said Greenblatt. A president should not use the term globalist."
Trump's daughter and son-in-law are Orthodox Jews, and the president has defended himself against accusations of prejudice. "I am the least anti-Semitic, racist person that you've ever seen," he said at a news conference last year.
Anti-Semitic incidents rose by 57 percent in 2017, the largest single-year increase on record, according to the ADL.