'Organization of Terror': Donald Trump Warns Antifa May Be Renamed in Light of Proud Boy Protests in Portland
President Donald Trump warned that he might declare the left-wing antifia movement an "Organization of Terror." Trump's comment, shared on Twitter, comes ahead of the Proud Boy protest in Portland, Oregon, which is expected to draw hundreds near a downtown waterfront park on Saturday.
"Major consideration is being given to naming ANTIFA an 'ORGANIZATION OF TERROR.' Portland is being watched very closely. Hopefully the Mayor will be able to properly do his job!" Trump wrote.
City leaders fear the protest, which is positioned to draw people with opposing political and social views, could lead to widespread violence within the city streets.
Portland Police and other local, state and federal level response units will be heavily patrolling the protest and ensuring participants remain on sidewalks. Those who violate city street ordinances will be subject to arrest as no mass gathering permits were granted for the event, Lt. Tina Jones, a spokeswoman for the Portland Police Bureau, told NBC News.
"A lot of this is seeing who shows up on game day," she said on Friday.
The event is being held by members of Proud Boys, a group which boasts to be a "fraternal organization" for young "Western chauvinist" men. Created in 2016 by Vice co-founder and former editor Gavin McInnes, the group vehemently claims they are not connected to the alt-right and other fascist and white supremacist groups, but rather uphold "anti-political correctness" with an "anti-white guilt" agenda. The Southern Poverty Law Center notes the group's support of extremist movements, particularly Proud Boys' involvement in the Charlottesville "Unite the Right" rally, during which a woman was killed.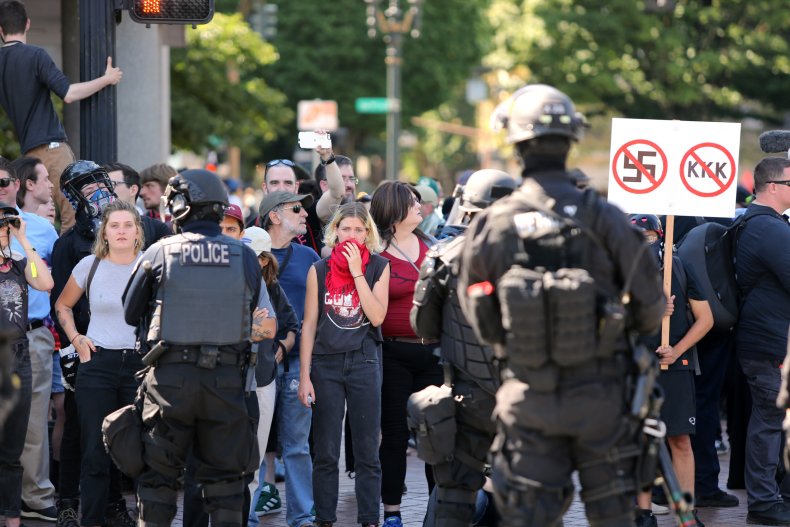 The organization's "End Domestic Terrorism" rally on Saturday aims to get the liberal-leaning anti-fascist collective known as antifa nationally recognized as a domestic terrorist organization. Other far-right and white nationalist groups are expected to arrive in Portland to participate in the protest, although organizer Joe Biggs requested people refrain from bringing weapons and starting fights, the Associated Press reported.
This isn't Trump's first threat against antifa. He issued warnings to declare antifa a terror group following Texas Senator Ted Cruz's nonbonding resolution to acknowledge the "designation of Antifa as a domestic terrorist organization" in July. Along with the resolution, Cruz suggested Attorney General William Barr investigate antifa after conservative journalist Andy Ngo was attacked by people opposing far-right extremist groups in Portland earlier in the month.
Portland's most popular left-wing group, Rose City Antifa, issued a response to Cruz's resolution with a statement claiming the Republican Party was "explicitly targeting political opposition."
"If passed, this resolution would be a powerful new weapon for silencing leftists and dissent in the U.S," the statement continued.